The Week Ahead: Brewers aim to keep surging in NL
Milwaukee, San Francisco among clubs worth keeping an eye on in upcoming slate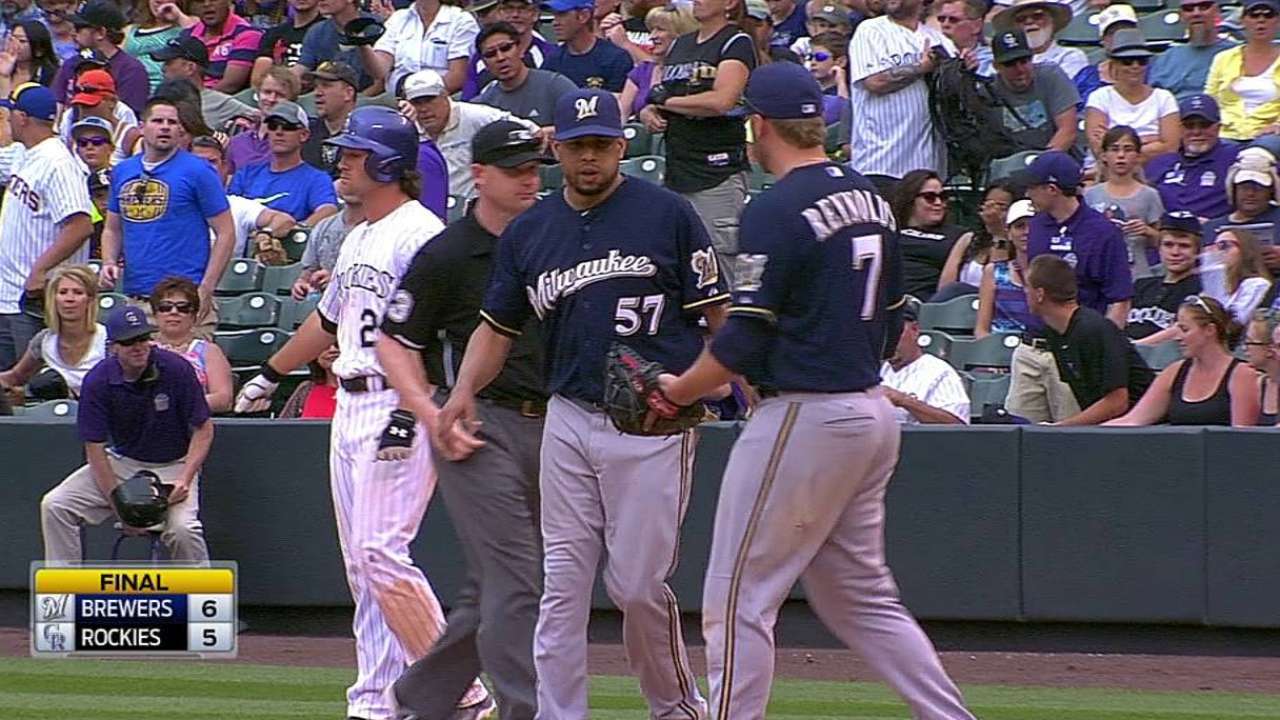 Summer's here, and in baseball, that means visions of autumn are just getting closer and closer.
No matter how hot the temperatures might get on the diamonds of the American and National Leagues in the last week in June and beyond, everyone is getting more serious about what will happen in October, when a chill hits the air and heart-stopping action determines the next World Series winner.
Which brings us to five big things to watch for in The Week Ahead:
1. Hey, look! The Brewers are still awesome.
In case you forgot, the team of April is still right there atop the National League Central, and the Brewers sure don't look like they're sinking, do they? The Brewers held on for a 6-5 victory over the Rockies on Sunday, with closer Francisco Rodriguez bending and not breaking en route to his 25th save of the season.
They've won four in a row, they've got the best record in the NL (47-30), they're 5 1/2 games ahead of second-place St. Louis in the division, and they're getting an MVP-caliber season out of their catcher, Jonathan Lucroy.
This week, the Brewers will stay at Miller Park and play three against the Nationals and four against the Rockies.
They'll hope to keep going with the good vibes that seem to be eluding the team that had the best record in the NL until recently, or, in other words:
2. The Giants. What are we supposed to make of them?
They won on Sunday, getting a gem from ace Madison Bumgarner, and they've put together a two-game winning streak after dropping six in a row and nine of their previous 10. San Francisco fans who are done freaking out about the recent dry spell should take some positives out of a few facts: The Giants are still in first place in the NL West by four games over the Dodgers, and their record of 45-30 is only a game behind the Brewers for best in the Senior Circuit.
This week, there are even more positives. San Francisco begins a 10-game homestand at AT&T Park, where they'll play San Diego (three games), Cincinnati (four) and St. Louis (three).
They won't face their archrival Dodgers, but that team deserves top billing this week because of one man and one big question:
3. What does Clayton Kershaw do for an encore?
All the big left-hander from Texas did in his last start was pitch one of the best games in baseball history, a no-hitter in which he struck out 15 Rockies, didn't walk a batter, and missed out on a perfect game only because his shortstop, Hanley Ramirez, made a throwing error in the seventh inning.
This week, Kershaw is slated to follow up history with two starts. He'll have the chance to become the first pitcher since Johnny Vander Meer in 1938 to pitch consecutive no-hitters when he gets the ball against the Royals on Tuesday night in Kansas City, and he's scheduled for another start on Sunday at home against the Cardinals.
Kershaw was typically humble after his no-hitter, saying, "I haven't thought about the ramifications of this thing, but I don't take for granted the history of this." He hopes the Dodgers will make history at the end of the year by advancing to the World Series, which they couldn't do last year, falling to the Cardinals in the NL Championship Series.
They've won two in a row to improve to 42-35, which means they've got ground to make up on the Giants but can do so with a good swing against the Missouri teams.
Meanwhile, there are closer divisional battles at hand as we roll into Monday's games, and it's difficult to determine which might be the headliner:
4. Is the American League East, the AL Central or the AL East the most dramatic?
Tough call.
The Blue Jays still lead the AL East, but they've lost two in a row and seven of their last 10, and their lead over the Yankees and Orioles is now at 1 1/2 games. They also just lost Brett Lawrie for a while with a fractured right index finger.
This week, Toronto gets three against the Yankees right away at home in Rogers Centre before the White Sox cross the border for four more. The Yankees also will play three at home against the Red Sox over the weekend, while the Orioles get three against the White Sox at home in Camden Yards, take Thursday off and then play four games in three days over the weekend against the Rays, with a doubleheader on Friday to make things even more interesting.
And speaking of interesting, all of Major League Baseball could get a whole lot more so this week with the addition of a large group of players we haven't heard from in a while.
5. Who's coming back from injury?
Well, you don't really know until you see them in uniform, but there are plenty who are in the last stages of their rehab stints and could impact the standings in the seven days immediately ahead of us.
The Angels could get back pitcher Tyler Skaggs (right hamstring strain), the A's are close with outfielder Josh Reddick (hyperextended right knee), the Giants and first baseman Brandon Belt (broken left thumb) could soon be reunited, the Mariners could get a lot deeper and better real quickly if outfielders Michael Saunders and Corey Hart, first baseman Justin Smoak and pitcher Taijuan Walker return, and the Marlins could use outfielder Christian Yelich (lower back strain) back in the lineup soon.
Pitcher Gerrit Cole (right shoulder fatigue) and second baseman Neil Walker (appendectomy) of the Pirates could get back on the field soon, the Rays might see Jeremy Hellickson (right elbow surgery) on the mound, the Red Sox could soon activate starter Clay Buchholz (hyperextended left knee), infielder Will Middlebrooks (fractured right index finger) and outfielder Shane Victorino (right hamstring strain) and Royals lefty Bruce Chen (bulging disk in lower back) could also rejoin his rotation.
The most anticipated return to the field, however, is that of Nationals outfielder Bryce Harper, who has been out for almost two months because of a torn ligament in his left thumb but will begin a rehab assignment with Class A Potomac on Monday and could be back with the big club within the week.
"I'm very excited to get back out there," Harper said. "We'll see where I'm at physically. I'll try to go day by day, at-bat by at-bat. I try to work hard and get back where I need to be."
Doug Miller is a reporter for MLB.com. Follow him on Twitter @DougMillerMLB. This story was not subject to the approval of Major League Baseball or its clubs.