Asche gives family, friends something to cheer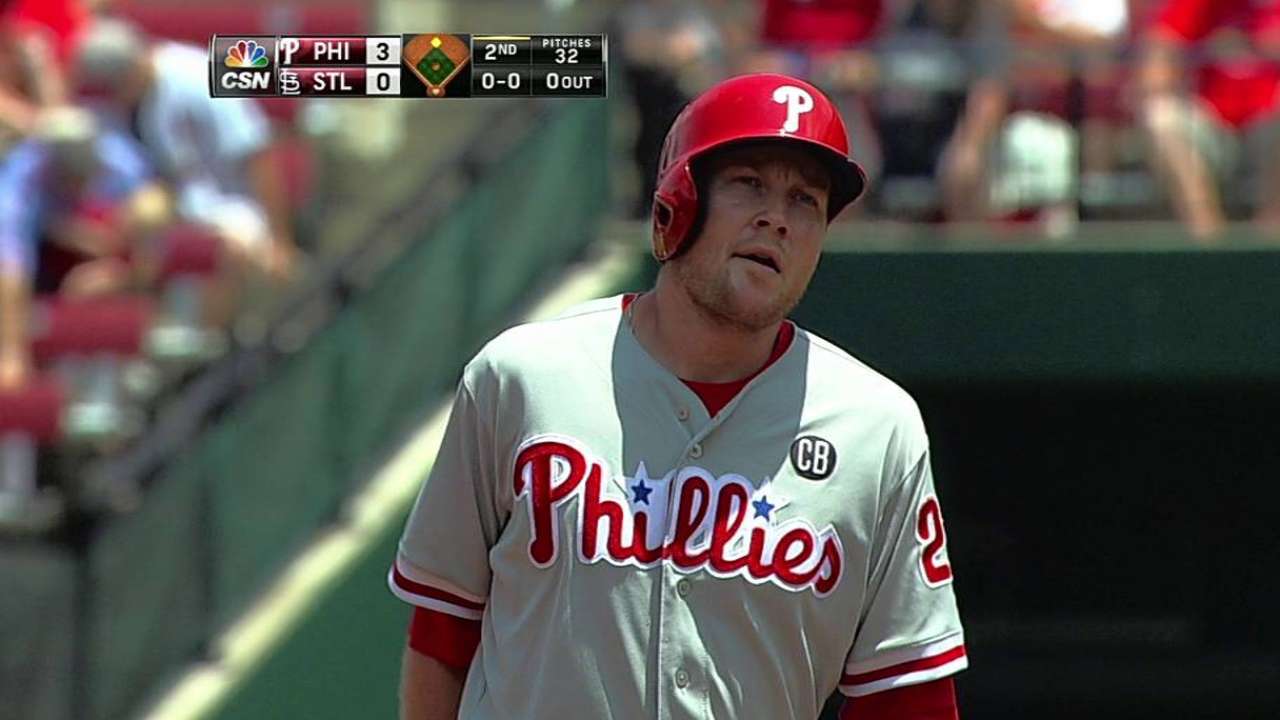 ST. LOUIS -- Cody Asche's mother picked him up at the airport on Thursday morning when he arrived in St. Louis, fresh off a rehab stint in the Minors.
Three days later, family and friends watched the native of St. Charles, Mo., give the Phillies an early three-run lead with a bases-clearing double in the second inning.
"It was fun to get back here and play in front of everybody," Asche said. "I think it was just better to see everybody at night. I had a good dinner with them [on Saturday]. It was a good time."
The Phillies ended up losing, 5-3, on Sunday, but Asche relished the chance to play in his hometown for the first time since being called up last season -- after the Phillies had already visited the Cardinals.
Asche, who grew up about 25 minutes from Busch Stadium, hadn't played in the Majors since May 22 while dealing with a strained left hamstring. His rehab stint came to an end on Wednesday -- perfect timing for a return home.
"He's really swung the bat well since he got back here," manager Ryne Sandberg said. "He made a lot of good contact, so that was big."
Asche went 3-for-12 in his first three games off the disabled list but represented the Phillies' primary offense on Sunday; he had two of the team's five hits and drove in all of its runs.
The quick success, he said, left a good feeling.
"It was a little bit of a confidence booster to come back and step in and help contribute any way that I could," he said. "I think you always have a little bit of doubt in your mind if you come off an injury and step into a team that's playing really well. You don't want to step in and be a weak link."
Alex Halsted is an associate reporter for MLB.com. This story was not subject to the approval of Major League Baseball or its clubs.