Bumgarner dominates as Giants top D-backs
Lefty allows unearned run in eight-plus innings; SF takes series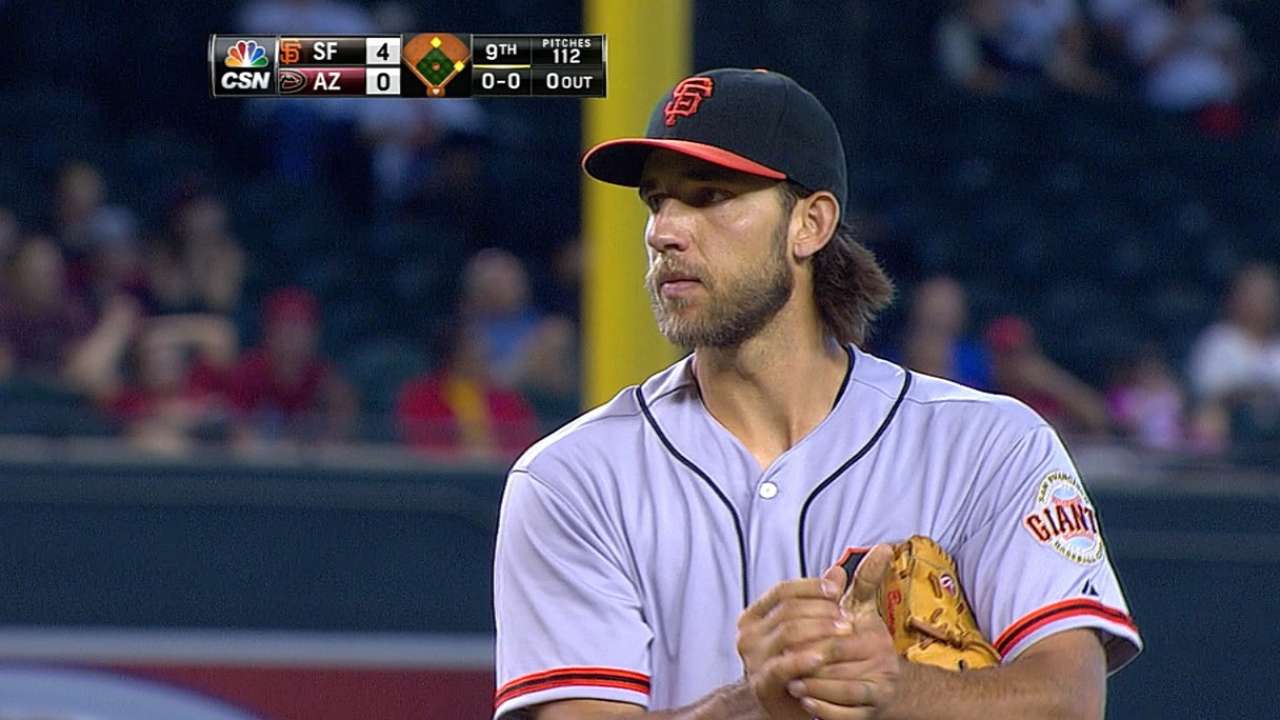 PHOENIX -- Madison Bumgarner continued to make his pitch for the National League All-Star team as he mastered the D-backs once again Sunday. The left-hander allowed only two hits in eight-plus innings and pitched the Giants to a 4-1 victory at Chase Field.
"It's probably right up there with the best I've felt this year," said Bumgarner, whose record improved to 9-4 and ERA to 2.63. "I don't know if was the best, that's hard to say. But it's right up there, that's for sure."
Bumgarner's gem gave the Giants back-to-back victories for the first time since they won five in a row from June 4-8. Heading into Saturday night's 6-4 victory, the first-place Giants had lost six straight and nine out of 10 since the five-game winning streak. With a 10-game homestand opening against the Padres on Monday night, they extended their record to 45-30 and maintained a four-game lead over the Dodgers in the NL West.
The All-Star selection process for the July 15 game at Target Field in Minneapolis is ongoing and will be announced July 6. Some pitchers are selected by the players and a group of others by the manager, this year Mike Matheny of the Cardinals. The starting position players are picked in a fan vote.
"I think he's an All-Star. He's one of the elite pitchers in the game," Giants manager Bruce Bochy said about Bumgarner. "You look at how consistent he's been. I think there's no question about him being part of the discussion as far as him being on the All-Star team."
Bumgarner has been an essential ingredient of the Giants teams that won the World Series in 2010 and 2012. He made the NL All-Star squad last year for the first time, but didn't pitch as the American League won, 3-0, at Citi Field.
The 32-47 D-backs had three baserunners against Bumgarner through eight innings and fell 15 games under .500 for the first time this season. Cody Ross had an infield single with two out in the second on a grounder Bumgarner fielded, short-hopping the throw to first base where Joaquin Arias couldn't handle the ball. Paul Goldschmidt walked twice. None of the baserunners progressed any farther than first base as Bumgarner struck out seven.
In his last four starts against Arizona dating back to the 2013 season, Bumgarner has allowed only one earned run in 25 innings. He started the ninth seeking his fourth career complete game and second shutout, but Brandon Crawford's error and an infield single chased Bumgarner from the game after throwing 112 pitches. Sergio Romo gave up Martin Prado's RBI single, with the unearned run charged to Bumgarner, as Romo recorded his 22nd save.
Had Arias picked up the throw, Bumgarner could have been working on a no-hitter when he entered the ninth.
"I'm not going to lie, I thought about that," Bochy said. "If that had been the only hit, it would have been a tough only hit to give up. The game was still close, so I wasn't thinking too much about that. It did cross my mind, though."
But the no-hitter never crossed Bumgarner's mind, he said, nor is making the All-Star team right now a top consideration.
"I'm not worried about that," he said. "That's not in my control. I can't worry about things that are not in my control. It definitely would be a nice honor, but I'm just trying to worry about the things I can control."
Right-hander Mike Bolsinger (1-3) pitched almost as well for the D-backs, allowing five hits and a run while walking one and striking out four in 7 2/3 innings. The first Giants run scored with one out in the fifth inning when Crawford walked and came home on Tyler Colvin's double to left-center. Colvin was thrown out at third trying to stretch the hit to a triple.
Joe Panik, who was just elevated from Triple-A Fresno and given the start at second base, followed with his first Major League hit.
The Giants added three insurance runs in the ninth when Hunter Pence notched his second hit of the game and Buster Posey followed with an RBI double. Crawford drove in Posey with a single, and Panik tallied his first Major League RBI with a double to plate Crawford.
Panik, who started his first Major League game, had in his possession the baseballs from his first RBI, his first hit and his first plate appearance, a pinch-hit walk in the eighth inning Saturday night.
"He looks like a really solid player," Bumgarner said. "He's a former first-rounder and all that. He did a great job. He's got a good baseball IQ, I guess. He knows where to be and how to play second base. He's really good over there."
Barry M. Bloom is a national reporter for MLB.com and writes an MLBlog, Boomskie on Baseball. Follow @boomskie on Twitter. This story was not subject to the approval of Major League Baseball or its clubs.