Dominant bullpen spurs Twins to sweep of Chicago
Mauer stays hot; Burton caps four innings of scoreless relief with save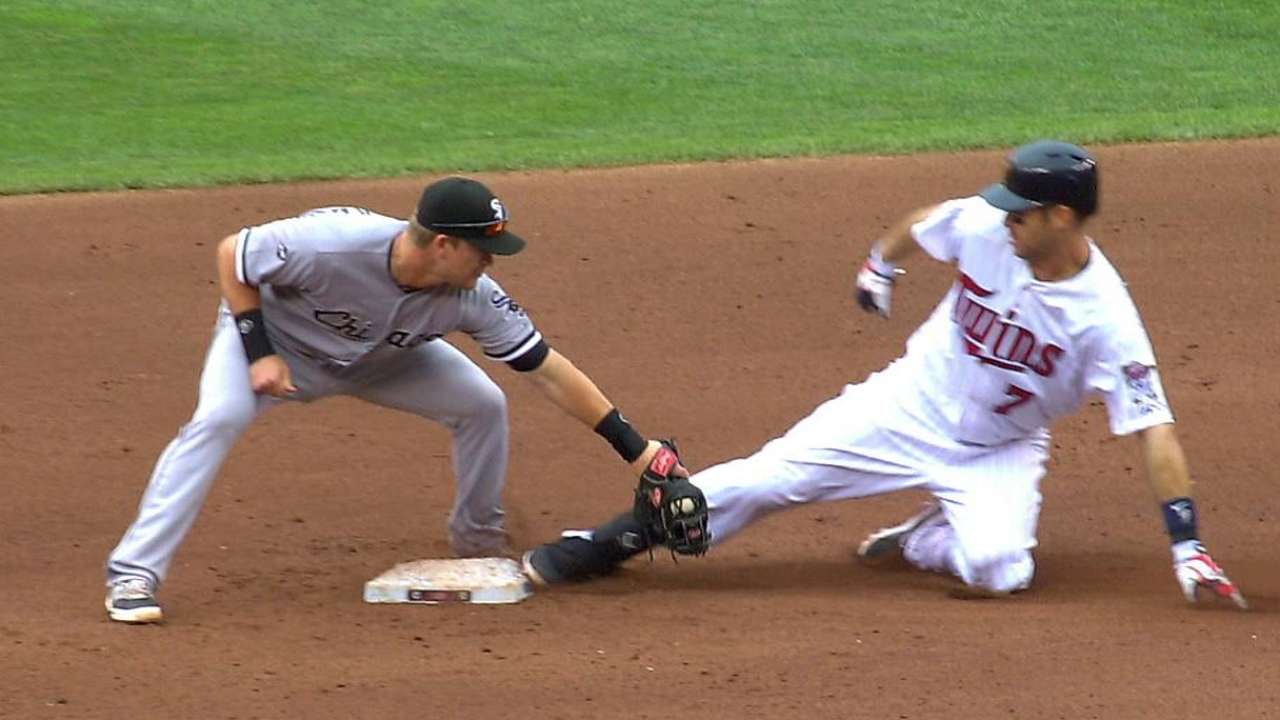 MINNEAPOLIS -- Poised to take a four-game sweep at home for the first time since 2007, the Twins lost a three-run lead, endured early exits by Phil Hughes and manager Ron Gardenhire, and left multiple runs on the basepaths.
But when Minnesota needed a steady bat on Sunday afternoon, it got one from a suddenly consistent source: Joe Mauer. Combined with a sensational effort from a bullpen without the services of closer Glen Perkins, the Twins finished a a four-game sweep of the White Sox with a 6-5 win at Target Field.
Mauer, who's had his struggles this season, drove in two runs -- including a fourth-inning single that knotted the game.
The veteran first baseman came alive against the White Sox. Mauer entered the series with a career-low .254 batting average and had only collected three RBIs in his past 31 games. But a 2-for-4 performance on Sunday bumped his average to .261, and he ran his RBI total against the Sox this weekend to six.
"There's been a lot of talk about Joe," Twins bench coach Terry Steinbach said. "As a staff, and personally speaking, Joe's been hitting the ball hard. Yes, he's got some outs, but the balls he's been hitting have been caught. It's just a matter of time if he keeps that same swing going, these balls are going to start falling in and his RBIs are going to start going up."
Twins starter Hughes (8-3) made Mauer's heroics necessary. Nursing a 3-0 lead in the third inning, Hughes issued his first walk in 106 plate appearances, a full-count fastball to Tyler Flowers that loaded the bases with no outs.
The miscue opened the floodgates -- the Sox picked up five runs on four more hits in the inning, including a two-run double by Gordon Beckham to start the scoring.
Manager Ron Gardenhire did his best to stop the bleeding. Down, 4-3, with Adam Dunn at the plate, Gardenhire didn't agree with a balls-and-strikes call by home-plate umpire D.J. Reyburn. The manager relayed his thoughts to Reyburn from the dugout, at which point Reyburn ejected him from the game.
The episode seemed to work at first -- Hughes struck out Dunn on his next pitch. But the starter surrendered two straight hits afterward as the Sox ran their lead to 5-3.
On the day, Hughes gave up eight hits and five earned runs in five innings for just his second non-quality start in 12 tries.
Mauer and the Twins responded in the bottom of the fourth with three more hits. Danks walked Sam Fuld, and then Ramirez couldn't make a tough play on a Danny Santana grounder. Dozier knocked in Fuld with a single, and Mauer followed with a single right up the middle to make it a 5-5 game.
One batter later, Josh Willingham hit a sacrifice fly to left that scored Dozier from third for the go-ahead run and a 6-5 lead that Minnesota would not relinquish.
"We came into the came today feeling very, very good," said Steinbach, who assuming managerial duties after Gardenhire was tossed. "The players were loosey-goosey in the clubhouse. We felt we had a good chance to sweep this series."
Baserunning miscues nearly doomed the home team.
In the bottom of the first, an early 1-0 Twins lead could have been larger if not for a gaffe by Brian Dozier.
With Santana on third base and Dozier on second, Willingham smacked a grounder right at Sox shortstop Alexei Ramirez. The ball was in front of Dozier, but he ran anyway. Ramirez took the easy out instead of throwing home.
When Kendrys Morales singled on the next pitch, Dozier was no longer standing at second to pick up the extra run.
"Win, lose or draw, you don't lose that aggressiveness," Dozier said. "We keep trying to plug away, taking extra bases and that kind of thing. I'm all for that."
Kurt Suzuki was thrown out at home in the second inning with no outs, and then Fuld and Santana logged back-to-back outs on the bases in the sixth -- Fuld was thrown out at third on a failed bunt attempt by Santana, who was promptly thrown out trying to steal second.
But Chicago starter John Danks (6-6) couldn't take advantage. He gave up 10 hits and six earned runs in five-plus innings of work in the loss.
"We scored five runs," Danks said. "That should be plenty to win a ballgame. To go out there and give it right back in a five-inning span is a tough pill to swallow."
After struggling late in two straight games, the Twins' bullpen was magnificent on Sunday. With Perkins a bit overworked, Jared Burton capped four innings of team shutout relief in the ninth for his first save of the season.
"Everybody was great, except for me today," Hughes said. "That's just the way it goes. But the offense fought back a couple times, and that was huge. It was a big sweep for us."
The four-game sweep is the Twins' first ever at Target Field, their first at home since July 12-15, 2007, against Oakland, and their first overall since June 2-5, 2011 at Kansas City.
Alex M. Smith is an associate reporter for MLB.com. Follow him on Twitter @asmiff. This story was not subject to the approval of Major League Baseball or its clubs.