White Sox unable to overcome Danks' woes in finale
Southpaw struggles with command as Twins finish four-game sweep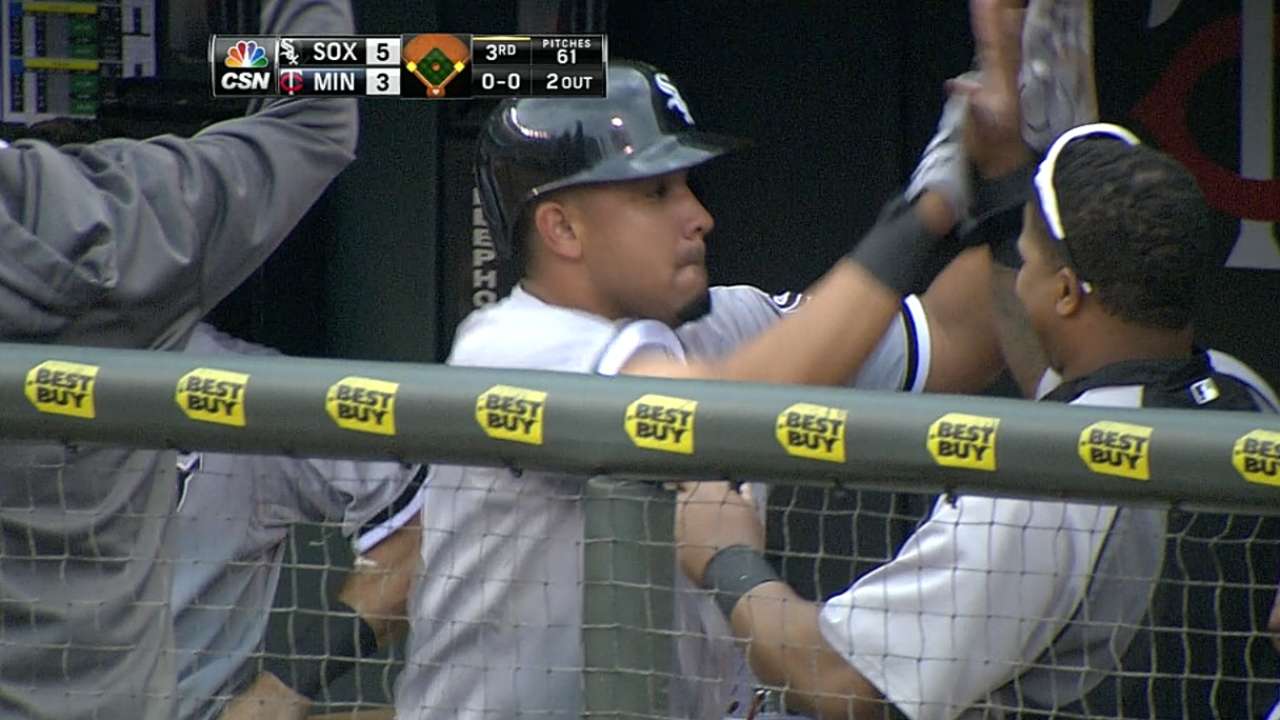 MINNEAPOLIS -- John Danks left absolutely no doubt where the responsibility fell for the White Sox 6-5 loss to the Twins at Target Field on Sunday.
"You can't blame anyone but me on this one," Danks said after the Twins completed a four-game sweep of the White Sox, marking the first such sweep by Minnesota since June 9-12, 1994, at the Metrodome. "These guys did plenty to win a ballgame. I guess I got in the way of that."
Sunday's performance turned into just "one of those starts" for Danks (6-6), whose location clearly was off from the four-pitch walk he issued to Danny Santana to start the bottom of the first. Unfortunately for the White Sox (35-41), it came at a time when they needed Danks to be as good as he was his previous five trips to the mound.
Danks had allowed just six earned runs on 24 hits over his last 35 2/3 innings entering Sunday, with nine free passes issued during that stretch. Against the Twins (36-38), Danks gave up six runs on 10 hits over five-plus innings, while walking four and striking out one.
The Twins have now defeated Danks more than any other pitcher in baseball since 2007, as the southpaw fell to 6-12 over 24 career starts against Minnesota.
"Didn't throw enough strikes," said Danks, who was up in the zone and got hit when he did throw strikes among his 101 pitches. "It's unfortunate -- we score some runs and I give it right back. It certainly wasn't fun. Just shot myself in the foot, didn't do myself any favors, and cost us the game."
"They were great today," said Minnesota starting and winning pitcher Phil Hughes, who improved to 8-3 overall, of his offensive support. "They didn't swing at things outside of the strike zone. Danks wasn't throwing a lot of strikes early, and they waited him out and scored some runs."
After scoring one in the first, the Twins added two more in the second courtesy of Sam Fuld's double and Joe Mauer's single. But Danks was given a reprieve when the White Sox scored five in the third.
Moises Sierra and Alejandro De Aza singled to open the frame and Tyler Flowers drew the first walk off of Hughes in 106 overall plate appearances. After Adam Eaton struck out, Gordon Beckham just missed a grand slam and settled for a two-run double to left followed by Jose Abreu's two-run single to center on the next pitch. Conor Gillaspie added a run-scoring single for a 5-3 advantage.
That lead held up through a perfect, 14-pitch third thrown by Danks, but it disappeared when the Twins scored three in the fourth to take a 6-5 lead. Brian Dozier and Mauer had RBI singles, and Josh Willingham broke the tie with a sacrifice fly to left, a fly ball that looked somewhat shallow enough for De Aza to have a play at the plate. Manager Robin Ventura didn't think De Aza would have had a shot on Dozier.
In that frame, Fuld, the No. 9 hitter, drew a one-out walk, and Santana reached on an infield single where it looked as if shortstop Alexei Ramirez had a play. Those little things meant a great deal in the ninth straight game played between the Twins and White Sox decided by two runs or fewer.
"When you see those [close finishes], you can look at plays here and there, or pitches," Ventura said. "A play we don't make turns into two or three runs. When you have one-run games, that's what you end up doing. You just pick apart the game."
Middle-of-the-game struggles during this series were a theme for the White Sox. They finished 9-for-69 with nine singles and three walks from the fourth through eighth innings combined, while Ramirez has gone 95 plate appearances without an RBI.
"Sometimes you score early. Sometimes you score late. Sometimes you lose the game in one inning," Ramirez said through interpreter and White Sox manager of cultural development Lino Diaz. "That's baseball. That's what happened to us. We lost the game in one inning in a couple of those games."
A trip to Baltimore is next for the White Sox, who have lost seven straight road games and eight in a row to American League Central opponents while dipping to a season-low six games under .500. Danks plans to forget about Sunday's start and focus on Friday in Toronto. The White Sox need to do the same before a rough start to an 11-game road trip turns into something that's season-changing in the wrong direction.
"You have to forget the bad stuff and think about the good stuff and go from there," Ventura said. "Any time you want to sit there and pity yourself, you are going to get buried. Nobody cares. So you have to be able to pick yourself up off the mat and compete."
Scott Merkin is a reporter for MLB.com. Read his blog, Merk's Works, and follow him on Twitter @scottmerkin. This story was not subject to the approval of Major League Baseball or its clubs.