Cumpton's scoreless start leads Bucs to series win
Right-hander gives up just two hits in seven innings; Snider goes yard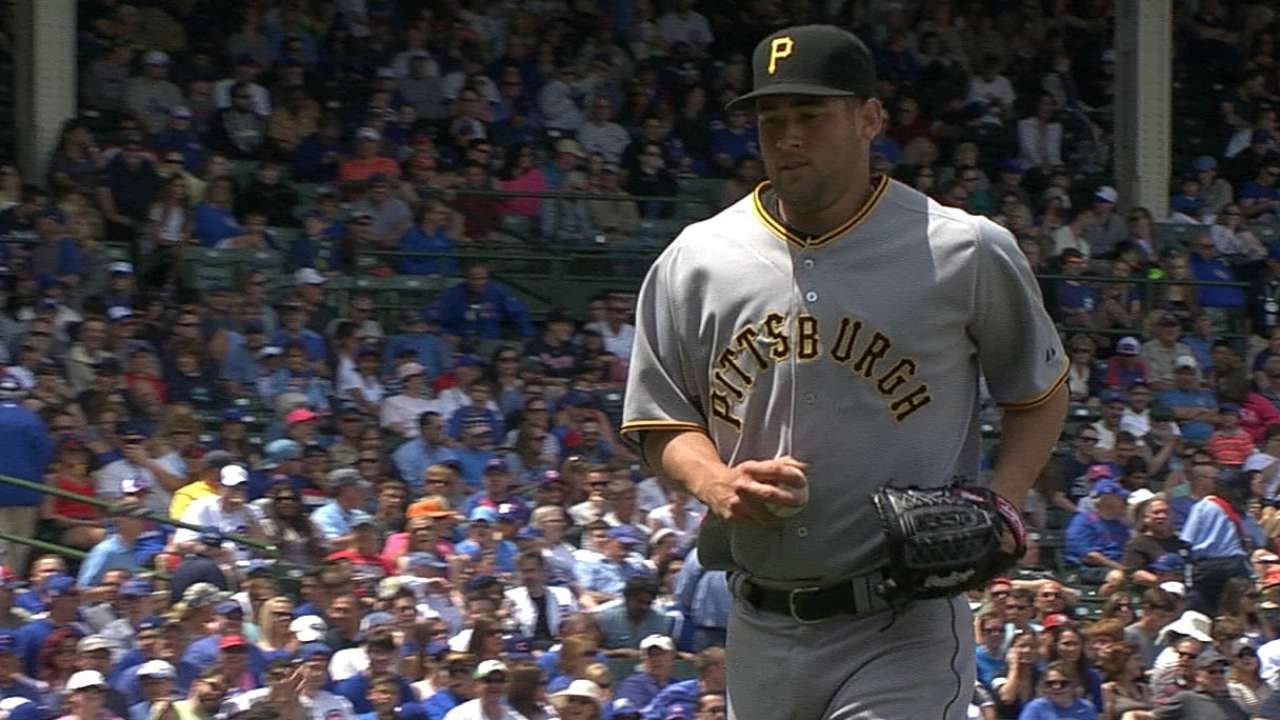 CHICAGO -- During Brandon Cumpton's nascent Major League career, the sixth inning has been about the time the pitching mound turns into Heartbreak Hill.
Not on Sunday. Cumpton stretched his mastery through seven innings of two-hit shutout pitching, leading the Pirates to a 2-1 win over the Cubs at Wrigley Field.
Never getting more than the two runs he was given in the third, the first on Travis Snider's home run, Cumpton sweated through his 21 outs.
"I didn't even know what my pitch count was 'til I got done. It felt like I threw a lot more than what I did [87]," Cumpton said.
He really had to sweat after leaving the game. In two innings, Pirates relievers gave up twice as many hits as he had in seven, Tony Watson and Mark Melancon both allowing a pair of leadoff singles in the eighth and ninth.
However, the Pirates escaped, because Watson "can be a a sniper. He's got shark eyes," manager Clint Hurdle said.
Against Watson, the first two Cubs reached base, then reached scoring position via sacrifice bunt. The next two, pinch-hitters Welington Castillo and Justin Ruggiano, struck out.
"I mean, their bullpen is the best in the game," said Cubs first baseman Anthony Rizzo. "Watson's one of the top left-handers in the game, so to get those two runners on early, and we didn't capitalize on it is unfortunate. It's baseball."
The Bucs also escaped because second baseman Josh Harrison and shortstop Jordy Mercer wouldn't let something as benign as flying shards of wood distract them from a crucial ninth-inning out.
The bat explosion came on Nate Schierholtz's swing with one out and runners at the corners. The barrel flew up the middle, "about five, six feet over my head. But it was enough where I didn't want to go for the ball," Melancon said.
Harrison did, and flipped it to Mercer -- very high. But the shortstop went airborne for it, and when he came back down, somehow landed on the bag for the second out. Junior Lake's fly ball to shallow right then ended the game.
"I've never been in the infield when so many bats ended up there the way they do now," said Hurdle, a former big leaguer. "To play through that … for Josh to stay with it and Jordy to be able to go up and come down in time to get the force."
So Cumpton received the ultimate reward for making the most of a meager offense against Chicago starter Jason Hammel -- which did not include a hit by Gregory Polanco, ending his career-opening streak at 11 games -- as the Pirates captured their fourth consecutive series on the road.
After going 0-for-3 against Hammel, Polanco drew a walk in the eighth off reliever Neil Ramirez, which led to his first big league stolen base.
The Bucs' last three wins have been started by Jeff Locke, Vance Worley and Cumpton. None of them were with the Pirates when they concluded Spring Training and left South Florida, where they are now headed for an Interleague series in St. Petersburg against the Rays.
"That's a great example," said Hurdle, creator of the team's next-man-up ethos. "These guys have come to the rotation, moved in and stepped up. They've been very efficient, all over the place."
In 13 big league starts, this represented the sixth time Cumpton blanked the opponent through five, and only the second time he hung around to hang more zeros. He walked two and fanned four, and did it economically on an average of 12 pitches per inning.
"I tried to get ahead in the count, tried to put guys away early, tried to put the ball on the ground," Cumpton said of a simple game plan, superbly executed.
The seven innings matched his career high, done twice previously (last July 30 against the Cardinals and this April 24 versus Cincinnati).
Hammel handcuffed the Bucs the first time they met, holding them to two hits for 6 2/3 innings in the season's third game, and has been made to pay for it since.
Snider's home run was the Pirates' fifth off Hammel, out of the eight he's allowed on the year. It also continued the trend that when the Bucs go on the road, they go yard; they've homered in nine of their last 10 away games, a total of 14 times.
Chris Stewart followed Snider's homer with a walk, leading to his classic station-to-station tour around the bases on Cumpton's sacrifice bunt, Polanco's pulled grounder to first and Harrison's infield single, which caromed off Hammel's left buttocks.
Tom Singer is a reporter for MLB.com and writes an MLBlog Change for a Nickel. He can also be found on Twitter @Tom_Singer. This story was not subject to the approval of Major League Baseball or its clubs.