A's pull off stunning rally, then fall in 10th
Oakland hits two homers in ninth inning off Uehara to tie game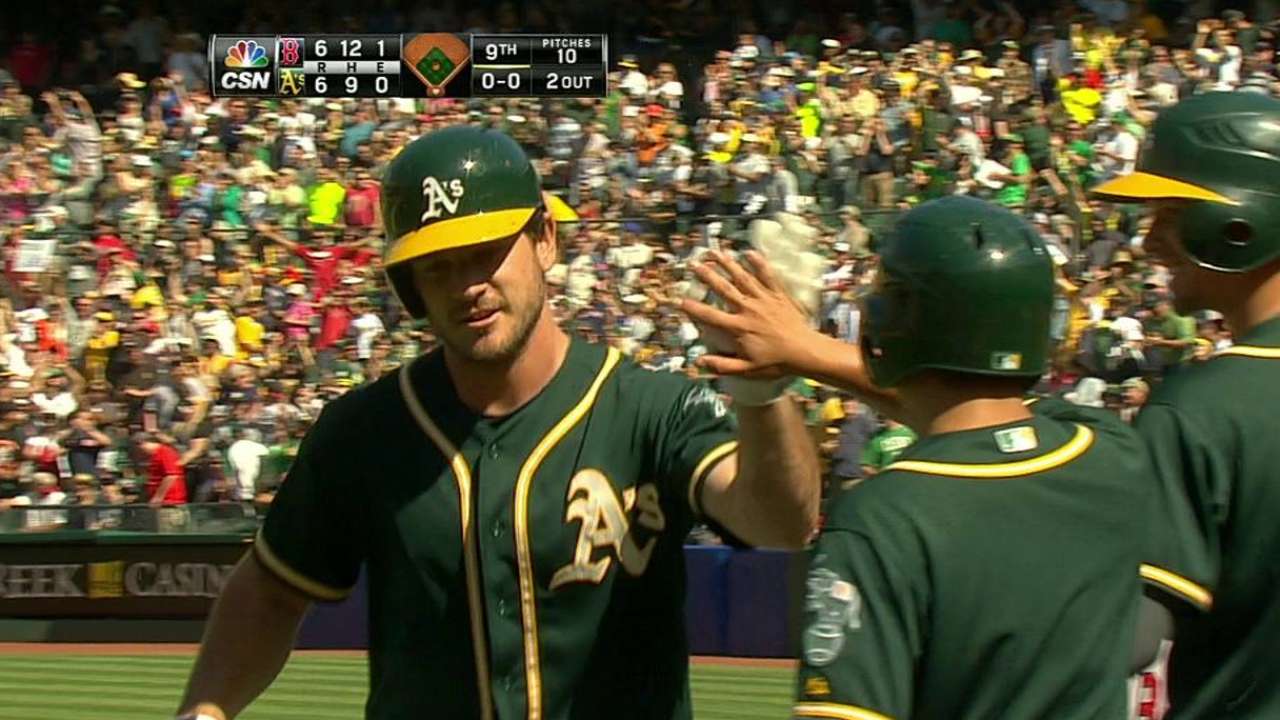 OAKLAND -- The A's have not swept a four-game series with the Red Sox in 43 years. They'll have to wait for another opportunity.
Oakland fell to Boston, 7-6, after overcoming a five-run deficit and forcing a 10th inning before a sellout crowd of 36,067 on Sunday afternoon at O.co Coliseum.
Down 6-1 when Red Sox starter Jon Lester exited with two outs in the eighth following a strong outing, Yoenis Cespedes, Josh Donaldson and Derek Norris struck RBI singles against righty reliever Burke Badenhop, who had held opponents scoreless for 18 innings.
Then Stephen Vogt and a pinch-hitter John Jaso each lifted solo shots off Boston closer Koji Uehara in the ninth to tie the score.
Unfortunately for Oakland, David Ortiz went deep on the team's fifth pitcher, lefty Fernando Abad (2-3), to open the 10th. The A's had won the first three matchups this weekend but had not swept four in a row against Boston since August 1971 at Fenway Park.
"They never quit," A's manager Bob Melvin said of his players. "That's as hard as we fought all year. We never feel like we're out of a game until the last out."
Pitching precluded the home team from a perfect finish. Lefty starter Tommy Milone yielded five runs on eight hits, including solo home runs by David Ross and Mike Napoli, over the game's first five innings, ending his career-high-tying five-game winning streak. He is 0-2 in three career starts against Boston.
"One through nine, I feel like they don't have any weaknesses. It can be tough," said Milone, who was frustrated by his inability to keep the ball down in the zone. His past against the Red Sox "is just one of those things I try not to think about. I go out there and pitch my game. Obviously today wasn't a good one against them, but hopefully the next one will be."
Lester was charged with three runs (two earned) during his 7 2/3 innings of work.
"His stuff was a little bit different today. The last time we faced him was probably the best I've ever seen him," Melvin said, referencing Lester's 15-strikeout performance against the A's on May 3. "We had some decent at-bats against him [today], we got him out of the game and did some damage against the bullpen."
Of course, that's when the game really got interesting. Thanks to the never-quit lineup, the A's pushed five runs across over the eighth and ninth frames.
"It seems like every time you come in here something weird always happens," said Lester, who gave up just four of Oakland's nine hits. "They play really well at home. It's just kind of a weird game there at the end."
Weird and unfortunate. Norris would have to leave the game in the top of the 10th after being struck in the side of the head by Jonathan Herrera's backswing. As a result, closer Sean Doolittle had to pinch-hit for Abad with two outs in the 10th, and he grounded out to end the game.
The loss snapped the A's five-game winning streak and dropped their homestand record to 7-3 mark entering an eight-game road trip, which begins on Tuesday in New York against the Mets.
Andrew Pentis is a contributor to MLB.com. This story was not subject to the approval of Major League Baseball or its clubs.