Stults allows only two runs, but bats are quiet again
Padres still have not won a home series vs. L.A. since 2010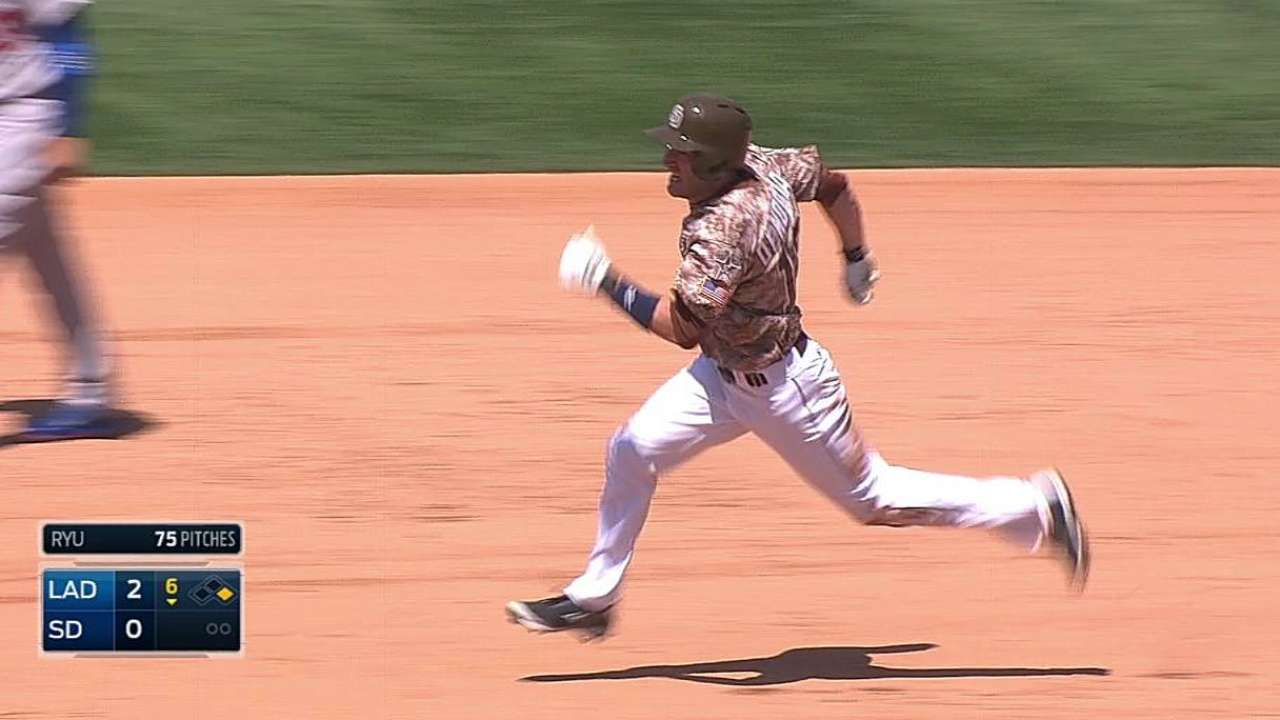 SAN DIEGO -- Once again, the Padres won the first game of a series against the Dodgers in inspiring, comeback fashion. However, just like in their season-opening series against Los Angeles, the Padres' offense disappeared as they lost the last two games to deprive their fans of a home series win against their Southern California rivals.
The only obvious difference between this three-game set and the Padres' season-opening series against the Dodgers was that this one ended with the dismissal of their general manager.
Eric Stults picked up his 10th loss, tied for the most in the Majors, as the Padres wasted his solid bounce-back performance and lost, 2-1, to the Dodgers on Sunday afternoon after relieving GM Josh Byrnes of his duties less than an hour before the game.
San Diego (32-44) hasn't won a home series against Los Angeles (42-35) since 2010, though it had a golden chance to do so this weekend after winning Friday and avoiding Clayton Kershaw and Zack Greinke in the Dodgers rotation. For the second day in a row, though, the Dodgers rode a pitching gem from one of their starters to victory.
Following Josh Beckett's scoreless seven-inning, four-hit effort Saturday night, Hyun-Jin Ryu (9-3) didn't allow a baserunner until the fourth inning. He gave up four hits and one run in six frames with one walk and two strikeouts. San Diego had no trouble putting the ball in play, striking out just three times in the first eight innings, but several hard-hit balls went right to Dodgers fielders.
Stults (2-10), meanwhile, got into immediate trouble in the first, as Hanley Ramirez singled to extend his hitting streak to nine games before stealing second and advancing to third on a wild pitch. After Yasiel Puig walked, Stults nearly escaped the trouble by inducing what could have been a 1-6-3 Adrian Gonzalez double play, but Everth Cabrera's throw to first soared into the stands, allowing Ramirez to score.
The Dodgers picked up another run in the second off an RBI single from Dee Gordon, who along with Ramirez, wreaked havoc on the basepaths and carried the Dodgers' offense during the weekend series.
The top two hitters in Dodgers lineup went a combined 8-for-21 (.381) with a double, triple, six runs scored, four RBIs and three stolen bases across the three-game set.
"They've got a lot of, I guess you could say, superstars in this game," Stults said. "I knew from the start that I'd have to be on my game."
The crafty left-hander eventually settled down, lasting seven innings and retiring nine of the last 10 batters he faced. He gave up six hits and two runs with three walks and five strikeouts. But it wasn't enough to earn him his first win since May 10.
"Today I was able to limit the mistakes and just was able to keep them off balance," Stults said. "Their guy threw a little better, unfortunately."
The only run the Padres could muster came in the sixth, when Chris Denorfia hit a leadoff double, took third on a Cabrera groundout and scored on a Carlos Quentin groundout.
After allowing three ninth-inning runs to draw the loss in Friday's matchup, Kenley Jansen took the mound for the third straight day and struck out the side to notch his 22nd save.
"Today was as good as I've caught him all season," said Dodgers catcher A.J. Ellis.
"I don't think we ever lost confidence in Kenley," said Dodgers manager Don Mattingly. "You don't ever want to see him have an outing like [Friday night]. But it happens now and then and sometimes you've got to pay attention to your work. It's good to see him bounce back."
The Padres fell to 6-14 in June, and haven't won a series since taking two-of-three from the White Sox from May 30-June 1.
Will Laws is an associate reporter for MLB.com. This story was not subject to the approval of Major League Baseball or its clubs.