Jansen notches second straight save to secure series
Ryu allows just one run, continues trend of gems from Dodgers starters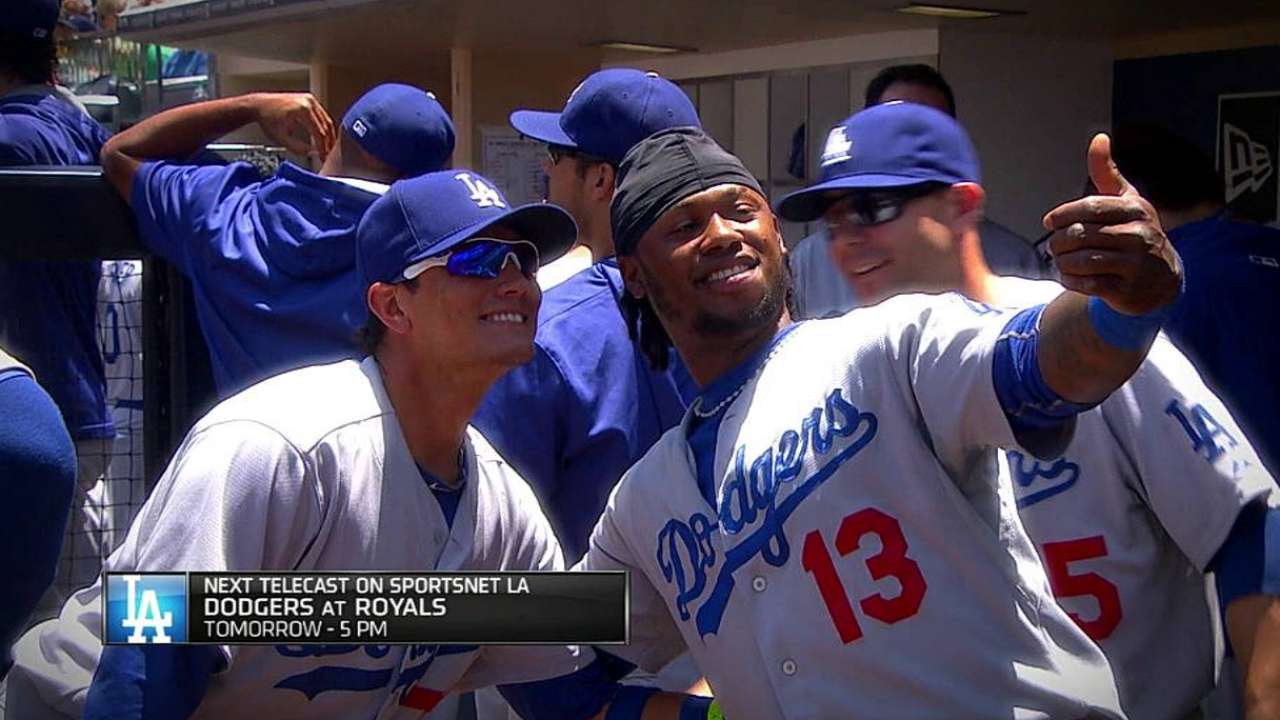 SAN DIEGO -- For all of the closers (and closer salaries) the Dodgers have crammed into their bullpen, Kenley Jansen owns the role and needs to be as dominant in the ninth inning as he was Sunday.
With mechanics ironed out and confidence renewed, Jansen struck out the side to wrap up a 2-1 win over the Padres, his 22nd save finishing off Hyun-Jin Ryu's ninth win.
It was the first time Jansen pitched back-to-back-to-back this year. He blew a save and took the loss Friday night, saved Josh Beckett's win Saturday and was back to his old self Sunday.
"Today was as good as I've caught him all season," said catcher A.J. Ellis.
As pitching coach Rick Honeycutt explained, a study of videos after Friday night's implosion showed that Jansen was arching his back, pulling his head, dragging his arm and allowing enough flaws to rob his cutter of the explosive action that can make him unhittable.
"His cutter has another gear," said Honeycutt. "His ball is weird when he's throwing it right. He's 6-6 and throwing downhill, but sometimes it looks like it defies gravity because it doesn't sink at the end, it just jumps through the zone and hits that spin speed and gets that action a the end.
"[Pitching coaches] Chuck Crim and Kenny Howell and I just wanted to show him what he needs to do to make sure he gets those swings and misses he got today on pitches in the strike zone. When he's doing it right, he gets the ball to the [pitcher's] glove side of the plate."
And the Dodgers are looking a lot more like the club that unleashed last year's 42-8 roll than the one that slid 9 1/2 games out of first place as recently as June 8.
"I don't think we ever lost confidence in Kenley," said manager Don Mattingly. "You don't ever want to see him have an outing like [Friday night]. But it happens now and then and sometimes you've got to pay attention to your work. It's good to see him bounce back.
"Kenley is a big boy. He can get out of line once in a while. He's got a lot going on, a long arm swing. When it gets out of whack, he fights himself. He made a quick adjustment and that tells you how good he is."
So Jansen looked a lot more like an All-Star caliber closer than the one with the 4.26 ERA. He followed four outs by J.P. Howell and two from Brian Wilson, as the bullpen picked up three innings when Ryu hit the wall, while allowing the only run in the sixth inning.
"I'd like to go deeper," said Ryu, "but I felt extra fatigue. I talked to Donnie and he made the call."
Ryu is 6-1 since returning from the disabled list and a tired shoulder. He walked one and has seven walks in his last seven starts
"There's nothing more I dislike on the mound than walking somebody," he said.
The Dodgers offense was subdued against former teammate Eric Stults, scoring a run in each of the first two innings, while Ryu (9-3) allowed San Diego one run on four hits over six innings, making 94 pitches.
"They've got a lot of, I guess you could say superstars in this game," said Stults. "I knew from the start that I'd have to be on my game. They're a good team. Their guy threw a little bit better, unfortunately. I just tried to keep us in the ballgame."
In the first inning, Hanley Ramirez extended his hitting streak to nine games with a single, stole second and advanced to third on a wild-pitch ball four to Yasiel Puig. With runners on the corners and one out, Adrian Gonzalez hit a comebacker to Stults, who threw to second base, where shortstop Everth Cabrera and second baseman Jace Peterson were both covering and nearly collided.
Cabrera made the catch to force Puig, but tried to avoid Peterson while throwing off balance to first base for the double play and, instead, threw the ball into the photo well at the end of the dugout as Ramirez scored.
The Dodgers added a run in the second on a leadoff walk by Scott Van Slyke, a one-out walk to Ellis and an RBI single by Dee Gordon, with Ellis thrown out at the plate by right fielder Chris Denorfia.
San Diego -- which relieved general manager Josh Byrnes of his duties minutes before first pitch -- cut into the lead with a run in the sixth on a leadoff double by Chris Denorfia and groundouts by Cabrera and Carlos Quentin. Tommy Medica doubled over center fielder Van Slyke's head, but he was stranded when Ryu got Rene Rivera on a foul pop-up.
Ken Gurnick is a reporter for MLB.com. This story was not subject to the approval of Major League Baseball or its clubs.