Rockies lack finishing touch as comeback falls short
Colorado outhits Brewers, but gaffes prove too much to overcome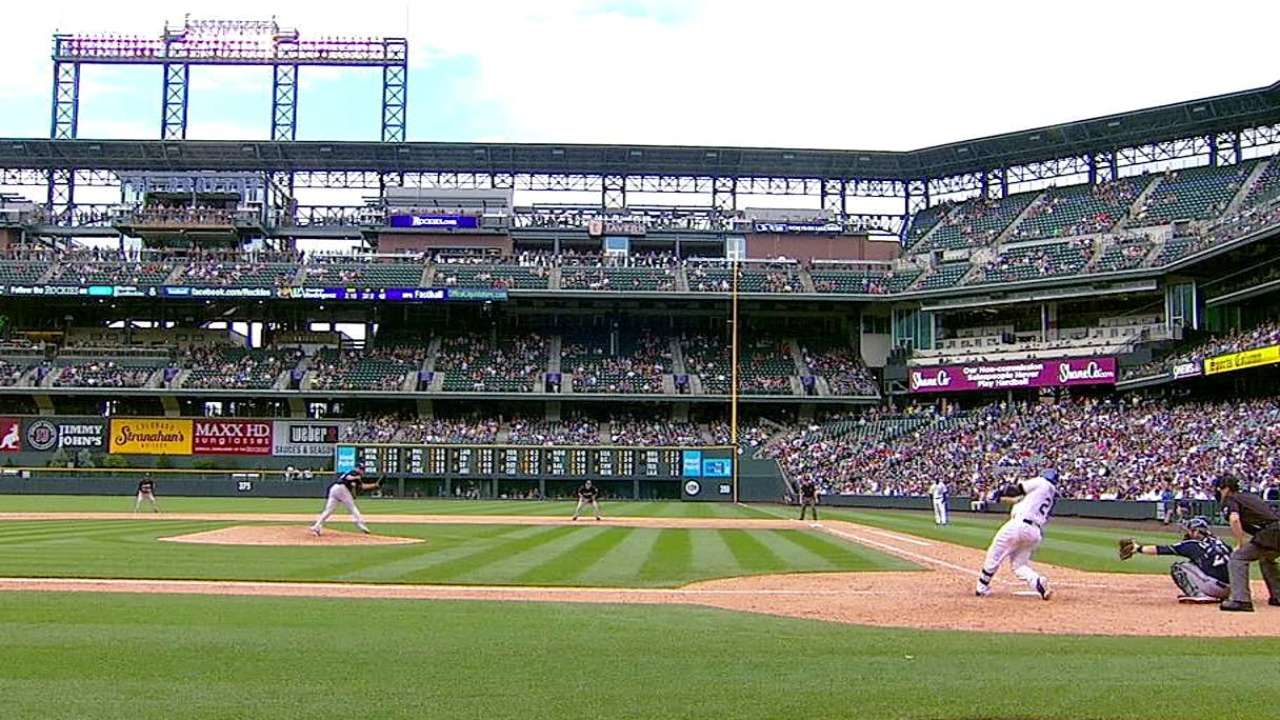 DENVER -- Home-field production and fortune have evaded the Rockies. Never was this more painfully obvious than in their 6-5 loss to the Brewers at Coors Field in front of 36,619.
The Rockies started the year 16-7 at home, but the three-game sweep at the hands of the National League Central-leading Brewers was their second in the last four series. A team that must dominate at home has fallen to 19-17 at Coors Field, has lost six straight overall, and has the defending NL Champion Cardinals coming to town for three starting Monday.
"Just keep fighting, fighting for wins," Rockies manager Walt Weiss said.
With a lineup missing Carlos Gonzalez, Nolan Arenado and Michael Cuddyer, once again the Rockies needed more than they had. There was much to overcome -- two subtle, but costly mistakes from catcher Wilin Rosario in the fifth inning and one by struggling righty reliever Adam Ottavino in the ninth.
And the Rockies were met with bizarre misfortune after Corey Dickerson tripled to lead off the ninth against Brewers closer Francisco Rodriguez.
The throw from Brewers center fielder Carlos Gomez sailed past Brewers third baseman Aramis Ramirez. Dickerson started for the plate, then hesitated. Finally, his legs gave out and he fell. He was tagged out easily.
"When I hit it, it hit about an inch from going out, and bounced out, and I knew I could get three pretty easily," Dickerson said. "I'd been standing around for awhile, hadn't been on base for awhile. My legs were already stiff."
Rosario, who carried the offense all day, homered off Rodriguez immediately following Dickerson's play.
Rosario opened the second with an infield single and later scored from second on Charlie Culberson's infield single off the glove of Brewers second baseman Rickie Weeks.
Rosario also delivered a two-run double in the third. Rosario was instrumental in all three runs in five innings against Brewers starting pitcher Kyle Lohse (9-2), although Lohse retired him on a popup and Josh Rutledge on a groundout to end a two-on jam in the fifth.
The game was tied at 3 with two out in the fifth when the Weeks reached on Culberson's error. Rosario's first miscue was mishandling a delivery from Rockies starter Tyler Matzek (1-2), with Ryan Braun batting, to let Weeks take second. The Rockies then had to pitch around Braun.
Rosario took responsibility. Having had little experience with Matzek, he said he wasn't prepared for the ball to cut the way it did.
"The second pitch after that one, the ball did the same thing, but I'd seen it before and I was prepared," he said.
The next hitter, Jonathan Lucroy, singled to right. Weeks scored on the single, but the Rockies had Lucroy trapped between first and second. Braun broke from third to home and first baseman Justin Morneau's throw appeared to be in plenty of time. But Rosario didn't attempt a tag. Instead he threw Lucroy out at second, but not before the Brewers had a 5-3 lead.
"I saw the video and I know I really had time to tag at home plate, but I didn't pick up the runner," Rosario said.
While the hitting makes Rosario special, at times the defense lags because Rosario can be caught off-guard by the unexpected. But the hitting Sunday was the good news.
"When he gets rolling, he's obviously a dangerous player," Weiss said.
Matzek gave up five runs and seven hits in 5 1/3 innings. Three of the runs came in the third, including two on Ramirez's 10th homer of the season. Ramirez finished the series 8-for-13 with two home runs and seven RBIs.
"They're a good hitting team," Matzek said. "I was trying to pound he zone, but I kept leaving it up."
Righty Rob Scahill, in his first game since being called up from Triple-A Colorado Springs, escaped a one-out, bases-loaded jam in the sixth and threw 1 2/3 spotless innings.
The Rockies cut it to 5-4 in the eighth. Drew Stubbs delivered a two-out, RBI triple in the eighth off Will Smith -- just the fifth earned run off Smith in 30 2/3 innings this season.
The Rockies walked Troy Tulowitzki intentionally, and Smith forced a grounder to third on his first pitch to Morneau -- who entered with a .383 batting average on the first pitch (18 of 47).
However, Brewers pinch-hitter Lyle Overbay opened the top of the ninth with a homer to right off Ottavino, who has given up runs in seven of his 10 appearances this month (12.00 ERA). Otavino fanned two in the inning.
"That was a terrible pitch I threw today, but in general I'm not getting away with anything," said Ottavino, who usually relies on his slider but threw a curve to Overbay. "They're getting what they want when they put it in play and I'm not."
Thomas Harding is a reporter for MLB.com. Read his blog, Hardball in the Rockies, and follow him on Twitter @harding_at_mlb. This story was not subject to the approval of Major League Baseball or its clubs.