Gossage receives Monument Park plaque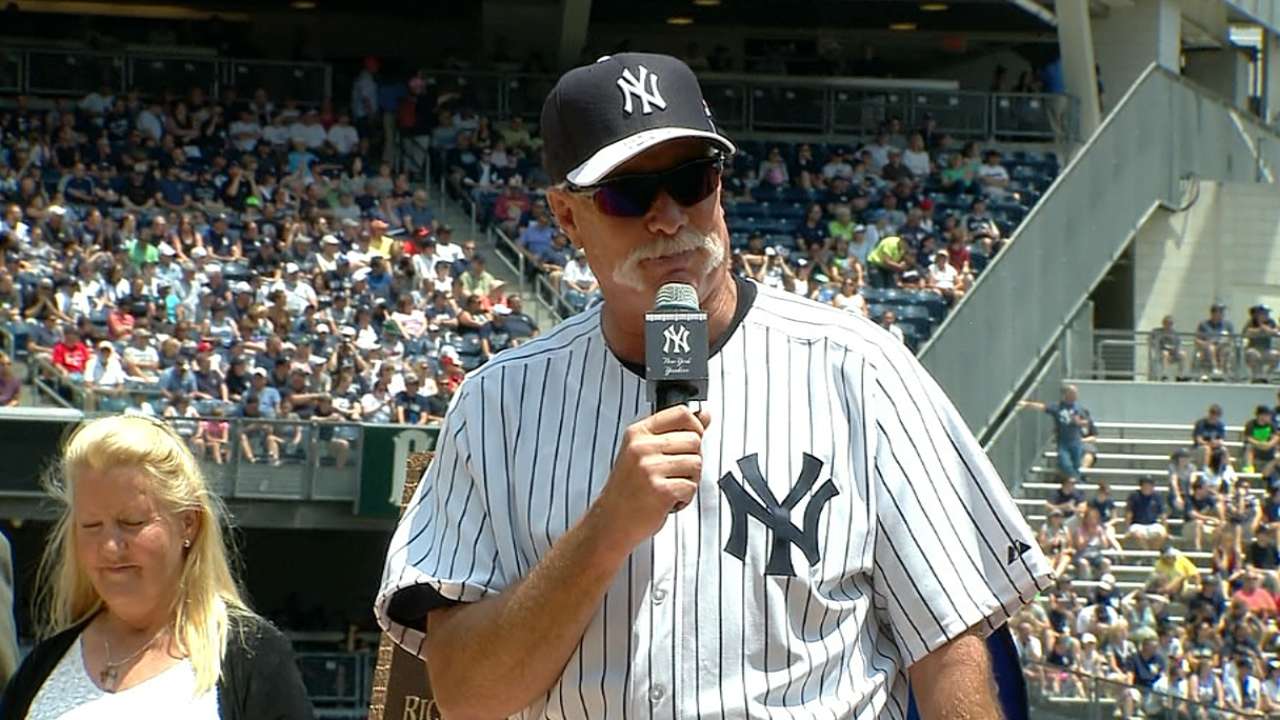 NEW YORK -- As the Yankees celebrated Old-Timers' Day on Sunday, they took a moment to honor the career of Hall of Fame closer Rich "Goose" Gossage. The Yankees unveiled a plaque dedicated to Gossage to be installed in Monument Park.
Gossage played parts of seven seasons for the Yankees (1978-83, '89) -- winning the World Series in 1978 -- and was inducted into the National Baseball Hall of Fame in 2008, but he called his moment on Sunday at Yankee Stadium "the greatest day I ever had."
He remembered sitting in the bullpen during his playing days and looking out at the monuments, never thinking he would one day be honored to receive his own plaque.
"I don't even really know what to say," Gossage said during his speech to the crowd, which serenaded him with "Gooooose" cheers. "It's totally overwhelming to me is the only word I can come up with."
Gossage was a nine-time All-Star during his career and complied a 42-28 record and a 2.14 ERA with 151 saves and 512 strikeouts during 319 games with the Yankees. The Yankees also presented him with a ring -- his number 54 coated in diamonds on the center, his name "Gossage" down one side and his career highlights down the other.
Gossage's ceremony came one day after the Yankees dedicated a plaque to Tino Martinez.
When Gossage heard his ceremony would come during Old-Timers' Day in front of some of his former teammates and legendary Yankees from so many different eras, he said he was fortunate to be sitting down when he heard the news.
"I never ever put myself in that kind of company," Gossage said.
Jamal Collier and Jake Kring-Schreifels are associate reporters for MLB.com. This story was not subject to the approval of Major League Baseball or its clubs.