Revere back in lineup after missing five games
Left knee healed, speedy center fielder in leadoff spot for series finale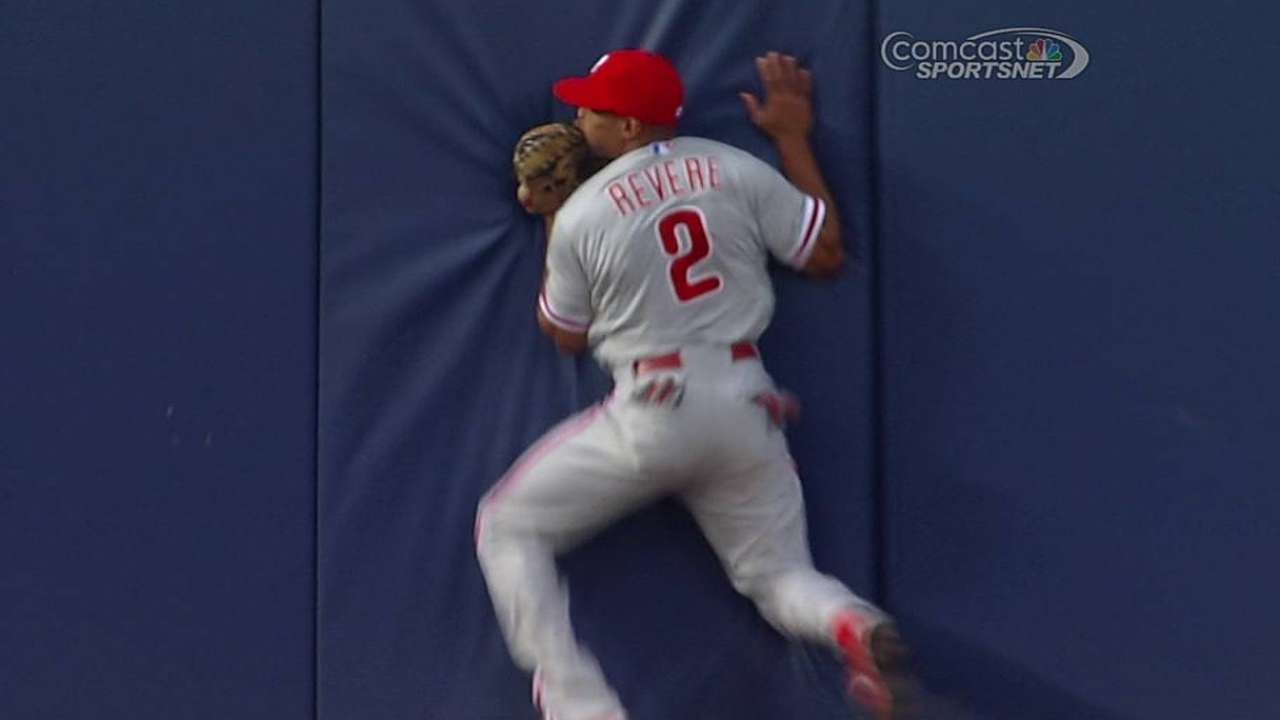 ST. LOUIS -- There was a pep to Ben Revere's step Sunday morning as he carried his bat back from the batting cage at Busch Stadium.
Revere, out of the starting lineup the last five days with a swollen left knee, returned to the leadoff spot in the final game of the Phillies' seven-game road trip Sunday.
"Everything feels go, I just wanted to get all the swelling out before I got back out there," Revere said. "The knee feels good."
Revere banged into the wall at Turner Field in Atlanta on Monday while making a running catch. After sitting out Tuesday, Revere entered Wednesday and Thursday as a pinch-hitter, going 0-for-2.
The speedy center fielder had some restriction even when pinch-hitting due to the swelling and took medication in addition to icing the knee, which continued to improve in recent days.
"The day after, my knee swelled up and it was hard for me to run," Revere said. "My game is speed, so they were just like, 'Let's get that thing out of there as soon as possible.' Just give me a couple of days off is what [manager Ryne] Sandberg wanted to do. It was a little precaution, but luckily it wasn't anything serious."
Revere has hit .280 with 20 stolen bases in 64 games. With him back in the lineup Sunday, Jimmy Rollins moved to his usual No. 2 spot as Revere started his 49th game as the leadoff hitter this season.
Alex Halsted is an associate reporter for MLB.com. This story was not subject to the approval of Major League Baseball or its clubs.