Tillman bests Tanaka as O's take series in NY
Righty tosses seven scoreless innings as Schoop, Hardy pace offense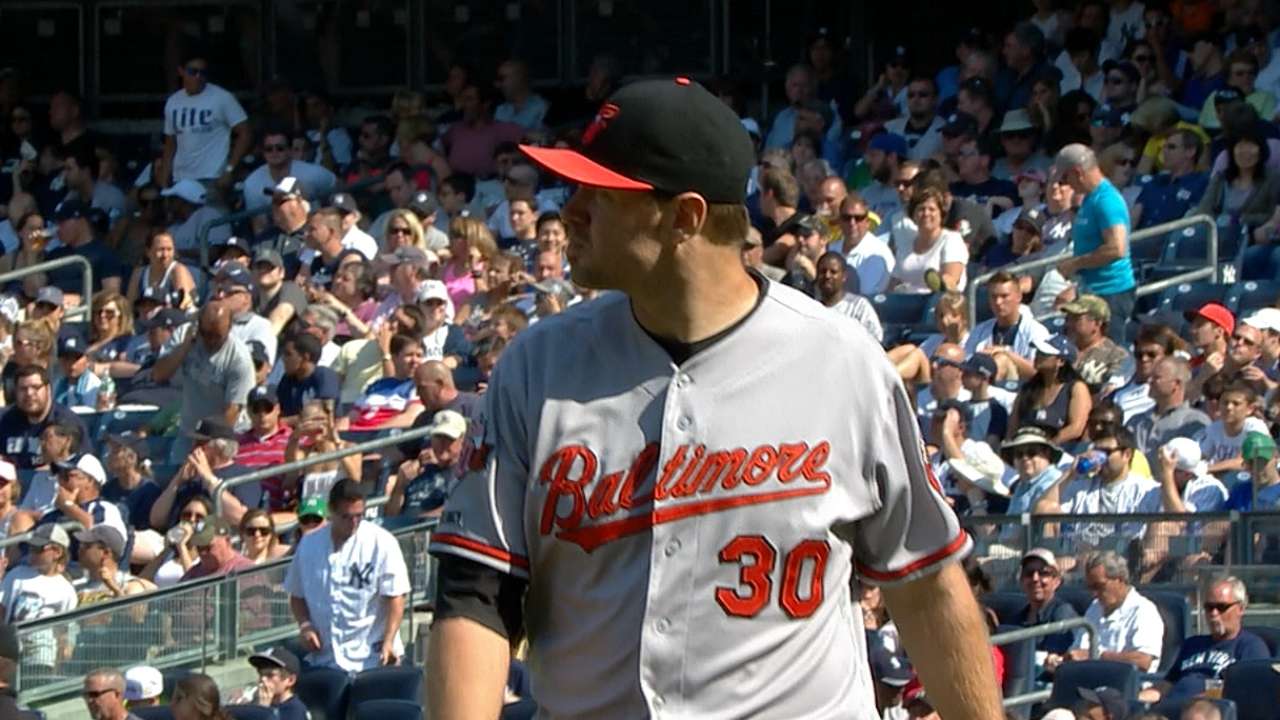 NEW YORK -- Orioles 2, Tanaka 0.
Yankees ace Masahiro Tanaka -- highly billed as the frontrunner for both the American League Rookie of the Year Award and the AL Cy Young Award -- entered Sunday's game with an impressive body of work that included an 11-1 record with a superhuman 1.99 ERA.
But Baltimore appears to be his Kryptonite. Led by a stellar seven-inning outing from starter Chris Tillman and two RBIs from second baseman Jonathan Schoop, the Orioles used a four-run eighth to put away the Yankees en route to an 8-0 win and a series victory in front of a sellout crowd at Yankee Stadium.
Tanaka, who went seven innings and still turned in a quality start, has pitched in 15 games since signing a $155 million contract this past offseason, and the Yankees have lost just three of those contests. Two have been against the Orioles.
"It means a lot because we were 1-1 [in the series]," Schoop said of beating Tanaka and giving the Orioles their third consecutive road series win for the first time since July-August 2012. "We respect him, and I hope he respects us, too."
The Orioles (39-35), who moved into a second-place tie with the Yankees (39-35), showed their moxie after a walk-off loss on Friday night. Baltimore -- which is 1 1/2 games back of Toronto -- outscored New York, 14-1, in the final two games of the series, with Sunday's win the O's second-largest margin of victory this season. The largest was also in New York in April.
"One of the qualities of good teams that are playing in the postseason is that they're competitive on the road," manager Buck Showalter said following his club's 4-2 road trip. "We know how good they are. One thing you know when you face Tanaka is you're going to have to have a well pitched game by you to be in the ballgame. I thought our guys did a great job of grinding it and making him earn everything. He's some kind of a pitcher. We were fortunate today to catch him on a day when he wasn't as sharp as he normally is."
Schoop, who homered in Tanaka's last start against Baltimore, went deep again in the second inning to put the O's on the board. The Orioles increased their lead in the seventh thanks to some productive outs from Schoop and catcher Caleb Joseph. After shortstop J.J. Hardy singled and moved to third on Manny Machado's double, Schoop's groundout scored a run and Joseph -- who hit his first career Major League homer in the ninth -- delivered a sacrifice fly.
"I started out with giving up the home run, and after that I felt that I battled pretty well," Tanaka said through his interpreter. "But at the end I gave up two more runs, which cost us the game. And I feel that I kind of let the game go there."
Tillman took it from there, turning in his third consecutive quality start while holding the Yankees to four hits and four walks. He got a huge break on an overturned call that led to Brett Gardner being called out at third base to open the bottom of the first inning and rode that momentum into a dominant afternoon.
"It's coming, it's definitely coming," Tillman said of getting back on the right track. "Still have a lot of baseball left, a lot of starts left, and you always want to improve every time. The second you get comfortable, they'll knock you right on the butt, so you've got to stay focused and keep working."
Tillman, who threw 114 pitches, has turned in back-to-back starts of seven or more innings for the first time since April 6 and April 11, and his stellar outing lowered the O's starers' ERA in the weekend series to 1.02.
"You can tell he was carrying a good fastball early, borderline pitches," Showalter said of Tillman, who improved to 6-0 on the road this season. "He was without his curveball until the fifth inning. That made it a little different. I thought the changeup got him a couple of outs he needed. I thought physically he was prepared to go 110, 120 pitches. He was in a real good delivery."
Baltimore put the game out of reach in the eighth, scoring four runs off reliever Adam Warren and using a big break on the basepaths to its advantage. After singles from Steve Pearce and Adam Jones to start things off, Nelson Cruz hit a ground ball to third baseman Kelly Johnson, who stepped on the bag but was tripped up by a sliding Pearce and watched his throw sail into the stands. Yankees manager Joe Girardi came out to argue interference on the play, with Pearce sliding a good distance from the base, but the call stood as an error on Johnson, as Cruz and Jones moved up to second and third.
"When I saw the replay, I was like, 'Man, I was far away [from the bag],' Pearce said. "But like I said, I was not trying to hurt Kelly over there. I was just trying to break up the double play."
Warren intentionally walked Chris Davis to load the bases and Hardy made it hurt with a three-run double. Machado singled in another run and, two innings later, Joseph delivered his first big league long ball.
"It was awesome," Tillman said of watching Joseph go deep. "I was screaming like a little girl in the clubhouse I was so happy for him. I've been playing with him for a while, so it's awesome to see. Glad the fan threw the ball back."
Added Joseph: "To do it in Yankee Stadium, such a historic place, more than hitting the home run, it's taking two out of three against the Yankees and gaining some leverage. Winning in this atmosphere makes it even more sweet."
Brittany Ghiroli is a reporter for MLB.com. Read her blog, Britt's Bird Watch, and follow her on Facebook and Twitter @britt_ghiroli. This story was not subject to the approval of Major League Baseball or its clubs.