Braves squander chance to get back in first place
Santana has better outing, but Atlanta loses to split four-game series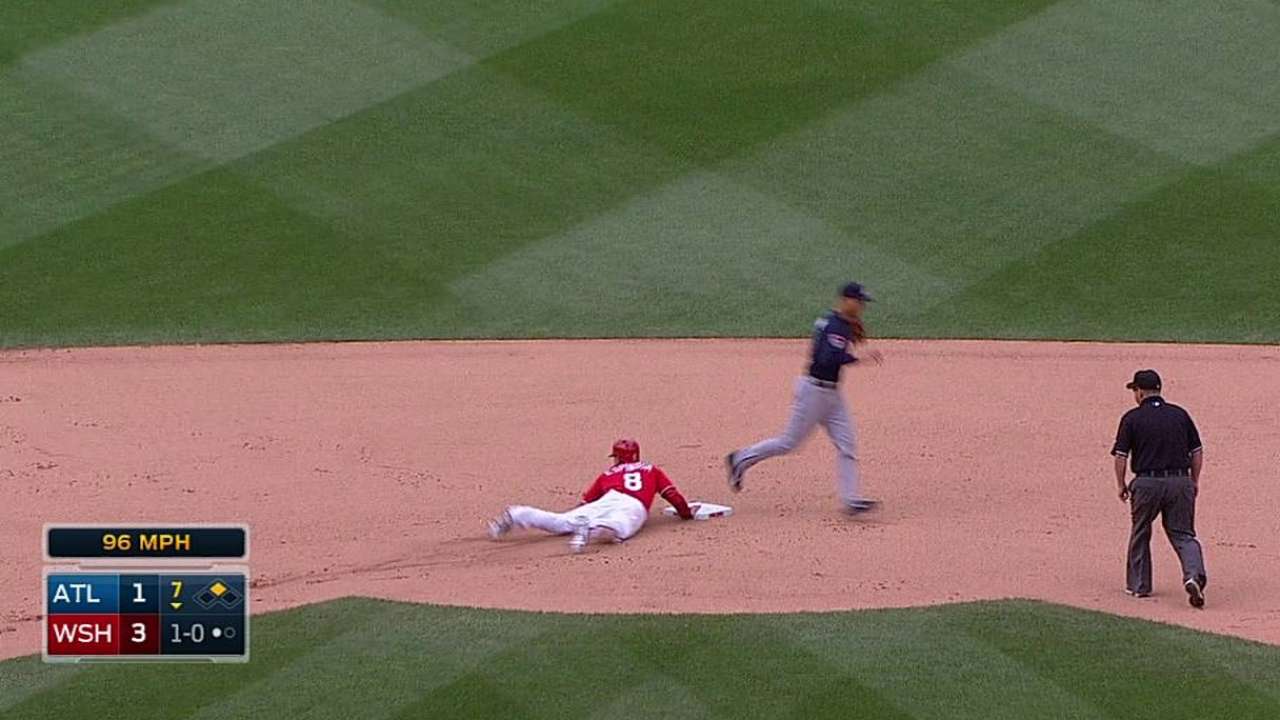 WASHINGTON -- The Braves seemed to get their swagger back when they began a four-game set with consecutive wins against the Nationals. But by the time the series concluded with Sunday afternoon's 4-1 loss, they were back in second place and dealing with the reminder that their offense remains a legitimate concern.
"Baseball is funny," Braves manager Fredi Gonzalez said. "If we'd have lost the first two games and won the last two, you're feeling pretty good about yourself. It didn't happen that way. So you're not feeling real good about yourself. Our goal is always to win series. We didn't do it, but we didn't lose a series."
After extending their dominance in this division rivalry with wins on Thursday and Friday, the Braves gained a half-game lead in the National League East. But while totaling one run over the course of the final two games, they bid adieu to momentum, first place and their utter dominance in this division rivalry.
The Braves had won 20 of the previous 27 games played between these two teams before Doug Fister introduced himself to this rivalry with eight scoreless innings on Saturday night. Following Fister's lead, Tanner Roark helped seal the deal on Sunday as he surrendered just one run in 5 1/3 innings.
Roark helped keep Evan Gattis hitless in three at-bats to snap a 20-game hitting streak, which had stood as the longest current streak in Major League Baseball.
"They're a good ballclub and they're in their park," Braves third baseman Chris Johnson said. "So a four-game set, taking two games, you can't be too upset about that. After taking the first two, I think you would have liked to have squeezed one more in there. But you've got to give them credit, their pitchers Roark and Fister did a great job of shutting us down."
When Jayson Werth and Adam LaRoche notched consecutive singles ahead of Ryan Zimmerman's sacrifice fly in the two-run first inning, it looked like Ervin Santana was heading toward an outing similar to many he had experienced while producing a 6.17 ERA in his previous seven starts.
But as he struck out seven of the 10 batters that followed Zimmerman's sacrifice fly, Santana started to look more like he had while producing a 1.99 ERA in his first six starts. The 31-year-old hurler allowed just one more run during his six-inning effort and consistently threw a fastball that was clocked between 94 to 96 mph.
"I was encouraged by a lot of things Santana did today," Gonzalez said. "His velocity was really, really good. His fastball was sharp and had some movement to it. His breaking ball was outstanding. I thought it was a real, real good outing for him."
While Roark might not be as heralded as Jordan Zimmermann or Stephen Strasburg -- the starting pitchers the Braves beat in the first two games of this series -- he has earned respect during the early portion of his first full Major League season. The 27-year-old right-hander has allowed two earned runs or fewer in 12 of 16 starts.
Justin Upton's groundout stranded a pair of Atlanta runners in the fourth inning and B.J. Upton stranded two more runners when he concluded the top of the fifth with one of the seven strikeouts he compiled while going 1-for-14 during this series.
Freddie Freeman, who has batted .500 against the Nationals this year, began the sixth inning with a single and advanced to second base when Roark walked Gattis. Two batters later, Justin Upton put the Braves on the board when he scored Freeman with a single to the right-center-field gap.
"That was a grind-out at-bat to get the RBI there," Gonzalez said. "I thought we were going to get something going there. It just didn't materialize thereafter. That's baseball sometimes."
That has been baseball far too often for the Braves, who have scored fewer than two runs in 21 of their first 75 games. To put this in perspective, they crossed the plate fewer than two times a total of 30 times all of last season.
"That's a very good team over there that has had our number had our number the last year and a half, two years," Zimmerman said. "This is a step in the right direction, but they are a very good team. I don't think they are going anywhere. We have to continue to play well against them if we want to go where we want to go."
Mark Bowman is a reporter for MLB.com. This story was not subject to the approval of Major League Baseball or its clubs.