Dickey strong but Blue Jays fall in finale
Injuries to Lawrie, Bautista pile on to sour end of rough road trip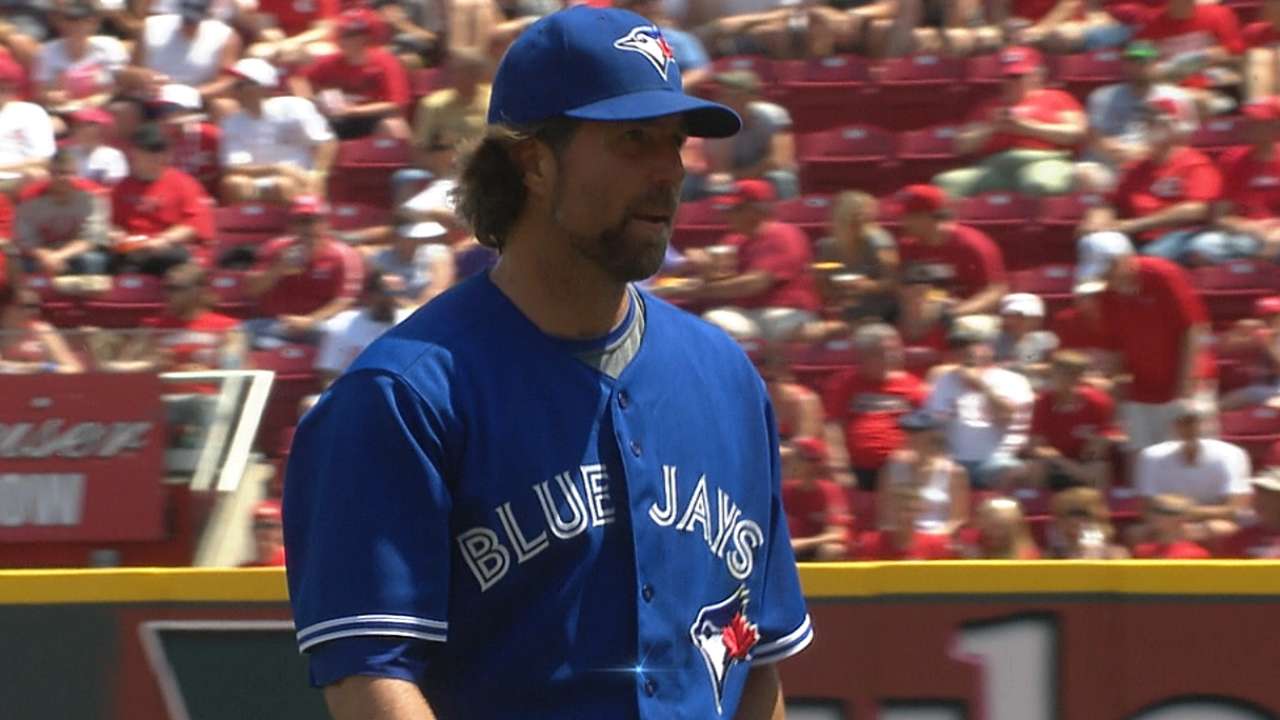 CINCINNATI -- The Blue Jays' cushion atop the American League East standings has all but disappeared following a disappointing road trip through Baltimore, New York and Cincinnati.
Toronto began the three-city journey with high expectations but now finds itself going home with a 3-7 record. Since being a season-high 14 games above .500 on June 6, the club has lost 11 of 15 games and its lead is down to 1 1/2 games.
The latest blow came on Sunday afternoon as R.A. Dickey allowed four runs over 7 2/3 innings while his offense remained quiet in a 4-3 loss to the Reds that was marred by a pair of potentially significant injuries.
"The bottom line is on this road trip we didn't pitch good enough other than a couple of days, we didn't hit enough and our defense was shoddy," Blue Jays manager John Gibbons said in a moment of brutal honesty. "So, you know what? You get what you deserve, and that's what we got on this road trip."
The road trip started off well enough with a split in Baltimore but then went sideways with three consecutive losses in New York. There was a chance to salvage the trip after the club rallied from eight runs down to beat the Reds on Friday night, but the next two games didn't go as well.
Dickey found himself in trouble early when first baseman Edwin Encarnacion was unable to make a play on a throw from third baseman Juan Francisco with two outs in the first inning. The error allowed the inning to continue, and Jay Bruce made the Blue Jays pay for it with an RBI single to right.
Another run scored in the fourth, and the difference maker came in the fifth when Dickey surrendered a two-run homer to third baseman Todd Frazier. The 17th home run of Frazier's season put the Reds in front for good.
The positive from Dickey's outing is that he was able to settle down after that as he came within one out of his first complete game of the season. That provided some much-needed rest for the bullpen after starters Liam Hendriks and J.A. Happ combined to allow 13 earned runs over 5 2/3 innings on Friday and Saturday.
"I felt good," Dickey said. "I gave up nine hits, albeit, two or three of them were not hard-hit balls but at the same time I think all but one of my earned runs over the last four or five outings have come via the home run. That's tough sometimes to overcome especially when Johnny Cueto is on the other side of the diamond over there. I knew it was going to be a scrappy game and I tried to keep it in as long as I could."
Toronto's offense had another off-day at the plate, and with the exception of a breakout game on Friday night it has struggled for more than two weeks. The only bright spots came from a Colby Rasmus two-run single in the fifth and a solo home run by Encarnacion in the eighth for his Major League-leading 24th of the season.
After leading the Majors with 165 runs in May, the Blue Jays have scored 58 runs in 18 games this month, which ranks near the bottom of the league. The club entered play on Sunday with a .229 average and a .189 mark with runners in scoring position as almost everyone in the lineup with the exception of Rasmus and Encarnacion has hit a significant bump in the road.
The Blue Jays have now gone five consecutive series without a series victory. They lost sets to the Cardinals, Twins and Yankees with a series split vs. Baltimore also mixed in. As frustrating as the recent skid has been, the outcome of Sunday's game took a backseat to a couple of potentially devastating blows to the health of the team.
Third baseman Brett Lawrie is headed for the disabled list after he fractured his right index finger on Sunday afternoon. Lawrie was struck on the hand by a 92-mph fastball from Cueto, who allowed three runs over eight innings.
The other serious setback came an inning later when Jose Bautista departed with a left leg injury. The extent of Bautista's injury wasn't immediately clear, but he will undergo an MRI when the club returns home on Monday. When the two injuries are combined with the recent woes, it creates some obstacles the Blue Jays will need to get through.
"Nobody goes into Spring Training thinking you're going to have all 25 of the same guys," Dickey said. "Every championship ballclub has to overcome adversity over the course of a year. That's part of what makes this game so difficult.
"It's a marathon and we have capable guys in this clubhouse to step in for awhile and pick up the slack, and I'm sure [general manager] Alex [Anthopoulos] is working on getting us something else."
Gregor Chisholm is a reporter for MLB.com. Read his blog, North of the Border, and follow him on Twitter @gregorMLB. This story was not subject to the approval of Major League Baseball or its clubs.