Frazier's blast, Cueto's gem lift Reds to series win
Cincy bounces back from rough opener to take two of three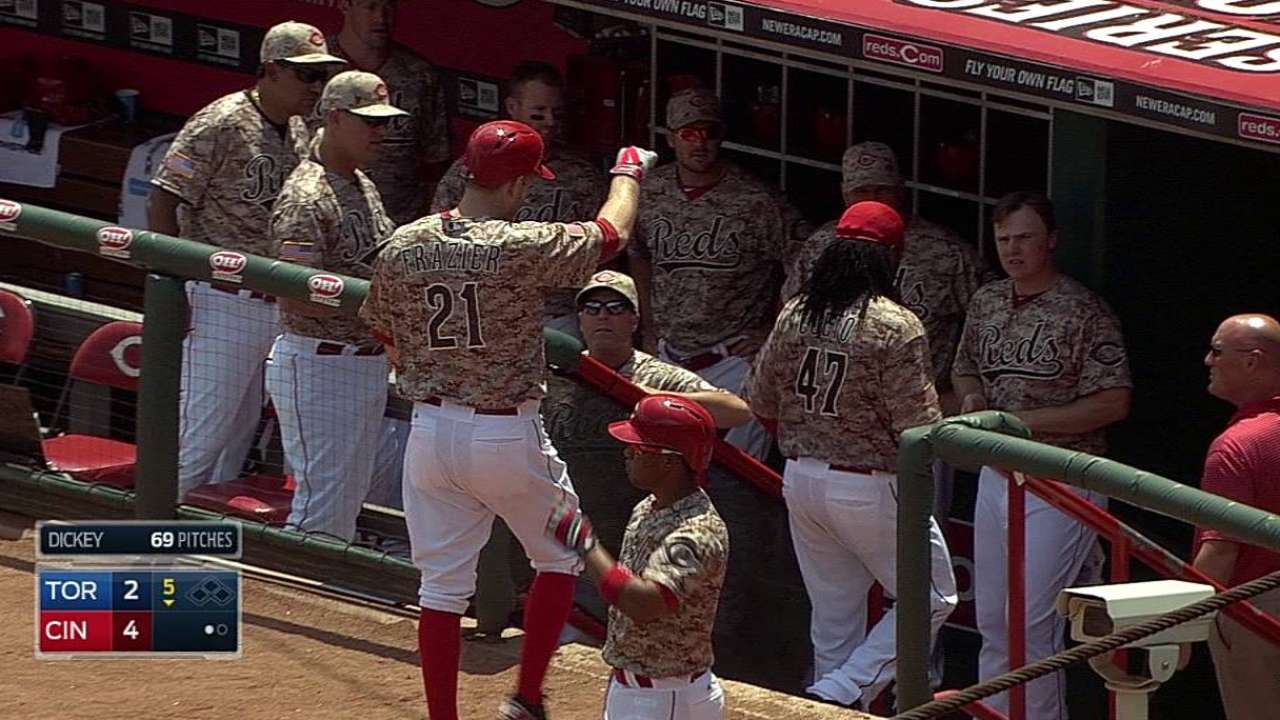 CINCINNATI -- Ace Johnny Cueto and third baseman Todd Frazier both have aspirations to represent the Reds in the All-Star Game next month -- and have posted numbers worthy for consideration.
More importantly, Cueto's pitching and Frazier's hitting are helping the Reds get wins like Sunday's 4-3 victory over the Blue Jays. Cueto worked eight innings while Frazier's two-run home run in the fifth inning of a 2-2 game put the Reds ahead.
"I think that would be awesome. Some guys don't like to talk about it,' said Frazier, who is not among the leaders at third base. "If you want to be a Major Leaguer, one of your goals every year is to be an All-Star. There are no jinxes or nothing about it, you do. I think it's something to be proud of. Maybe one day it will happen, hopefully this year. That would be great."
Cincinnati, which has won eight of its last 11 games, took two of three in the series from a first-place Toronto club. There could have been a sweep of the Blue Jays had the Reds not blown an 8-0 lead on Friday for a 14-9 loss.
In the last two games, the Reds scored 15 runs while starting pitchers Cueto and Mike Leake each worked eight innings and allowed a combined two earned runs.
"It shows the resiliency that we have coming back after that crushing loss," Frazier said. "It was something we don't want to see ever again. It shows we've got the power to come back."
With his 14th quality start in 16 outings, Cueto set the right tone with three runs (one earned) and seven hits allowed. He walked one and struck out eight as he worked at least eight innings for the eighth time this season.
Cueto is 7-5 with a Major League-best 1.86 ERA and 116 innings pitched. He is second in the National League with 119 strikeouts. His chief All-Star starter competition is the Cardinals' Adam Wainwright, who is 10-3 with a 2.08 ERA in 15 starts and has his manager, Mike Matheny, leading the NL team.
"I don't think about any of those things. I continue working and let God decide what's going to happen," Cueto said through translator Tomas Vera. "I've been through this before and they did things before and haven't taken me to the game."
When asked if he was the best pitcher around, Cueto was less shy.
"I'm always going to say I'm the best pitcher. I'm never going to say somebody is better than me," Cueto replied.
A pair of Reds errors, including a fielding miscue by Cueto on a Jose Bautista bunt, led to two unearned Toronto runs in the third inning. The Reds tied the game in the fourth when Jay Bruce scored on a Brayan Pena double play and were lifted ahead for good in the pivotal fifth inning.
Cueto led the fifth off with a nicely lofted bunt past R.A. Dickey on the mound for a single. A Skip Schumaker sacrifice bunt moved Cueto to second base. Frazier then went the opposite way on a 2-0 Dickey knuckleball for a two-run homer to right field, his team-leading 17th of the season and Major League-leading eighth in June.
"That knuckleball is pretty hard to hit. I just tried to get one not necessarily hanging, but something that looks like I could hit," Frazier said. "I didn't think I even got close to get it near to the wall. Fortunately for us, it did."
The homer came with an injury scare for Cueto, who struggled to trot home and had to walk to the plate. There was relief in the dugout when it turned out to be no big deal.
"His hamstring cramped up. He was scuffling," Reds manager Bryan Price said. "I thought, 'Oh man, he's either tuckered out or there's a problem.' The trainers took him down and took a look at him and felt around. His hamstring was fine. He said he was fine and good to go."
Cueto returned to pitch, and kept Toronto scoreless in both the sixth and seventh innings. In the top of the eighth, Edwin Encarnacion lofted a 2-2 pitch into the left-field seats for a leadoff homer (his 24th) that made it a one-run game. Cueto recorded two more strikeouts in the inning, including a called strike three on Juan Francisco with his 120th and final pitch.
Rebounding from his four runs allowed in Friday's debacle, Aroldis Chapman struck out the side in the ninth for his 13th save.
"Everybody knows how hard those guys are to beat, and especially in a game like this," Pena said. "Johnny really stepped up to the challenge and he did exactly what we asked him for.
"If Johnny can be our starter in the All-Star Game, it would be awesome. … He would deserve it."
Mark Sheldon is a reporter for MLB.com. Read his blog, Mark My Word, and follow him on Twitter @m_sheldon. This story was not subject to the approval of Major League Baseball or its clubs.