Behind Martinez, Cards end homestand on high note
Righty earns first win as starter as offense produces four-run fourth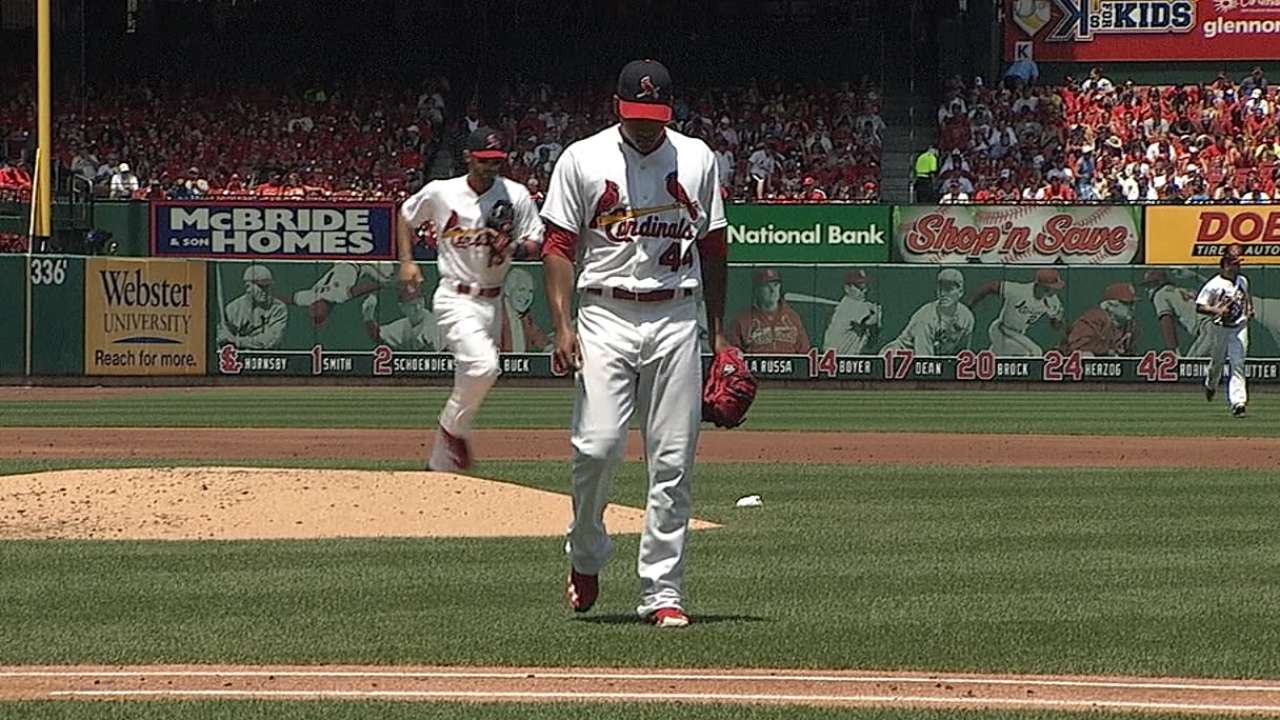 ST. LOUIS -- As general manager John Mozeliak was processing the news he already knew and would tell everyone else later, he at least enjoyed the short-term satisfaction of watching the Cardinals close a homestand with a lift from a pitcher who is all of a sudden much more front-and-center in the club's rotation plans.
Sunday's 5-3 victory over the Phillies closed a 7-3 homestand for the Cardinals, who twice won games started by Carlos Martinez. The young right-hander, filling in for Michael Wacha, earned his first Major League win as a starter by giving St. Louis five innings on 74 pitches. The win, coming in front of 43,484 at Busch Stadium, helped the Cardinals complete a split.
"It was a good homestand," manager Mike Matheny said. "Realizing that we got down two [games] early and have an opportunity and leave on a good note, it does cap off a good homestand for us. Some good teams came in here, some teams that were playing were playing well. We were able to hold our own and them some."
It was expected to be Martinez's final spot start before returning to a bullpen role. Instead, upon news that Jaime Garcia and Wacha are headed to the disabled list with shoulder injuries, it was merely the next step in getting Martinez stretched out to be a member of this rotation indefinitely.
"I say thanks to God for the opportunity," Martinez, using bullpen catcher Roberto Espinoza to translate, said of the chance to keep starting. "All I'm going to do is help the team any way I can and hope my teammates come back soon."
The bullpen followed Martinez with four scoreless innings, ensuring that the offense's four-run fourth would be enough to hold off Philadelphia.
After scoring eight runs in their past four games, the Cardinals burst out for half that many during a seven-batter span Sunday to climb out of a three-run hole. Matt Adams jump-started the scoring with a one-out double before a walk and single loaded the bases for Jon Jay.
The center fielder delivered an RBI single off starter Kyle Kendrick, and Jhonny Peralta followed with a two-run one to even the game. A bobble by Phillies first baseman Ryan Howard on the cutoff allowed Jay to advance to third, putting him position to score on an executed safety squeeze by Mark Ellis.
"We had a good opportunity, a good count [1-1] to do it on and the perfect guy at third with Jon Jay to do it," Ellis said. "We were able to execute it."
Ellis, who will get the bulk of playing time at second with Kolten Wong sidelined by a shoulder injury, contributed a two-out RBI single in his next at-bat, too, giving him his first multi-RBI game since his season debut.
"Two big at-bats," Matheny said. "With Kolten out here, we're going to need him to step up and play the kind of baseball he has in the past. But this is a real good player; this is a guy who has done it for a real long time and has had a lot of success. We're happy to have him right now."
The Cardinals went 5-for-10 with runners in scoring position overall.
"I wasn't able to minimize it," Kendrick said.
The support bailed out Martinez, who had a one-inning hiccup that cost him three runs. The Phillies used a shift-foiling single, hit batter and walk to load the bases with no out in the second, and rookie Cody Asche cleared them with a double to left-center. Martinez bounced back by retiring 12 of the next 13 batters he faced to end his outing.
Both catcher Yadier Molina and pitching coach Derek Lilliquist visited Martinez in that troublesome second, trying to help him fix his mechanics when pitching out of the stretch. Martinez made the adjustment, picked up his rhythm and covered his final three innings on 30 pitches.
"He's a tough kid mentally, so you put him in a big position -- I think we saw this last fall -- he's not going to scare, he's not going to rattle," Matheny said of Martinez. "We just need him to stay the course, trust his stuff."
After throwing 59 pitches in a spot start for Adam Wainwright on Monday, Martinez was stretched out as far as the Cardinals felt comfortable given that he had been pitching exclusively out of the bullpen before this week. He'll start again Friday, when he'll likely be pushed toward the 90-pitch mark.
Despite the successful homestand, the Cardinals gained no ground on the first-place Brewers. St. Louis came home 10 days ago trailing Milwaukee by five games and actually lost a half a game as the Brewers finished a sweep of Colorado on Sunday.
That's where the Cardinals head next, riding a two-game winning streak into the challenging 10-game road trip that looms ahead.
"Everything clicked this homestand," Adams said, "and hopefully we carry the momentum over to the road."
Jenifer Langosch is a reporter for MLB.com. Read her blog, By Gosh, It's Langosch, and follow her on Twitter @LangoschMLB. This story was not subject to the approval of Major League Baseball or its clubs.