Marlins fall below .500 with loss to Mets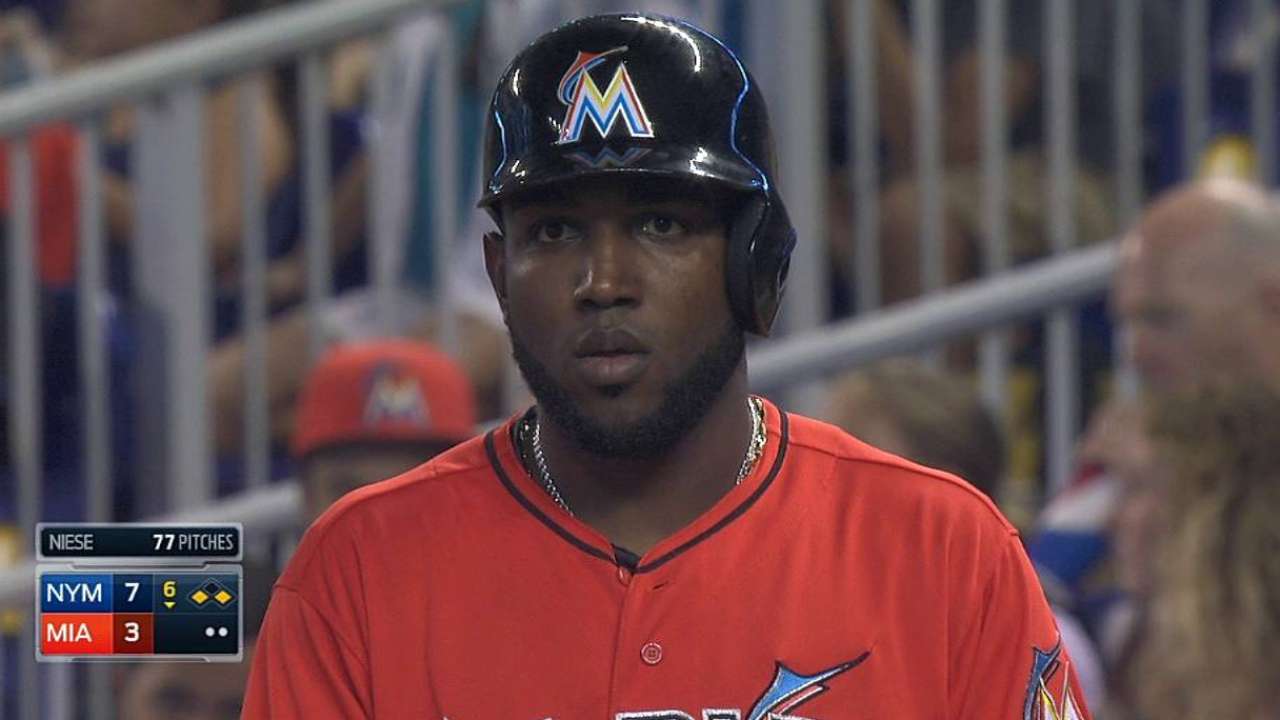 MIAMI -- The Marlins entered their longest homestand of the season with the most wins at home in the National League, but things have turned a little sour. In fact, they might look forward to leaving spacious Marlins Park for a short road trip after dropping their seventh game of a 10-game homestand on Sunday.
The NL East-rival Mets defeated the Marlins, 11-5, taking the four-game series, 3-1. The Mets had 17 hits, sending the Marlins to their third consecutive series defeat and ending their homestand with a 3-7 record after being the league's best at home the first two months of the season.
Right-hander Anthony DeSclafani's outing started with a 1-2-3 first inning, including a strikeout of leadoff batter Curtis Granderson, but things began unraveling for him in the second inning and continued until his exit in the top of the fourth.
"His first inning looked good, but the second inning, he made a lot of mistakes out over the plate," manager Mike Redmond said of DeSclafani, whose ERA ballooned to 7.59. "His pitches were up in the zone, and against a team like this, especially their middle of the order, they can do a lot of damage up in the zone. Not only today, but over the whole series, their middle-of-the-order guys did a lot of damage against us, and we weren't able to hold them in check."
That middle of the order -- David Wright, Lucas Duda and Kirk Nieuwenhuis -- went a combined 7-for-13 on Sunday, but just about everyone else who strode to the plate for the Mets had some success, too, particularly Granderson, who went 3-for-5 and scored two runs.
The Mets loaded the bases with no outs in the top of the second and scored two runs, one on a sacrifice fly to center by Anthony Recker and another on a perfectly executed sacrifice bunt by Jon Niese.
The Mets extended their lead to four runs in the third, when Granderson scored on a sacrifice fly by Wright. Marcell Ozuna made a nice diving catch in short center on the play, but Granderson easily scored from third. An RBI double by Nieuwenhuis made it 4-0.
Daniel Murphy's three-run homer in the fourth, his sixth round-tripper of the season, gave the Mets a commanding seven-run lead and sent DeSclafani to the showers.
DeSclafani, who entered the game with a 5.60 ERA, gave up seven hits and seven runs, all earned. He walked two and recorded only one strikeout in 3 2/3 innings that included 82 pitches, 52 of them strikes.
"That's not the start I wanted," a somber DeSclafani said after the game. "You're not going to get the results you want pitching like that. I didn't give my team a chance to get outs or get a win. That falls on me, for sure. Being up here, you have to be consistent. That's pitch to pitch, locating all your pitches and keeping hitters off balance. If I want to have success up here, that's what I have to do -- locate and get ahead, get more balls on the ground, and I didn't do that today."
Meanwhile, Niese was cruising toward his fourth win of the season before the Marlins finally plated their first run in the game on doubles by Jeff Mathis and Reed Johnson in the sixth.
Miami plated another run in the inning on a single by Giancarlo Stanton, making it 7-2, and narrowed the gap to four runs on an RBI single by Ozuna.
The Marlins then loaded the bases with two outs, but Niese struck out Derek Dietrich, called up earlier in the day to replace the injured Rafael Furcal, to end the rally.
Stanton, who went 2-for-3 with an RBI, left the game after the seventh inning and was replaced by Jake Marisnick, but not because of an injury.
"We just wanted to give him a couple innings off. He never wants to come out of a game, but he's fine," Redmond said.
The Mets made it a rout by scoring four runs in the seventh on a run-scoring single by Ruben Tejada, an RBI double by Recker and a two-run single by Eric Young Jr. to extend New York's lead to eight runs.
"I'm happy we battled back, but then we gave the [runs] right back," Redmond said. "I look at the box score, and there's way too many big numbers. Giving up twos and threes and fours in innings, that crushes you. We've got to do a better job."
There was some good news on the pitching front, though, as reliever Bryan Morris extended his streak of scoreless innings to 12 2/3 over nine appearances.
The Marlins added two runs with two outs in the ninth on a Justin Bour double that was just out of the reach of Granderson's glove.
Those runs made the final score a little more respectable, but they didn't erase the disappointment of a homestand that had not been the norm for the Marlins heading into this month.
"This was not a great homestand for us, no doubt, and everyone recognizes that," Redmond said as his players packed for a four-game road trip to Philadelphia. "But we've got to move on and turn the page. We're still right there. There's no time to panic, just keep fighting and battling. ... Nobody's quitting in there. We're going to go through some bumps in the road. It happens to every team. Up to this point, we really have overall played good baseball. We just need to ride this thing out. It might take a great pitching performance or a huge hit or a series of both to get us out of this. We need five starters to keep us in the game, that's the bottom line."
Steve Dorsey is a contributor to MLB.com. This story was not subject to the approval of Major League Baseball or its clubs.