Mets pour on the offense, Niese extends streak
Lefty's string of allowing three runs or fewer now at 19 starts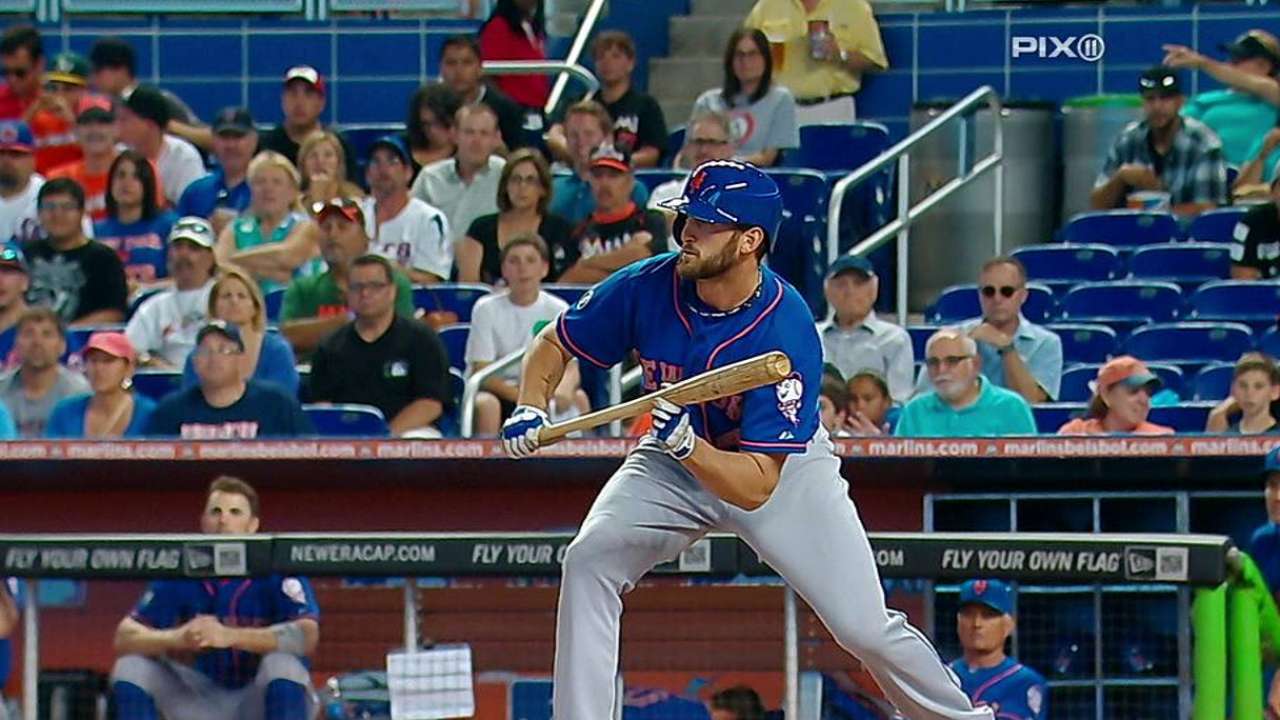 MIAMI -- All the Mets needed to do to secure a series win was find a way to score more runs.
And they did just that, breaking out the bats in Sunday's finale against the Marlins, tying a season high with 17 hits in an 11-5 victory.
Before Sunday and dating back to July 31, 2013, the Mets had scored just 12 runs in 72 innings at Marlins Park. They also entered with just 283 runs in 75 games this season, the sixth-lowest total in the Majors.
"We've been waiting a long time to break one open," manager Terry Collins said. "It's certainly a great way to end this trip on a positive note going into a day off with the Oakland A's coming in. It was a big win for us."
The rout started in the second inning, when the Mets loaded the bases in front of catcher Anthony Recker. Recker worked a nine-pitch at-bat out of Anthony DeSclafani before driving in a run with a sac fly to center fielder Marcell Ozuna. The ball traveled deep enough that Kirk Nieuwenhuis was able to advance to third.
That gave starter Jon Niese the chance to add a run on a perfectly executed suicide squeeze to give the Mets a two-run lead.
Niese, when asked if he remembered the last time he'd participated in a suicide squeeze, said he wasn't sure he ever had.
"The squeeze was huge," Collins said. "I wanted to see if we could get something started, see if we could get on top, and that's what Jon did today."
In the third, Nieuwenhuis hit his third double in as many at-bats since being recalled from Triple-A Las Vegas before this series. This one scored the Mets' fourth run of the afternoon.
And in the next inning, Daniel Murphy came up with two runners on base and drove a two-out homer to right-center field on DeSclafani's 82nd pitch of the afternoon.
DeSclafani exited the game with just 3 2/3 innings under his belt and seven runs to his name.
Marlins reliever Jacob Turner kept the Mets quiet for 2 1/3 innings before coming undone in the seventh. He faced seven batters, and four of them ended up scoring before the Marlins replaced him with Bryan Morris.
That the Mets were able to deliver with men on base was a big factor, as they lost 23 of 41 games this season by two runs or fewer. But if the top of the lineup is able to continue its hot hitting and Collins can find a way to get more productivity from the bottom -- which contributed five RBIs, three hits and two runs on Sunday -- the Mets might find themselves contending for a spot in a National League East that's still up for grabs.
And with David Wright going 12-for-his-last-27, Murphy's 92 hits and Curtis Granderson's 31-game on-base streak, they might stand a chance.
"People think we play ugly games, but we're just getting beat 3-2," Collins said. "We're getting guys on base, we just haven't been able to get any big hits. When you have big hits, your games look great. When you don't, you're not good."
Niese dominated the Marlins for the first five innings, retiring 14 of the first 16 batters he faced. But in the sixth, he gave the Marlins something to work with. After giving up a leadoff single, he allowed a one-out RBI double and eventually a two-out RBI single to Giancarlo Stanton. Ozuna drove in the third run by sneaking a line drive to center under the outstretched glove of second baseman Murphy.
Niese, despite following that play with his second walk of the inning, struck out the final batter. Collins went to the bullpen for the seventh, but by getting out of the jam with just three earned runs, Niese was able to extend his streak of allowing three runs or fewer to 19 starts.
"I was hoping he would [leave me in]," Niese said. "Things didn't happen the way I wanted them to, but I was able to fight through it and get out of it."
Niese's record is deceiving. Twelve of his 15 outings this season have been quality starts, but he has only four wins to show for his efforts. In his five previous starts, the Mets averaged 2.6 runs per game. They were finally able to back him up on Sunday.
"His line probably should have been a lot better than it was," said Wright, who raised his average to .278 with his two hits. "He's been doing an excellent job. … Offensively, we haven't done a lot to pick him up and give him a lot of run support, and I'm glad we were able to do that today."
Maria Torres is an associate reporter for MLB.com. This story was not subject to the approval of Major League Baseball or its clubs.