Sweep provides Tigers with measure of revenge
Miggy drives in three, as Detroit's bats erupt in series finale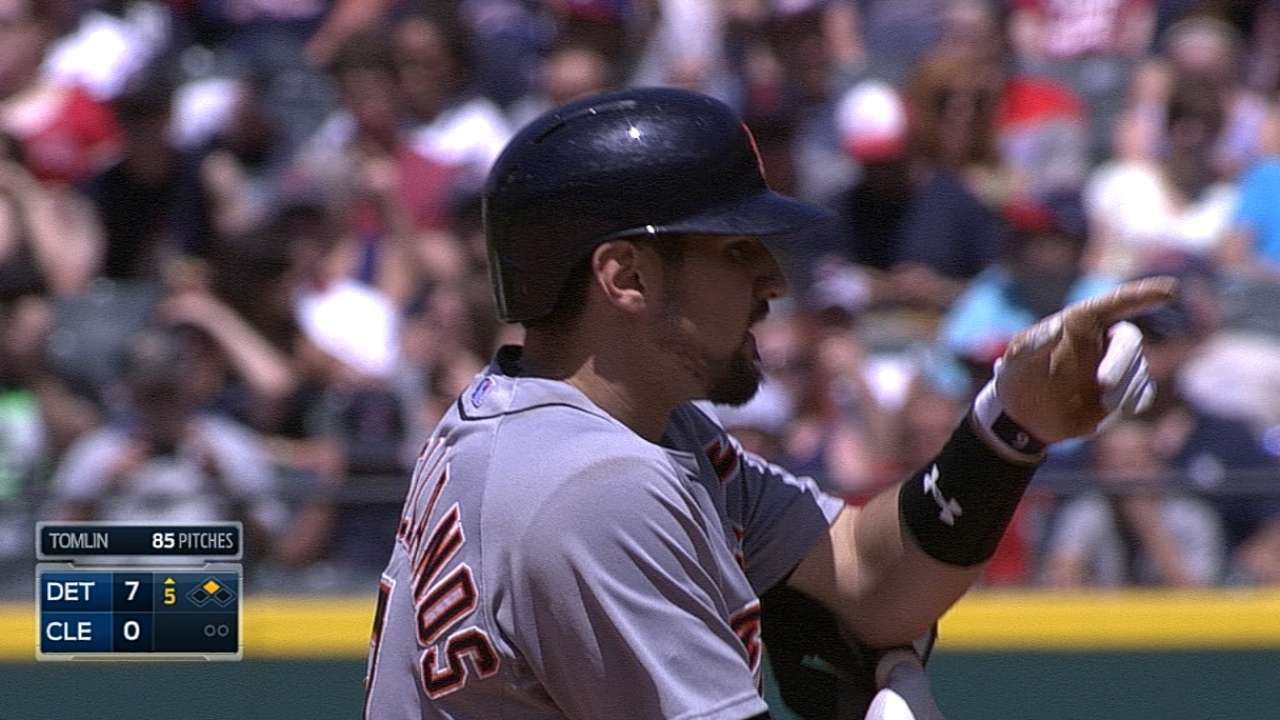 CLEVELAND -- The Tigers' sweep everyone expected here a month ago arrived on Sunday, just a little late. So the slump's over, right?
"I'm not going to make any declarations about anything," manager Brad Ausmus said after Sunday's 10-4 win put an exclamation point on the three-game sweep of the Indians at Progressive Field.
"We played well here. The last time we were in Cleveland, we came away getting swept. This time, we were able to get the sweep. We're playing better, obviously, pitching better. Pitching is always the key. I'm not making declarations about anything starting or finishing."
His players were saying much the same.
"I guess you could say the wheels are back on. Is that proper?" Ian Kinsler asked aloud. "No, we're coming in trying to prepare every day, trying to play hard every day. It's a good club over there. They're going to give us their best effort. We came in, got some solid pitching, we won a couple close ballgames, and today we were able to swing the bats a little better."
Make of it what you will, but there were no Zubaz in sight in the visiting clubhouse, just business suits and sportcoats. The Tigers were loose, but rather subdued.
They left with a working plane and exactly the result many expected of them when they came to town in May with a six-game winning streak and 10 consecutive wins on the road.
The Indians swept Detroit out of town in that series, starting the Tigers on a month-long skid that dropped them out of the lead in the American League Central. They returned to Cleveland as a second-place team, having lost three of four to the Royals and 20 of 30 overall.
Once again, the momentum changed. It wasn't always pretty -- especially in the late innings with a shortened bullpen. But the end result was effective. Combine it with a Royals sweep at the hands of the Mariners, and the Tigers took off for Texas with a 2 1/2-game lead over Kansas City -- a bigger gap atop the AL Central than they had when the week began. The Indians held onto third place, now five games back, because the White Sox were swept, as well.
Only the Oakland A's, who come to Detroit in a week for the Tigers' next homestand, have a better record among AL teams.
"I just don't get caught up in when a slump starts or when a streak started," said Max Scherzer (9-3), who had his own rebound on Sunday with six innings of one-run ball, after giving up 10 runs to the Royals on Tuesday.
"Guess what? It's 162 games. We're going to play great, and we're going to play bad. The world doesn't end when we play bad baseball. We didn't play well for 20-25 games. That just happens."
They didn't dominate play over three straight wins, holding on late and overcoming bullpen attrition. Sunday was the day they looked like an overwhelming foe -- some of it from Cleveland mistakes, some of it from Detroit's strengths.
After close wins the previous two nights -- and six games decided by two runs or fewer out of seven meetings this season -- Sunday's game wasn't close. Hours after providing the go-ahead hit in the 10th inning on Saturday night, Miguel Cabrera put Detroit on top three batters into Sunday's game with a line drive that cleared the fence in right-center field.
Cabrera's ground-ball single through the left side in the third inning extended the lead to 2-0. They had Indians starter Josh Tomlin struggling, but weren't putting him away.
A seven-run fifth inning took care of that.
"It seems like we've gone a little bit of a stretch without a big hit to kind of bust a game open," Ausmus said.
The hit didn't come from Cabrera, though his ground ball to the right side yielded no outs because Asdrubal Cabrera dropped the forceout throw at second base. Nor did it come from Victor Martinez, whose line drive to center was dropped by Michael Bourn for an error to load the bases.
With Tomlin reeling and Cleveland's defense faltering, the rest of the Tigers' lineup pounced. J.D. Martinez and Nick Castellanos cleared the bases with back-to-back two-run doubles to the center-field fence. Andrew Romine and Kinsler added RBI singles.
"If you give them extra opportunities, there's a decent chance you'll pay for it," Indians manager Terry Francona said.
Once Alex Avila sent a two-out double over Bourn's head to score Castellanos in the seventh, the Tigers were in double digits on the road for the first time since May 21, the getaway game from their last series in Cleveland. That was the game the Indians won on an Al Alburquerque walk-off balk in the 13th inning.
Jason Beck is a reporter for MLB.com. Read Beck's Blog and follow him on Twitter @beckjason. This story was not subject to the approval of Major League Baseball or its clubs.