Tomlin roughed up as Tribe drops finale
Defense commits three errors, giving club an MLB-worst 67 in 2014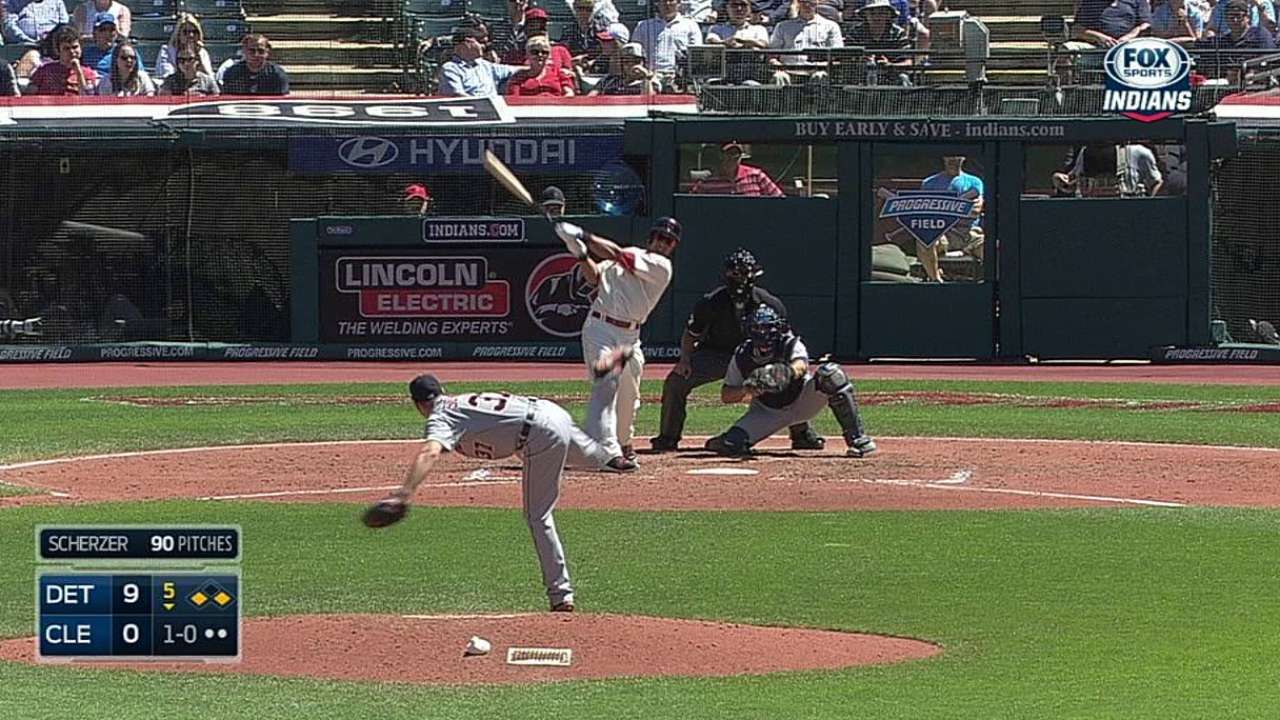 CLEVELAND -- The Tribe drew its largest weekend attendance total in three years with the division-rival Tigers in town. But the droves of fans that showed up at Progressive Field were instead forced to watch a trio of power displays by Miguel Cabrera, Victor Martinez and J.D. Martinez.
All weekend long, the heart of Detroit's lineup battered and bruised the Indians, who were blown out, 10-4, on Sunday before a crowd of 26,023. The loss sealed a three-game series sweep for the Tigers and fed a healthy portion of payback to Cleveland (37-39) after it blanked them in a series last month.
Cabrera and the two Martinezes combined to go 13-for-37 with four home runs, three doubles and 13 RBIs in the series -- and all three had their share of timely hits over the past three days. The team's offensive outburst on Sunday, however, was largely credited to Cabrera, who finished 2-for-4 with three RBIs.
"They're one of those teams that they can show up and win on talent," second baseman Jason Kipnis said. "They have players that are that good. When you have Victor and Miggy, you're going to have good at-bats and you're going to get runs."
Indians right-hander Josh Tomlin struggled for the second straight start, surrendering eight runs (five earned) on eight hits, as the defense committed three errors on the day to give the club a Major League-worst 67 in 2014.
Tomlin managed to keep his team within striking distance through the first four frames, pitching around leadoff hits in the third and fourth innings. But two of the aforementioned errors -- a mishandled grounder by Asdrubal Cabrera and a fly ball that took a funny turn in the sun on Michael Bourn -- left the door open for the Tigers in the key fifth inning -- and they took advantage by plating seven runs on six hits.
The scoring surge would chase Tomlin after four-plus innings in his shortest start of the season.
"They put up a seven spot that basically took the game out of our hands," Indians manager Terry Francona said. "We're hanging in there at that point. If we can score a couple, we're back in it. But they just blew it open, and we helped them. They don't need any help."
With imperfect defense allowing the Tigers extra outs and Tomlin facing Miguel Cabrera and the two Martinezes with men already on base, the Tribe's fate was all but sealed. Detroit would bat around in the fifth inning, with the first six batters reaching safely before an out was recorded, to stretch a two-run ballgame into a 9-0 lead it would not give up.
"Those guys, they hit the ball," said Tomlin. "The middle of their order is unbelievable. You've got to keep the first two guys in their lineup off base and hope to face those guys with nobody on."
Reigning American League Cy Young Award winner Max Scherzer, meanwhile, rebounded from his worst outing of the season and cruised through six innings, holding Cleveland to one run on six hits, while registering eight strikeouts. Now 5-0 with a 3.76 ERA in his last eight games against the Indians, Scherzer kept his opposition off balance by displaying strong command of his secondary pitches.
"He had his offspeed going really well," said Kipnis, who went 0-for-5 in the loss. "You see the pitches and you just can't touch them. Like, I see what I'm trying to do and I can't do it. He had the changeup going well."
Scherzer's strong performance was a continuation of the tone set early in this series by fellow starters Rick Porcello and Justin Verlander, who combined to allow just two runs over 13 innings and register 11 strikeouts. The Indians were held to 3-for-11 with runners in scoring position on Sunday, and they batted .208 in those situations since Friday.
Cabrera got the scoring started for Detroit, blasting a first-inning solo shot off Tomlin for his AL-best 17th go-ahead RBI of the season. His bat would tack on another run for the Tigers two innings later, when he singled Ian Kinsler home to extended the lead to 2-0, and contribute to his 5-for-13 performance in the series.
Tomlin has now allowed 10 home runs in 55 1/3 innings of work this season.
"I basically threw him the kitchen sink that at-bat," Tomlin said. "The one pitch I didn't throw was a well-executed cutter down and away. When I did, he deposited it in right-center field."
With the sweep, the Indians (37-39) have now lost four of their last five home games since reeling off 10 straight at Progressive Field. For the players, who will try to put the memories of Detroit's hot bats behind them, an off-day before the club begins its upcoming eight-game road trip on Tuesday could not have had better timing.
"After today, yeah, for sure," Tomlin said.
Alec Shirkey is an associate reporter for MLB.com. This story was not subject to the approval of Major League Baseball or its clubs.