Top prospect Appel aims to get back on track
No. 1 pick in 2013 Draft among young arms taking hill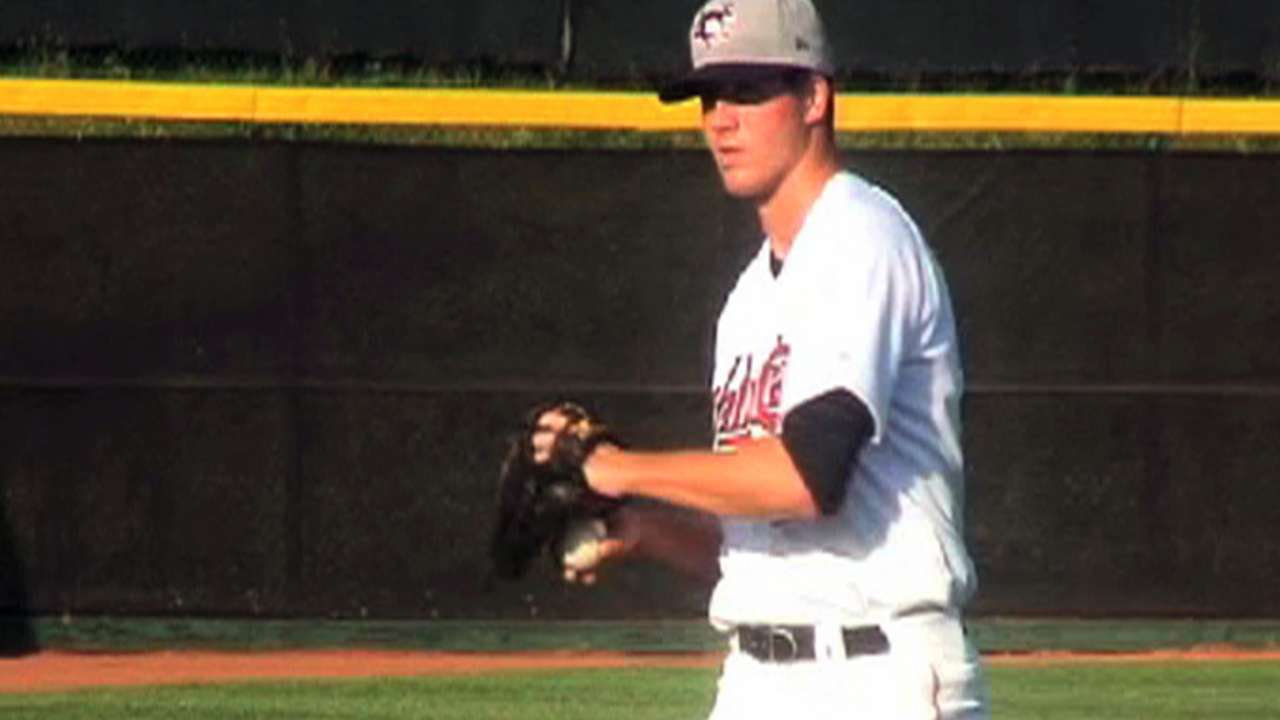 Surely this is not how the Astros expected right-hander Mark Appel's first full professional season to unfold, with the top pick in the 2013 Draft carrying a 11.94 ERA into just his seventh start on Sunday.
But Appel's season hasn't gone according to plan. Far from it.
Appel struggled early on to adapt to the Astros' tandem starter schedule. Then he spent about a month at extended spring camp. When he came back on May 31, he was lit up for 10 runs on 10 hits and recorded only four outs. Finally, he was scratched from his last scheduled start with right thumb tendinitis.
Now, Appel, ranked No. 14 on MLBPipeline.com's Top 100 Prospects list, is scheduled to start Sunday for Class A Advanced Lancaster against Lake Elsinore at 8:05 p.m. ET.
The Astros' second-ranked prospect has given up 33 hits and six home runs in 17 1/3 innings this season. His first two starts of the year were somewhat encouraging, as he allowed a combined three earned runs on six hits and three walks while striking out seven over 7 2/3 innings.
But he gave up three runs in each of his next two starts, unable to pitch more than three innings in either outing. In his most recent start, Appel continued to struggle. He lost to Rancho Cucamonga after permitting four runs on six hits and a walk in three innings.
Appel isn't the only top pitching prospect slated to take the mound on Sunday. The day's Minor League slate is also highlighted by several pitchers who are ranked in the Top 100, including Robert Stephenson (No. 16), Allen Webster (No. 38), Julio Urias (No. 53), A.J. Cole (No. 59), Braden Shipley (No. 64), Matthew Wisler (No. 65) and Jose Berrios (No. 76).
Top prospect probables
Alfonso Alcantara (Angels' No. 17), Burlington vs. Wisconsin
Mark Appel (Astros' No. 2), Lancaster at Lake Elsinore
Jose Berrios (Twins' No. 5), Fort Myers at Charlotte
Parker Bridwell (Orioles' No. 15), Frederick vs. Wilmington
A.J. Cole (Nationals' No. 2), Harrisburg vs. Akron
Tyler Danish (White Sox No. 4), Winston-Salem at Lynchburg
Zachary Davies (Orioles' No. 12), Bowie vs. Binghamton
Ryan Eades (Twins' No. 19), Cedar Rapids at Kane County
Kendry Flores (Giants' No. 20), San Jose at Visalia
J.R. Graham (Braves' No. 6), Mississippi vs. Jackson
Mitch Gueller (Phillies' No. 17), Williamsport at Jamestown
Ismael Guillon (Reds' No. 9), Bakersfield at Stockton
David Holmberg (Reds' No. 6), Louisville at Gwinnett
Jake Johansen (Nationals' No. 12), Hagerstown at Greensboro
Pierce Johnson (Cubs' No. 7), Kane County vs. Cedar Rapids, Game 2
Rob Kaminsky (Cardinals' No. 3), Peoria at Quad Cities
Austin Kubitza (Tigers' No. 19), West Michigan vs. Fort Wayne
Victor Payano (Rangers' No. 16), Myrtle Beach at Carolina
Nick Petree (Cardinals' No. 20), Palm Beach at Bradenton
Tyler Pike (Mariners' No. 9), Jackson at Mississippi
Fernando Romero (Twins' No. 14), Cedar Rapids at Kane County, Game 2
Mark Sappington (Angels' No. 3), Inland Empire at Rancho Cucamonga
Sam Selman (Royals' No. 12), NW Arkansas vs. Tulsa
Braden Shipley (D-backs' No. 2), Visalia vs. San Jose
Scott Snodgress (White Sox No. 19), Birmingham at Jacksonville
Robert Stephenson (Reds' No. 1), Pensacola vs. Huntsville
Seth Streich (A's No. 18), Stockton vs. Bakersfield
Andrew Thurman (Astros' No. 15), Quad Cities vs. Peoria
Nick Travieso (Reds' No. 7), Dayton at Great Lakes
Nick Tropeano (Astros' No. 16), Oklahoma City at Tacoma
Jen-Ho Tseng (Cubs' No. 19), Kane County vs. Cedar Rapids
Jose Urena (Marlins' No. 8), Jacksonville vs. Birmingham
Julio Urias (Dodgers' No. 3), Rancho Cucamonga vs. Inland Empire
Allen Webster (Red Sox's No. 2), Pawtucket at Scranton/Wilkes-Barre
Taylor Williams (Brewers' No. 15), Wisconsin at Burlington
Matthew Wisler (Padres' No. 3), El Paso at Omaha
Mike Wright (Orioles' No. 5), Norfolk vs. Indianapolis
Adam Berry is a reporter for MLB.com. Follow him on Twitter at @adamdberry. This story was not subject to the approval of Major League Baseball or its clubs.