Giants strike first, hang on to beat D-backs
Colvin notches two-run single in first; Vogelsong goes five innings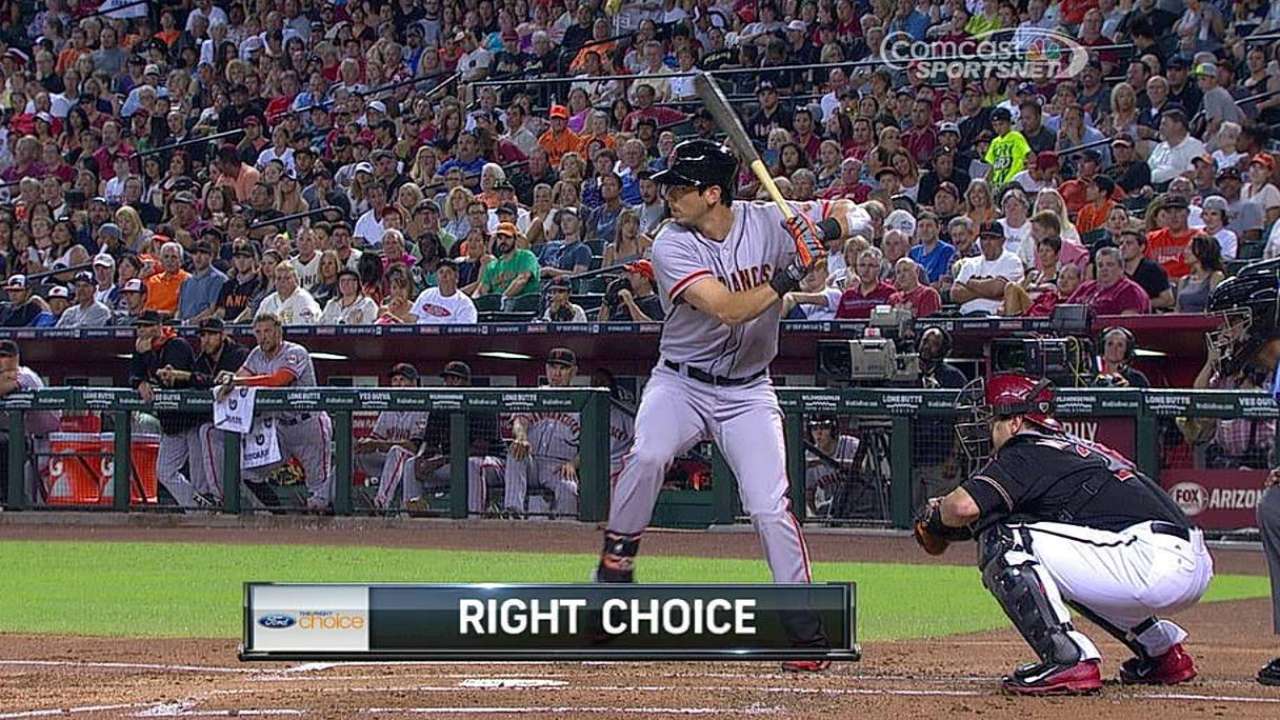 PHOENIX -- After losing six straight games, the Giants escaped Chase Field with a needed 6-4 win Saturday night thanks to an early offensive outburst.
The Giants put up three runs off D-backs starter Brandon McCarthy (1-10) in the first inning and never looked back.
"We found a way to get it done," manager Bruce Bochy said. "So good win for us to break this streak."
Bochy said after Friday's loss that one of the major issues for the Giants during their recent skid had been capitalizing on opportunities and getting big hits.
That reared its head in the first inning Friday, as the Giants scored once and put two more runners on base but let D-backs starter Josh Collmenter off the hook. That proved to be the only run the Giants scored all night.
The Giants made sure that wasn't the case Saturday.
Like on Friday, the middle of the Giants' order put together a rally. Hunter Pence, Buster Posey and Pablo Sandoval hit three straight singles, scoring a run. They loaded the bases after McCarthy issued a walk to Brandon Crawford.
On Friday, the Giants may have folded. On Saturday, somebody came through with a big hit. Left fielder Tyler Colvin singled through the left side, scoring two more runs.
"I think it was a pretty collective effort of giving us a lift," Pence said. "Colvin had the big hit. We've had a bunch of baserunners and we've gotten a lot of hits. But when we get two outs and a bunch of baserunners on lately, we haven't had that big hit."
That early lead proved vital, as the D-backs rallied back and got within a run in the middle innings.
Starter Ryan Vogelsong (5-3) said he thought he had some of his best stuff Saturday, but the D-backs turned several of his pitches into hard-hit doubles.
"[D-backs left fielder David] Peralta hit a 3-2 curveball," he said. "I hadn't thrown him a curveball the whole at-bat, and the first time I ever face the kid, I throw him a 3-2 curveball, and he hits it off the center-field wall.
"I hate to tip my cap to hitters, but I throw a 3-2 curveball and he hits the dog snot out of it."
Both McCarthy and Vogelsong turned the game over to their bullpens after five innings, but only one of the teams' relievers broke.
The D-backs, coming off a two-run fifth inning in which they cut the Giants' lead to 5-4, were looking to keep their momentum. They brought in reliever Randall Delgado, who hadn't given up a run in his previous four outings.
That changed when he faced Pence.
The right fielder crushed an 85 mph changeup Delgado left up and in, sending it into the second deck in left field in front of the Friday's Front Row Sports Grill and giving the Giants much-needed insurance.
"I thought it was a big home run," Bochy said. "They can come right back at you, make it a one-run game. It's a big difference, one or two runs, especially in this ballpark."
But when you're on a losing streak, nothing ever comes easy. The D-backs still had one more threat left in them.
The D-backs put the tying runs in scoring position in the bottom of the ninth vs. Sergio Romo, and slugging first baseman Paul Goldschmidt was due up. Bochy elected not to walk him despite first base being open.
The decision paid off. Goldschmidt put a charge into a fly ball in the right-field gap, but Pence chased it down to seal the victory.
"Right off the bat, I thought it had a chance," Goldschmidt said. "But Pence had a good bead on it and ran over there and I think got to it pretty easily."
Adam Lichtenstein is an associate reporter for MLB.com. This story was not subject to the approval of Major League Baseball or its clubs.