After Bourn comes through late, Tribe falls in extras
Righty Allen gives up go-ahead RBI double to Miggy in 10th inning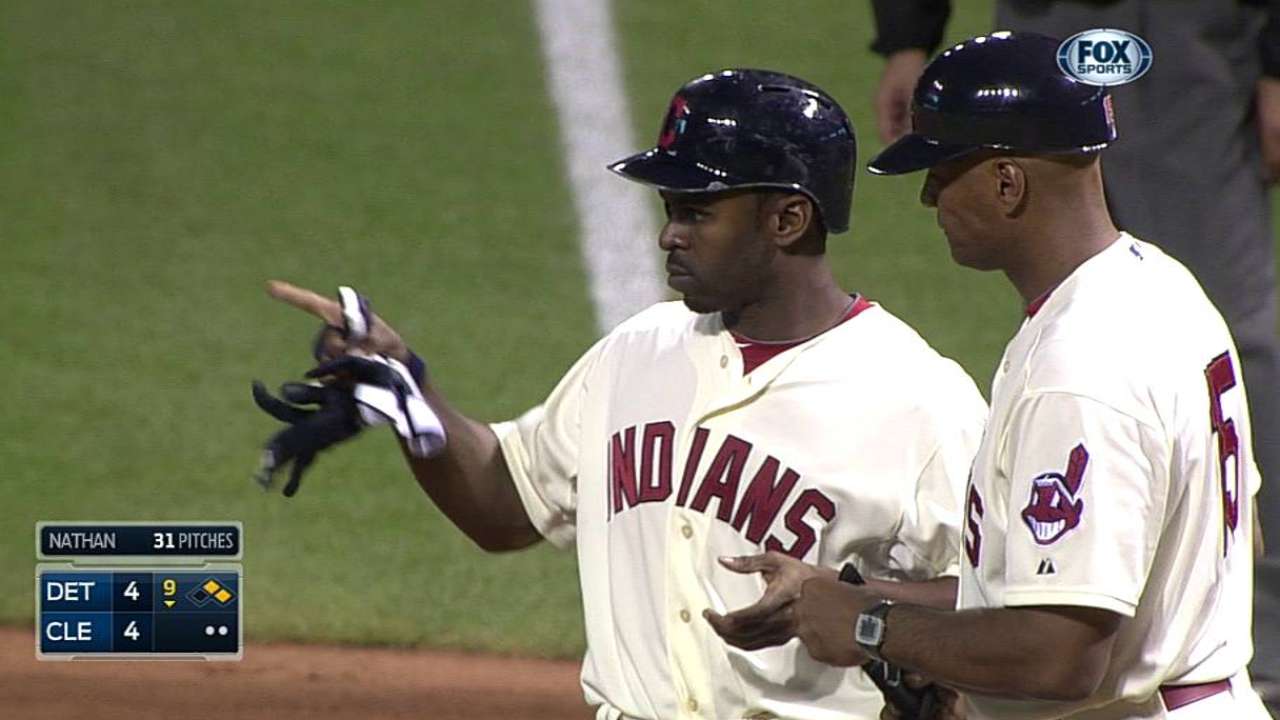 CLEVELAND -- Cody Allen did not just feel like he let his team down. The Indians' reliever also felt like he let down the sellout crowd that energized Progressive Field, drowned out Detroit supporters and turned up the decibels during the Tribe's late comeback attempt.
The feeling inside the stadium quickly devolved from a frenzy to a fizzle in the 10th inning, when Allen surrendered a go-ahead double to Tigers first baseman Miguel Cabrera. Allen decided to go right after the Detroit slugger and paid the price with a mislocated pitch that sent the Indians on their way to a 5-4 loss.
"It's great to play in front of a crowd like that," Allen said. "Unfortunately, we haven't been able to pull out a win for them."
Allen was referring to the fact that the Indians have dropped each of the first two tilts within the current three-game set against their American League Central rivals from Detroit. In the latest trip to the loss column, Cleveland struggled to break through against Tigers starter Justin Verlander, Tribe right-hander Trevor Bauer yielded three home runs and Cleveland's late rally fell just short.
It was a disappointing finish to an evening that began with a lovefest for Indians great Omar Vizquel, who was inducted into the team's Hall of Fame in a pregame ceremony. The celebration of Vizquel -- now the first-base coach for the Tigers -- along with a postgame fireworks show, played a role in having 40,712 on hand for the contest.
"It was awesome," Bauer said. "There was this energy you kind of could sense throughout the whole game."
The decisive turn came during the 10th-inning confrontation between Allen and Cabrera.
The hard-throwing reliever was put in a difficult spot after yielding a leadoff single to Ian Kinsler, who then moved to second base on a sacrifice bunt from Austin Jackson. With first base open, one out and the game caught in a 4-4 deadlock, Allen had a choice. He could go after Cabrera, or intentionally walk him to face Victor Martinez.
Cabrera had doubled off Bauer and scored on a base hit from Martinez in the sixth inning. Martinez also had a solo home run in the second -- his second long ball in as many days -- and has hit .385 (10-for-26) with four homers and seven RBIs through six games against Cleveland this season.
Talk about picking your poison.
"That's exactly what it is," Allen said. "You've got Miguel Cabrera, who's the best hitter any of us have ever faced. He's a back-to-back MVP winner. Then, you've got Victor, who's just as deadly. So, it all starts with just trying to get the guys out in front of them."
Allen unleashed a 1-0 fastball to Cabrera with the idea of going up and in on the slugger.
"He missed his spot by a lot," Indians manager Terry Francona said.
Cabrera flashed his famous swing and sent the pitch soaring to the wall in left-center field for a double, scoring Kinsler easily from second. Standing on the bag, Cabrera pounded his chest and motioned to his teammates in the visitors' dugout and the crowd groaned.
"If you make a bad pitch to Miggy," Allen said, "he's going to make you pay for it."
That effectively erased the late-inning work of Cleveland's offense, which struck for one run in the eighth (Asdrubal Cabrera came through with an RBI double) and one more in the ninth. Tigers closer Joe Nathan toiled through 32 pitches in the ninth inning, in which he yielded three consecutive singles with two outs. The last in that series was an RBI hit from Michael Bourn that knotted the score, 4-4.
That comeback came after Cleveland managed just two runs (one earned) in seven innings against Verlander, who entered the night with a 7.83 ERA in his previous seven turns. The Tribe capitalized on an error by Kinsler for a run in the second and then received a solo home run in the fourth from Carlos Santana, who now has 11 shots on the year.
"We're tough like that," Bauer said of the late rally. "We don't give in. We battle throughout the game, and when we don't come back and tie games late, we usually make it close and put some good at-bats together. I was pretty confident we were going to at least get some guys on and make it tough."
Bauer lasted 6 1/3 innings, but allowed consecutive home runs to Rajai Davis and Kinsler in the seventh to bring a halt to his outing.
The right-hander hung a curve to Davis with one out, resulting in a solo shot to left field. Two pitches later, Kinsler sent a shot over the 19-foot wall in left. Kinsler's blast, which was nearly interfered with by a reaching fan, stood after a crew-chief review and put the Indians behind, 4-2. Bauer ended with five strikeouts and two walks in the no-decision.
"I thought he made some mistakes and he paid for them," Francona said. "He had trouble throwing strike one, so he had to kind of work from behind a lot. Saying that, he was into the [seventh] inning. And he had Rajai Davis, 1-2, and he tried to bounce a breaking ball and left it middle."
Cleveland nearly overcame that setback with its typical late-inning dramatics.
The Indians are hoping to get that same chance in front of a similar audience soon.
"It's definitely fun," Bauer said of the atmosphere on Saturday. "Hopefully that continues to happen more as the season goes along."
Jordan Bastian is a reporter for MLB.com. Read his blog, Major League Bastian, and follow him on Twitter @MLBastian. This story was not subject to the approval of Major League Baseball or its clubs.