MLB.com Columnist
Lyle Spencer
Kendrick pushes Angels past Rangers in 10th
Double plates Hamilton with winning run; Weaver works eight innings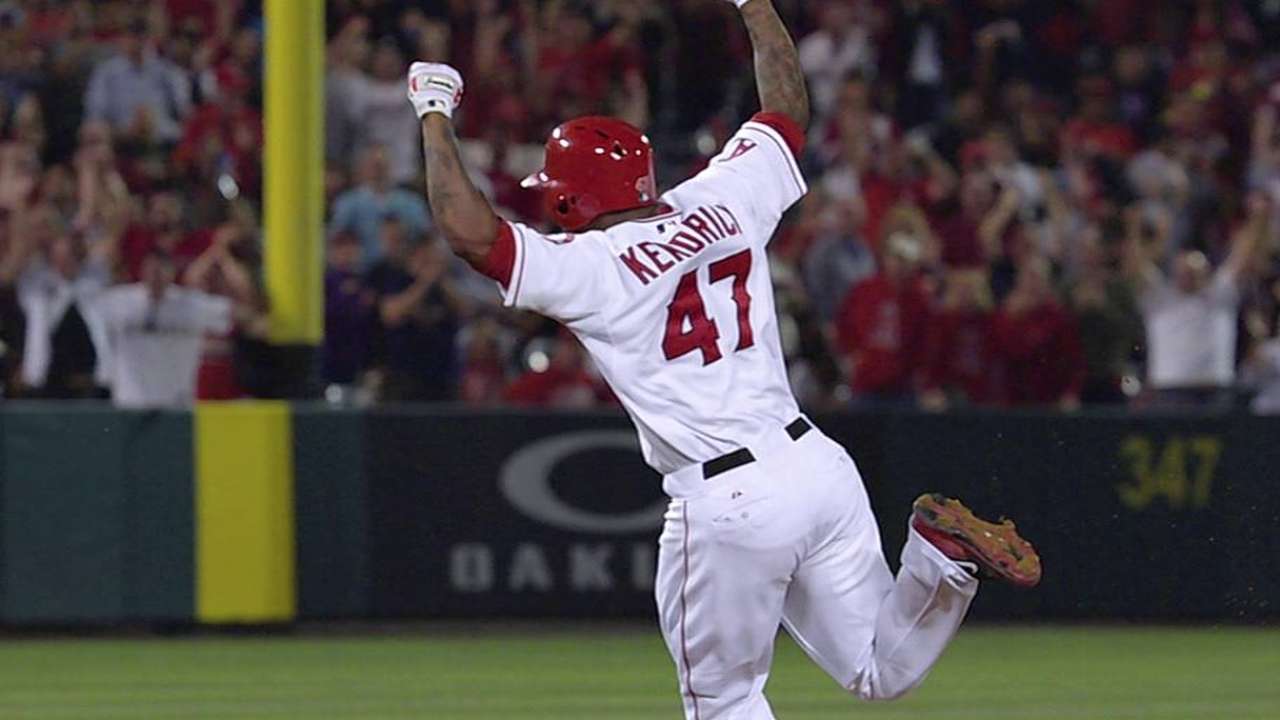 ANAHEIM -- Having dutifully done his homework, Jered Weaver went to work and was rewarded, looking like the Angels' resident ace again. The Rangers' Nick Martinez, meanwhile, looked like Pedro Martinez across five perfect innings on Saturday night at Angel Stadium.
Both starters, their jobs well done, were gone when it ended. Josh Hamilton led off the 10th inning with a single off of Neal Cotts and scored the winning run in a 3-2 Angels victory when Howie Kendrick banged a double to left-center off of Jason Frasor for his fifth career walk-off hit. Hamilton was running with the pitch and scored easily.
"Walk-offs are always exciting -- you remember all of them," said Kendrick, who was unable to advance Hamilton with a bunt before slamming a full-count breaking ball into the gap.
"This one felt really good because of the way we battled," Kendrick said. "We've been taking turns getting the big hit. That's what good teams do."
Mike Morin, striking out the side in the 10th, picked up his first Major League win as Cotts (2-4) absorbed the loss, the fourth in a row by Texas.
After rookie designated hitter C.J. Cron gave the Angels the lead with a home run off Martinez just beyond Shin-Soo Choo's reach in left field leading off the eighth, Choo matched it with his towering blast to dead center leading off the ninth against Kevin Jepsen. The blown save was the 12th by Angels relievers, the most in the American League.
"Something clicked there toward the end of the game," Weaver said following eight strong innings of four-hit pitching. "I'm not a big video guy, but I kind of compared myself from my last start [a loss in Cleveland] to 2011.
"I made a minor adjustment in my delivery. I was pulling over myself on the front side and staying on target. I knew something was off, and it was nice to figure it out."
Weaver praised catcher Hank Conger for his pitch selection and slick work behind the plate. Martinez was unable to get an out in the eighth after carrying a one-hitter through seven innings.
"Martinez obviously threw a heckuva game on their side," Weaver said. "We were able to squeak one over and then got the big home run by Cron.
"We couldn't hold it off in the ninth, but we kept fighting. That's what's good about this clubhouse. We haven't had that feeling here in a long time."
Having retired the first 15 hitters he faced protecting a one-run lead, Martinez yielded an opposite-field double to Conger leading off the sixth.
After an infield out moved him to third, Conger scored when Efren Navarro -- summoned from Triple-A Salt Lake to replace Albert Pujols at first base -- grounded out to first baseman Brad Snyder.
"Hank got a great jump off third" on the contact play, Scioscia said.
Conger's subtle work behind the plate might have had something to do with Alex Rios and Michael Choice getting ejected. The Rangers were upset with home-plate umpire Vic Carapazza's strike zone all night. Manager Ron Washington was still seething in the aftermath.
Leadoff man Leonys Martin doubled leading off the game and scored on Choo's RBI groundout.
A leadoff double by Rios had Weaver in trouble in the second. That's when he flipped the switch and turned into the 20-game winner of 2012. Two infield outs and a popup got Weaver out of the jam.
With Pujols nursing a stiff lower back after pulling up scoring a run Friday night, Scioscia shuffled his lineup.
Cron, who figures to get the bulk of the DH at-bats with the release of veteran Raul Ibanez, watched his fifth home run in 109 at-bats sneak into the stands. It would have been the game-winner if not for Choo's matching blow.
"I told [Cron] the first row still counts," said Angels hitting coach Don Baylor, delighted to be back in uniform.
Martinez credited Cron with handling a quality pitch.
"That was a very good pitch, up and in," Martinez said. "He just got the best of me that time. I think if he had leaned in, it would've hit him. He just got his hands to it."
Asked about his rookie slugger, Scioscia said: "He's not intimidated by anything here."
Martinez, a Miami native taken in the 18th round of the 2011 First-Year Player Draft out of Fordham University, collected his first seven outs and nine of 15 on fly balls.
Conger's drive to left was another fly ball that Choo, playing the catcher to pull, couldn't reach. Navarro put the ball in play on a full count.
Weaver's effort was his best since a complete-game victory against Houston on May 21. He ran into trouble in the fifth when a walk to Choice and Rougned Odor's single had runners at the corners. After Odor stole second, Weaver struck out Martin, showing emotion as he left the mound.
"It's nice to be able to throw the ball the way I can throw it," Weaver said.
Martinez, who was 12-7 with a 2.50 ERA last year at two levels in the Rangers farm system, was 1-4 with a 4.44 ERA coming into the game.
"He threw strikes and kept the ball down," Kendrick said. "He really pitched well. But we stayed together and got the job done."
Lyle Spencer is a columnist for MLB.com. This story was not subject to the approval of Major League Baseball or its clubs.