Beckett's gem enough to withstand Padres' late threat
Hanley, Dee each have big night as bullpen struggles again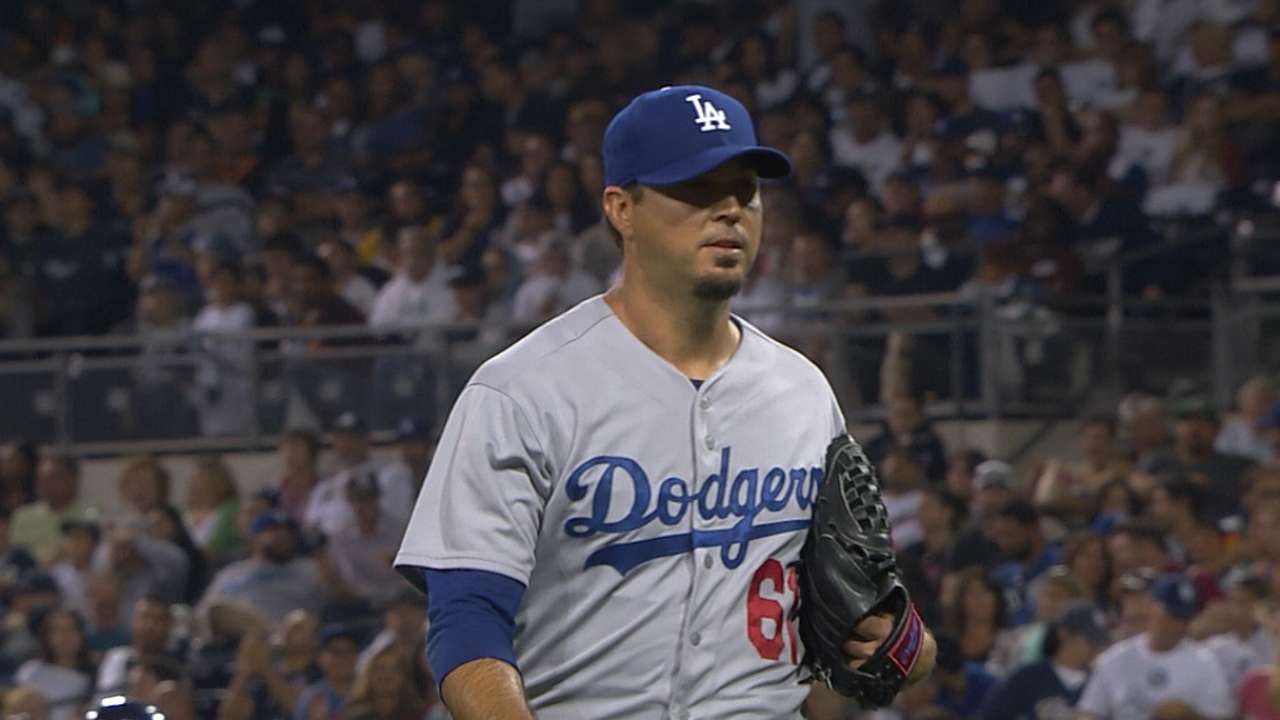 SAN DIEGO -- The Dodgers starting pitcher with the lowest ERA isn't Clayton Kershaw but the other guy with a no-hitter, Josh Beckett, who beat the Padres Saturday night, 4-2.
Beckett (5-4) pitched a four-hit shutout for seven innings and didn't allow a Padres runner past first base, lowering his ERA to 2.28 in a season worthy of Comeback Player of the Year consideration after missing most of last year with surgery to remove a rib. He struck out the side twice, finishing with eight, and walked two.
Beckett, the one-time fireballing World Series MVP, has reinvented himself this year after the injury, relying on the curveball to set up the fastball rather than the other way around.
"I had to do it. It wasn't an option," said Beckett, 34. "The Tigers lineup was an ideal measuring stick for my first start (he lost, 7-6). I had to make adjustments or I don't pitch anymore. It's just what I had to do."
Beckett has credited catcher A.J. Ellis for convincing him that he would be successful with more breaking balls. The no-hitter in Philadelphia aside, Beckett said he's satisfied being a seven-inning, 100-pitch pitcher now. He made 102 pitches against San Diego.
"If I get seven and 100 pitches, that's a pretty successful night," he said. "At this point in my career, I'm not a complete-game guy. My stuff is not as good. I try to battle with what I have and get through six or seven innings."
Beginning with the May 30 no-hitter, Beckett has compiled a 1.58 ERA over six starts.
"He had the tantalizing curveball all night long in different counts," said San Diego manager Bud Black. "He could throw it for a called strike right at the knees, I think that was the key to him."
Beckett left the game with a 4-0 lead. Hanley Ramirez drove in two runs while Dee Gordon singled in a run and created two others. But San Diego cut the lead in half in the eighth, the runs charged to Paul Maholm but scoring on hits allowed by Brandon League.
That turned the game into a save situation and a chance for Kenley Jansen to show whether mechanical adjustments made during a pre-game bullpen session with coaches would prevent another ninth-inning meltdown like the one he suffered Friday night, blowing a three-run lead.
Alexi Amarista, who singled off Jansen Friday, grounded out. Pinch-hitter Yasmani Grandal reached on an infield single. Carlos Quentin, who doubled Friday off Jansen, flied out. And Chris Denorfia swung through a 96-mph cutter to strike out as Jansen nailed down a 21st save.
"I wanted to get back out there," said Jansen. "I told the players, I just want to get back out there so I can turn the page and that's exactly what happened."
Jansen said pitching coaches Rick Honeycutt, Chuck Crim and Ken Howell pored over video and concluded that Jansen was pulling his head too soon.
"That makes my arm drag and the ball is flat and straight and not cutting," he said. "I've got to get back to my old type. You saw how it worked last year. So I went back out there and worked on that. Make an adjustment and see the success from it already. You see it paying off. Same situation, almost the same hitters, different result."
The Dodgers scored twice in the third inning off Tyson Ross. Catcher Drew Butera blooped a leadoff single to center, was bunted to second by Beckett and was singled home by Gordon.
"It was the location I wanted, [Gordon] just put a good swing on it," said Ross. "He's definitely a threat. You gotta worry about him. He really changes that lineup."
On the first pitch to Ramirez, a pitchout, Gordon stole second (an MLB-leading 39th) and continued to third on catcher Rene Rivera's throwing error.
With the infield in, Ramirez sent a broken-bat fly that was caught in shallow center, but it was deep enough for Gordon to outrun the throw of center fielder Will Venable and just elude a swipe tag from Rivera for the second run.
Ramirez drove in another run with a hard-fought at-bat. Justin Turner led off with a single, giving him a hit in his last 13 games started, and advanced to second on a wild pitch. With two outs, Gordon walked. Ramirez fell behind in the count, 0-2, worked it back to a full count, then singled home Turner, extending his hitting streak to eight games.
The Dodgers tacked on a run in the eighth off Alex Torres, who walked Gordon, then was so preoccupied with pickoff throws that he walked Yasiel Puig, then allowed an RBI single by Adrian Gonzalez.
Ken Gurnick is a reporter for MLB.com. This story was not subject to the approval of Major League Baseball or its clubs.