Tying longest start, Odorizzi one-hits Astros
Rays back effective righty with five runs off rookie Buchanan in debut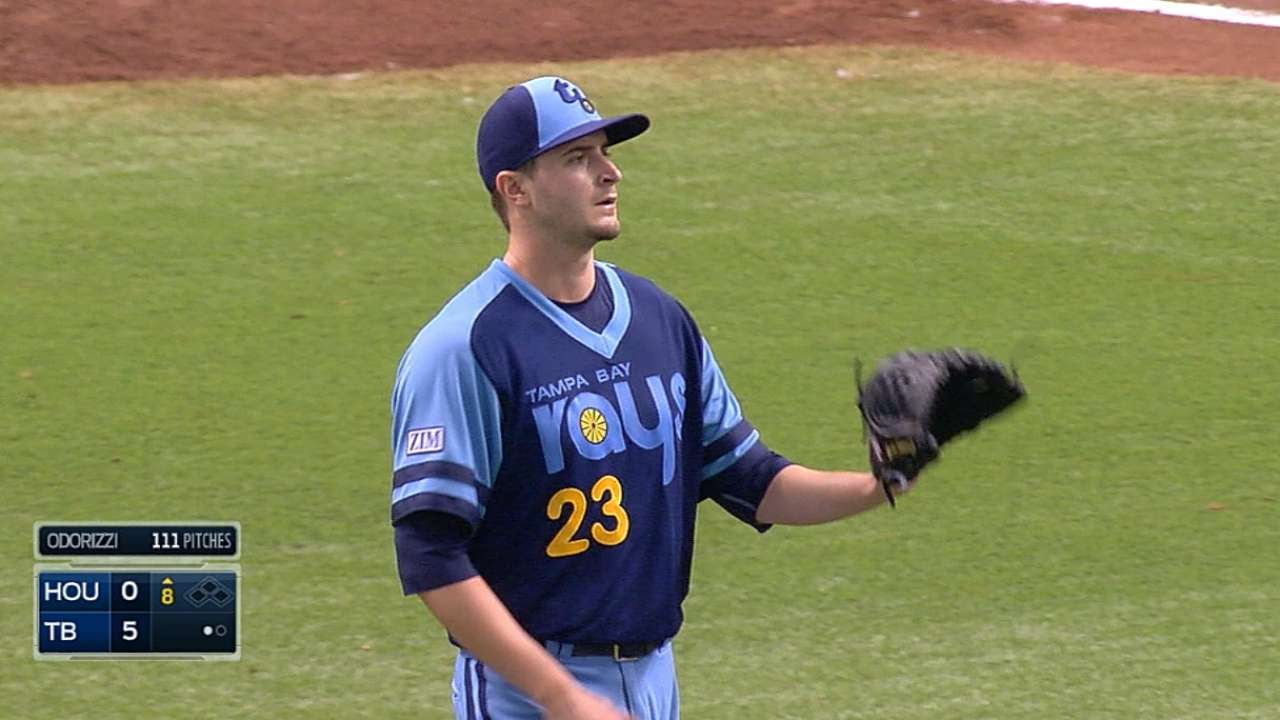 ST. PETERSBURG -- Walking off the diamond after a masterful pitching performance, Jake Odorizzi doffed his cap to the thousands of standing fans at Tropicana Field, acknowledging the ovation that was all his.
"Awesome. We had a big crowd there tonight, we in general played great and I thought it was pretty cool," Odorizzi said. "I just wanted to acknowledge them for giving me acknowledgement. That's my way of saying, 'Thank you,' back. I can't say thanks to everyone, but everyone sees the tip of the hat."
Only Jose Altuve, who has more hits than any other Major Leaguer, could touch Odorizzi on Saturday in an 8-0 Tampa Bay win, and even he could not get the ball out of the infield.
In 7 1/3 brilliant innings, Odorizzi gave up only an infield single to Altuve back through the box, off Odorizzi's foot and in and out of charging shortstop Yunel Escobar's glove. The right-hander struck out 10 in the best outing of his young career, which also tied his longest.
"He's phenomenal," Rays outfielder Matt Joyce said after the game.
Altuve, the only player in baseball with as many as 100 hits, notched No. 102 against Odorizzi, but no other Astro had a chance.
That included George Springer, who blasted the difference-making two-run homer off David Price on Friday night in a game in which Price was otherwise as dominant as Odorizzi. Springer was so frustrated after striking out against Odorizzi to end the sixth inning that he spiked his helmet and bat back to the on-deck circle.
Since June 10, when Odorizzi beat his hometown Cardinals with 7 1/3 innings of one-run ball -- a game he said he thought could be a turning point in his career -- Odorizzi has been on top of his game. Earlier in the season, he consistently struggled his second and third time through the lineup.
"The difference is his commitment to the fastball," Rays manager Joe Maddon said.
On Saturday, Odorizzi commanded the zone with his fastball all game long, and both managers took notice.
"The fastball was alive," Maddon said. "He pitched with the fastball a lot, which I liked. I like when we do that."
And Houston manager Bo Porter said that as the game went on, it hit him just how well Odorizzi was pitching.
"I didn't even realize until we got deeper and deeper into the game that [Altuve's] was the only hit," Porter said. "But give the guy credit. He did a great job at attacking the strike zone with his fastball."
Meanwhile, the Tampa Bay lineup finally backed up a strong outing on the mound with some run support -- which Price got none of Friday night in an eight-inning, two-run, 12-strikeout outing.
The Rays jumped on Houston early in James Buchanan's Major League debut, which got off to a rocky start. Buchanan's first out came easily enough on a Desmond Jennings groundout, but the next one did not come until five batters and two runs later.
After Jennings, the next four Rays recorded hits to take a 2-0 lead. Ben Zobrist roped a single to right field, and Kevin Kiermaier knocked him in with a long double into the right-center gap. Evan Longoria then blooped a single just out of the reach of a sliding Altuve behind second base, and James Loney lined a single to center to score Kiermaier.
The Rays had a chance for more, but Brandon Guyer bailed out Buchanan with a failed safety squeeze for the second out -- he was thrown out at first, and Longoria had to retreat back to third.
"With rookie pitchers like that, my concept is always make them earn all of their outs," Maddon said. "You don't want to make outs on the bases versus them. You just want to make a young pitcher earn all of his outs."
Maddon said he wanted Guyer to bunt against Buchanan, a ground-ball pitcher, because the Rays had hit into a lot of double plays this season -- "It's kind of been a burden for us," Maddon said.
Though he botched the execution on the bunt, Guyer redeemed himself in the fifth inning, driving in Longoria, who had been hit by a pitch and stolen second, with a sharp single to center field. Matt Joyce followed with a double to deep right-center, off a diving George Springer's glove, that gave the Rays a 4-0 lead and knocked Buchanan out of the game.
Ryan Hanigan doubled in Joyce, extending the lead to 5-0 and closing the book on Buchanan, who finished with 4 1/3 innings in which he allowed eight hits, five earned runs, three walks and a hit batter.
The Rays added three more runs in the eighth inning. Hanigan scored on a wild pitch, and Loney hit a two-out, two-run, bases-loaded single.
It all started, though, with Odorizzi.
"Odorizzi was great today," Kiermaier said. "We feed off of pitching and defense, and wins like that tonight, that's Rays baseball. For us to get an early lead there and have our pitching totally dominate, us chip on a few runs late in the game, that was huge for us.
"It'd be nice to get a lot more of those kinds of games."
David Adler is an associate reporter for MLB.com. This story was not subject to the approval of Major League Baseball or its clubs.