MLB.com Columnist
Lyle Spencer
Angels part ways with veteran Ibanez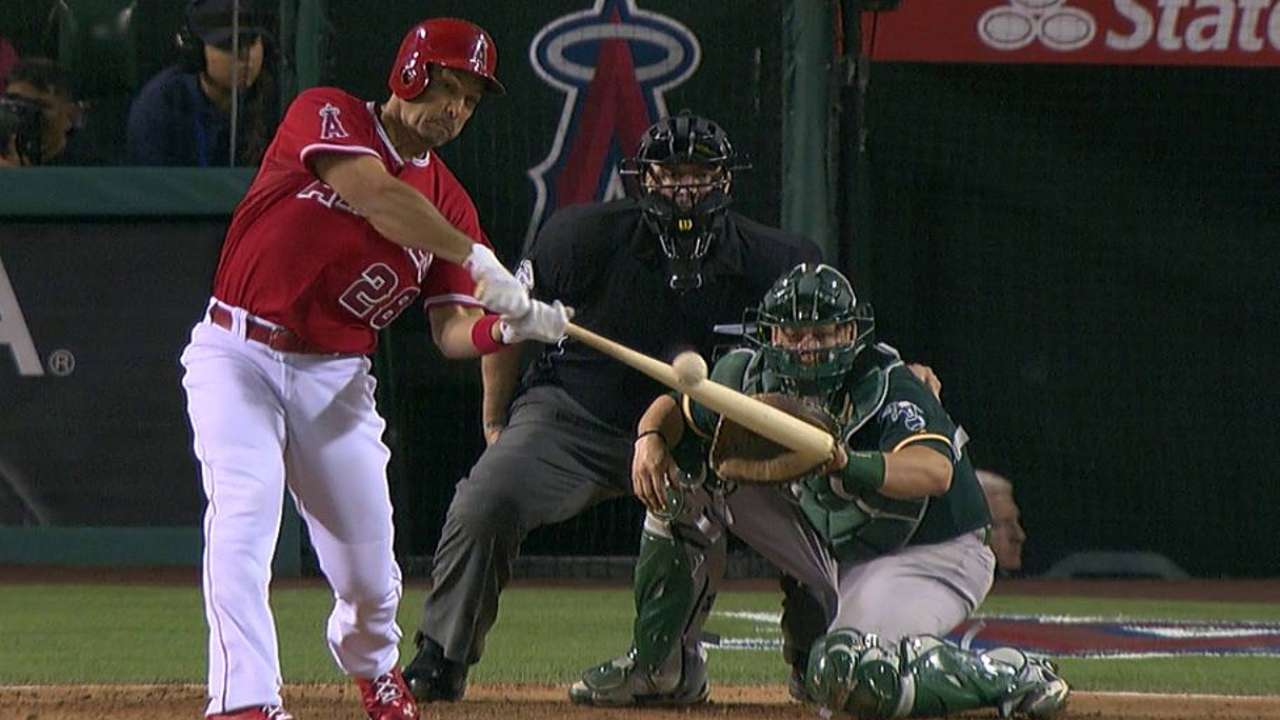 ANAHEIM -- The Angels released veteran designated hitter and outfielder Raul Ibanez on Saturday, clearing the way for rookie C.J. Cron to take the majority of the team's at-bats as the DH.
The Angels signed Ibanez during the offseason to a one-year, $2.75 million contract that included another $2.25 million in incentives. The second oldest player in the Majors, Ibanez, 42, hit .157 with three homers and 21 RBIs in 190 plate appearances for the Angels.
"Like anybody, there was disappointment," Angels manager Mike Scioscia said when asked how Ibanez reacted to the news. "He's very accountable. He knows he didn't do what he wanted for us. He took it with what you'd expect for a guy with his class.
"Raul's going to be tough to replace in the clubhouse. He brings so many intangibles. We've got some young kids [to replace him], but it's a tough day for us. Raul's a great competitor and a terrific person, and we'll definitely miss him."
Albert Pujols said he spoke with Ibanez, but chose to keep his thoughts to himself.
"That's not my territory to talk about that," Pujols said. "I shared with him my thoughts. He's a great guy in the clubhouse, and obviously he's going to be missed."
Ibanez departed before the media had access to the clubhouse. He occupied the locker next to Mike Trout and often was seen in conversation with the young superstar.
"From the day he got here," Trout said, "I never heard one negative word from Raul. He's one of the most positive people I've ever been around. He's such a great teammate. I've really enjoyed having him next to me here, being his teammate."
In Seattle last season, Ibanez had a line of .242/.306/.487 with 29 homers and 65 RBIs.
Ibanez has played in 19 seasons for the Mariners, Royals, Phillies, Yankees and Angels. He's a .273 career hitter with 303 homers and 1,202 RBIs.
After playing some left field and first base, Ibanez become part of a strict platoon at designated hitter, sharing time with Cron.
Entering Saturday, Cron has a slash line of .283/.309/.491 with four homers and 16 RBIs in 110 plate appearances this season. He homered on Friday night in a 7-3 victory over the Rangers and is batting .371 in 35 at-bats with runners in scoring position.
"No doubt C.J.'s going to get opportunities to get at-bats," Scioscia said. "We'll get Grant Green opportunities. Albert and Josh [Hamilton] at times will get days off [in the field] to DH."
Ibanez recently attributed his longevity to staying open to fresh ideas.
"It's about learning constantly, being open-minded enough to reinvent yourself when you need to change things you've done in the past," Ibanez said. "Not accepting the status quo is part of it."
Lyle Spencer is a columnist for MLB.com This story was not subject to the approval of Major League Baseball or its clubs.