Mauer delivers big hit after Correia settles in
Perkins bounces back from blown save as Twins win third in a row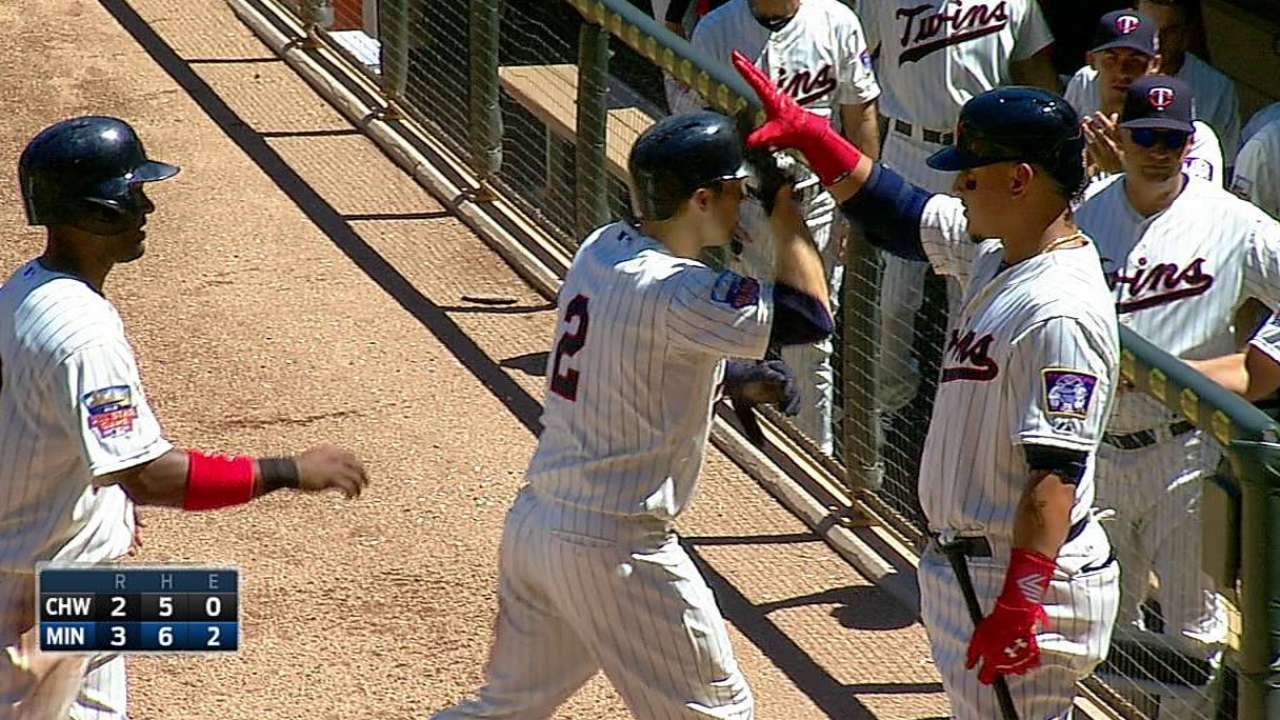 MINNEAPOLIS -- If the Twins are going to continue being a surprise team this season, they're going to need plenty of help from their rotation and from their franchise cornerstone Joe Mauer.
The rotation was a mess early in the year, and Mauer has been off to an uncharacteristically slow start, but they're both starting to show signs of life, and it was again evident on Saturday afternoon.
Kevin Correia settled down after a rocky start to throw six strong innings, and Mauer laced a go-ahead two-run double in the fifth to lead the Twins to a 4-3 win over the White Sox at Target Field. It helped the Twins to a third straight victory and moved them into fourth place in the American League Central.
Twins starters have a 2.41 ERA over their last 11 outings, and Mauer has two multi-RBI games this series after entering the four-game set with just two such games on the year.
"It's nice to come through in those situations for your team," Mauer said. "I've had a pretty tough stretch here. It was a good day to go out and drive in some people. You need those every once in a while. It's a long season, and I took advantage of the one today."
Mauer's two-run double backed Correia, who weathered a rough first two innings and ended up tossing six frames, allowing two runs (one earned) on five hits and two walks. He's been pitching better of late, as he's posted a 3.21 ERA over his last seven starts to help lower his season ERA to 5.02 after his early-season struggles.
"I think the ball's just kind of bouncing my way more than it had," Correia said. "And I think I'm getting into less trouble."
But Correia did run into trouble early, giving up a run in the first inning on an RBI single from Jose Abreu after Conor Gillaspie tripled under the glove of a diving Sam Fuld in left-center field.
The right-hander loaded the bases with two outs in the second and plunked Gordon Beckham to bring home an unearned run, as third baseman Eduardo Escobar made an error earlier in the inning. But he was able to get out of the jam by getting Gillaspie to ground out to second and settled down from there.
The Twins were unable to get much going offensively early against White Sox right-hander Andre Rienzo, scoring only in the second on a bases-loaded walk from Fuld with two outs.
But they broke out for three runs in the fifth, with Mauer coming through with a two-run double against Rienzo off the wall in left field to give the Twins the lead. Mauer had just 16 RBIs through 64 games but has picked up four over his last three games.
"He's stringing together some games where he's getting hits with runners in scoring position," Twins manager Ron Gardenhire said. "Once you start feeling better, who knows what'll happen? He can take off with the best of them. He's a big part of this offense and we need him to start doing some things and we'll win more ballgames when he does."
After Mauer's double, Kendrys Morales gave the Twins an insurance run with a single up the middle to score Mauer and snap an 0-for-21 skid.
"That inning hurt me," said Rienzo, who gave up four runs in 4 1/3 innings. "One inning -- I always have one inning."
The Twins used four relievers after Correia departed, including Casey Fien, who struck out Adrian Nieto looking to end the eighth to strand runners at second and third.
Closer Glen Perkins, who blew the save by allowing two runs in the ninth inning on Friday, scuffled a bit in the ninth but was still able to pick up his 19th save of the year. Adam Eaton led off with a triple and scored on a sacrifice fly from Beckham before pinch-hitter Paul Konerko singled with one out. But Perkins was able to strike out Abreu and Adam Dunn to preserve the victory for the Twins.
"You always want a chance at redemption," Perkins said. "I'm glad I had a two-run lead again, because it didn't go how I wanted it to. I made the pitches when I needed to make 'em, and got out of it."
Rhett Bollinger is a reporter for MLB.com. Read his blog, Bollinger Beat, and follow him on Twitter @RhettBollinger. This story was not subject to the approval of Major League Baseball or its clubs.