Matheny set to meet with Torre regarding replays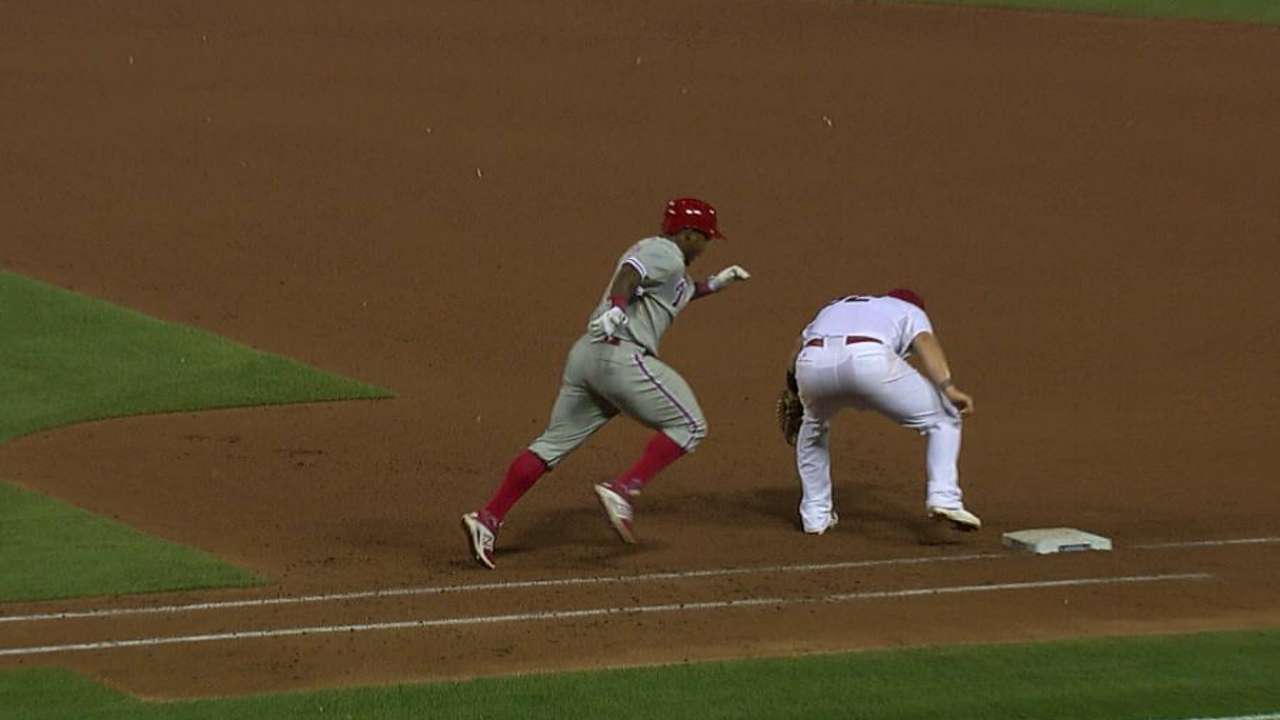 ST. LOUIS -- Manager Mike Matheny has a conversation scheduled with Major League Baseball executive Joe Torre in the coming days, during which the two will discuss the expanded replay system.
Matheny remains supportive of baseball's efforts to use technology to reduce the number of missed calls this season. But the Cardinals manager is also baffled at how little the replay system has so far benefited his club.
"I don't even know exactly what he wants to hear," Matheny said of that upcoming discussion. "I don't have any great wisdom or opinions except, 'Joe, it hasn't worked out great for us. You show me or tell me what I'm doing something wrong and I'm all ears and ready to make an adjustment.' We're trying to challenge everything that looks like it could be challenged, and it's just not worked out for us."
Matheny has been more deliberate than most managers in deploying challenges, choosing only to ask for a review when he gets an affirmative signal from bench coach Mike Aldrete, who is in communication with the club's video coordinator. That process has led to 10 Cardinals challenges, tied for the lowest total among all MLB managers.
According to figures kept by baseball-reference.com, only three of Matheny's challenges have resulted in a call being overturned. Only Tampa Bay's Joe Maddon (29 percent) has a lower success rate; however, he has used 24 challenges. Miami manager Mike Redmond has the highest percentage, as 12 of his 14 challenges had been successful.
The Cardinals have evaluated their video review process, but see no issue with it. They also go back after the fact to see if there were calls that should have been challenged and weren't. The club hasn't found that to be the case either. There have been a few times, most recently on Friday, when the Cardinals believed they had evidence to see a call overturned but did not get such a ruling on the field.
"I think they're showing statistically that they're making a lot of adjustments, they're overturning calls, they're changing games," Matheny said. "I'm speaking from a personal basis as far as the St. Louis Cardinals in 2014 go. It hasn't impacted us in a positive way. It's not from a lack of taking a look at things. They're just not missing a lot of big calls against us."
In an effort to become more educated on the system, Matheny continues to review all of the calls challenged elsewhere to see how other managers are using their challenges and what calls are being overturned. Of the 461 manager challenges used this season, 51.4 percent have been reversed by replay.
"There are other teams who have had a ton of them," Matheny said. "Maybe over the course of four years, five years, it will all start to even out and we'll get on a run where these guys are missing blatant calls and changing games for us. Fortunately it speaks to the fact that these [umpires] have done a pretty good job in getting calls right."
Jenifer Langosch is a reporter for MLB.com. Read her blog, By Gosh, It's Langosch, and follow her on Twitter @LangoschMLB. This story was not subject to the approval of Major League Baseball or its clubs.