Fister finds groove as Nationals blank Braves
Righty's eight shutout innings help put Washington back atop division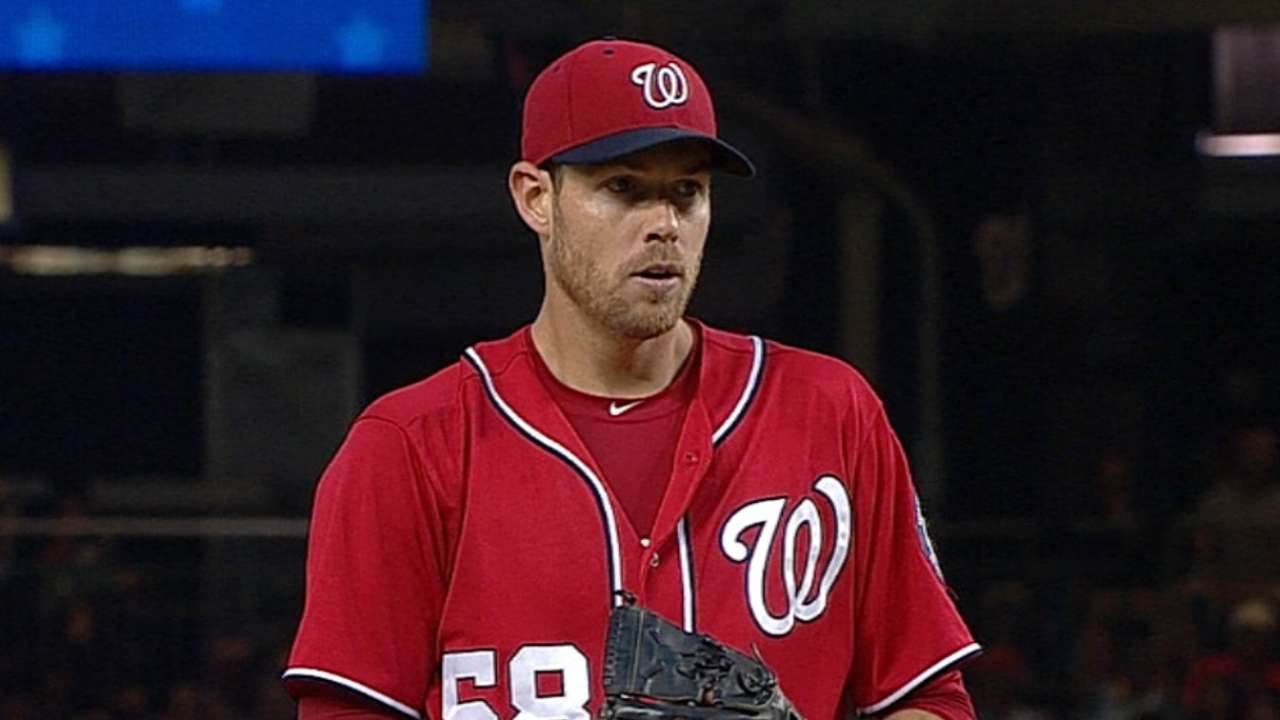 WASHINGTON -- Entering Saturday night's contest, the Braves had defeated the Nationals in seven of eight games this season. Trailing Atlanta by a half-game in the National League East, Washington was in desperate need of a victory over the Braves -- if not for the standings, then to maintain whatever confidence remained against this menacing division rival.
Doug Fister answered the call.
The right-hander brilliantly spun eight scoreless innings to lead the Nationals to a 3-0 victory at Nationals Park. At 38-35, Washington is back atop the division.
"He controlled the strike zone, [threw] all of his pitches for strikes, [worked] ahead in the count," Nationals manager Matt Williams said. "All of those things pitchers do when they go deep in the game."
Fister said his game plan entering the game was to get 27 ground-ball outs. He has pitched to contact throughout his career, using his sinking fastball and fast pace to take full advantage of the defense behind him. Saturday night, the movement on Fister's pitches -- specifically his sinker and changeup -- was on point, and he finished the outing with 12 ground-ball outs
"He was throwing Wiffle balls out there," Braves third baseman Chris Johnson said. "The ball was moving everywhere. … I don't know how he does that. The ball I struck out on, I could have sworn was in the other batter's box."
Fister got into trouble in the top of the first inning, though. Singles from B.J. Upton and Freddie Freeman put runners on the corners with one out, but Fister responded, getting a lineout to second and forceout at second to escape the frame unscathed.
"I'm going to make them put it in play and let the defense work," Fister said. "I'm trying to get bad contact, popup, whatever it takes, and let the guys work behind me, because that's what they're there for. I'm not a big strikeout guy. It's not going to happen."
Washington opened the scoring in the bottom of the second inning. Jose Lobaton led off with a single to right field before Fister bunted him over -- one of two sacrifice bunts for the pitcher on the night, both of which led to runs. After a Denard Span flyout, Anthony Rendon ripped a single up the middle that scored Lobaton, who avoided a tag from catcher Evan Gattis with a nifty headfirst slide.
"I saw him a little bit to the right side and I said 'OK, I've got to go around,'" Lobaton said. "Just instincts, I didn't [think] about it."
The Nationals added a second run in the bottom of the sixth inning. Adam LaRoche walked with one out to bring up Ryan Zimmerman. During Zimmerman's at-bat, Braves starter Julio Teheran -- who struck out 10 batters over seven innings -- appeared to have a serious miscommunication with Gattis and stepped off the mound twice. When he tried a third time, home-plate umpire Clint Fagan called a balk, advancing LaRoche to second base.
Zimmerman made Teheran pay with an RBI single up the middle that brought LaRoche home easily to give the Nationals a 2-0 lead.
"I've been hitting the ball and not really getting anything to show for it," Zimmerman said. "To be able to grind out that at-bat and get us an extra run right there after he makes a mistake was huge for our team."
Meanwhile, Fister settled in after the first inning. He retired seven straight batters stretching into the fourth inning, and didn't allow another hit until Andrelton Simmons dropped a bloop single in front of Zimmerman in left field in the fifth inning.
Fister allowed just five hits and one walk with three strikeouts on 117 pitches over eight innings, his longest start of 2014, before closer Rafael Soriano pitched a scoreless ninth inning for his 16th save.
Fister's extended outing couldn't have come at a better time, either, considering the Nationals went 13 innings against the Braves on Friday night and put a major dent into an already-weakened bullpen.
"After an extra-inning game like we had, we burned a lot of arms," reliever Ross Detwiler said. "Doug going in, especially in a shutout, he was in control the whole time. And it's incredible just to be able to hand the ball over to your closer."
Rendon came through with two outs for a second time in the bottom of the seventh inning to provide insurance for Fister. He drilled a hanging slider from Teheran over the head of center fielder B.J. Upton for an RBI double, scoring Lobaton to give the Nationals a three-run advantage.
And for the first time since April 6, and just the second time this season, the Nationals defeated the Braves.
"Everybody's just playing loose baseball," Fister said. "And that's what we need right now."
Daniel Popper is an associate reporter for MLB.com. This story was not subject to the approval of Major League Baseball or its clubs.