No help for Teheran as Braves blanked by Nationals
Atlanta falls back into second in division behind Washington with loss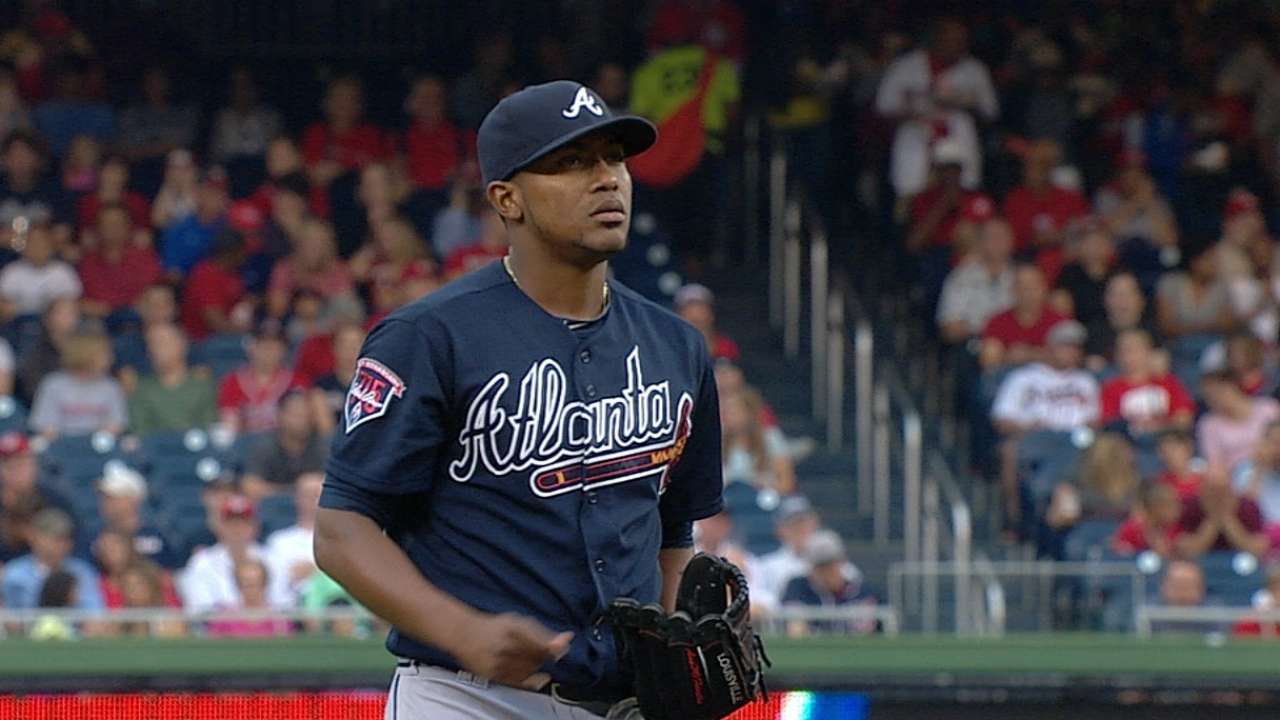 WASHINGTON -- Julio Teheran has impressed with the confident, stoic approach he has brought to the mound on a regular basis. But the Braves' ace allowed his emotions to get the best of him during Saturday night's 3-0 loss to the Nationals.
"I showed a little bit of frustration," Teheran said. "It didn't happen before to me, but I was really working hard to concentrate on the game and to control my emotions. Today, it was just the first time that it happened."
Teheran's inability to get on the same page as catcher Evan Gattis highlighted what proved to be a frustrating evening all around for the Braves, who notched just five hits during the eight scoreless innings completed by Nationals starting pitcher Doug Fister.
Fister's dominant effort enabled allowed the Nationals to leapfrog the Braves and regain a half-game lead in the National League East race. The Braves had won 20 of the previous 27 games played between the two division rivals.
"You control the game [as a pitcher], and [the opposition] reacts to you," Fister said. "So that's a mentality that you go out there with every day, that I'm going to control what I'm going to control and go to work after that. Trying to keep the pace up, trying to get guys back into hit."
As Fister cruised at his usual fast pace, Teheran spent far too much of his seven-inning effort shaking off Gattis and trying to remain patient. Still, he managed to record a season-high 10 strikeouts and limit the damage to three runs.
"It was just frustrating for all parties that we just couldn't get on the same page," Gattis said. "Sometimes, he was shaking on purpose, and it's confusing."
Gattis' two-out sixth inning single extended Major League Baseball's longest current hitting streak to 20 games. But after spending nearly an hour after the game in the trainer's room, the big catcher certainly didn't look like a guy who was in the mood to celebrate.
Braves manager Fredi Gonzalez suggested the the confusion between the batterymates was a product of the use of multiple signs. But the Braves have been utilizing multiple signs for at least six weeks, and Gattis had been behind the plate for 12 of the previous 15 starts made by Teheran, who entered Saturday with a 2.32 ERA.
"We've been using [multiple signs] for a while now," Gonzalez said. "But sometimes it takes a little longer for [Gattis] to get back to what [Teheran] wanted after a shake off. I think that was the issue."
Gattis did not agree with this assessment. Instead, he said some of the confusion was created by Teheran's attempts to throw the Nationals off by shaking off pitches. In the process on Saturday, he confused his own catcher.
"Julio tends to shake a lot," Gattis said. "That is just who he is. He has two different fastballs that are definitely two different pitches. It's not really confusing. It just took a while."
While Gattis has experienced some miscommunication issues with other pitchers as he attempts to get better acquainted to the catcher position, the effects have not been as transparent as Teheran made them.
"They weren't on the same page a couple of times," Braves first baseman Freddie Freeman said. "I think that is going to happen. But it's something they need to figure out. It's just part of the game. They need to be on the same page. They were able to do it in the middle innings. There were a couple more shakes than normal tonight, but they'll figure it out in their next start."
Teheran seemed to be just fine as he scattered four singles over the first four innings. But in the process of recording three strikeouts in the fifth inning, he began taking more time and shaking off more pitches.
Teheran's frustration came to a boil in the sixth inning, when he issued Adam LaRoche a one-out walk -- just the second free pass he has issued this month -- and then was charged with a balk that highlighted how upset he had become. The clear balk was called when Teheran toed the rubber and then simply took a step forward with his right foot without any intention of throwing a pitch.
LaRoche scored when Ryan Zimmerman drilled a one-out single to center moments later. After completing the sixth inning, Teheran vociferously yelled into his glove before heading to the dugout.
"I know I have a lot of pitches, and sometimes it's difficult to see what I want to throw," Teheran said in reference to the balk. "I was shaking, and that was when I got frustrated, because I wasn't seeing the pitch that I was thinking. We weren't on the same page there. … I was the one who made that move. Even if we weren't on the same page, I'm the one who has to step off and talk to him."
Anthony Rendon, who hit a game-tying, two-out homer off Craig Kimbrel in Friday's ninth inning, tarnished Teheran's line with a third-inning RBI single and a seventh-inning RBI double. Both hits were recorded after Fister advanced Jose Lobaton to second with a sacrifice bunt.
"Teheran was fine for me, he gave us a good opportunity," said Gonzalez, who made every attempt to downplay the miscommunication issues.
Mark Bowman is a reporter for MLB.com. This story was not subject to the approval of Major League Baseball or its clubs.