Wood can't help taxed bullpen as Cubs fall
Lefty allows three runs in 4 1/3 innings; Rizzo smashes two-run homer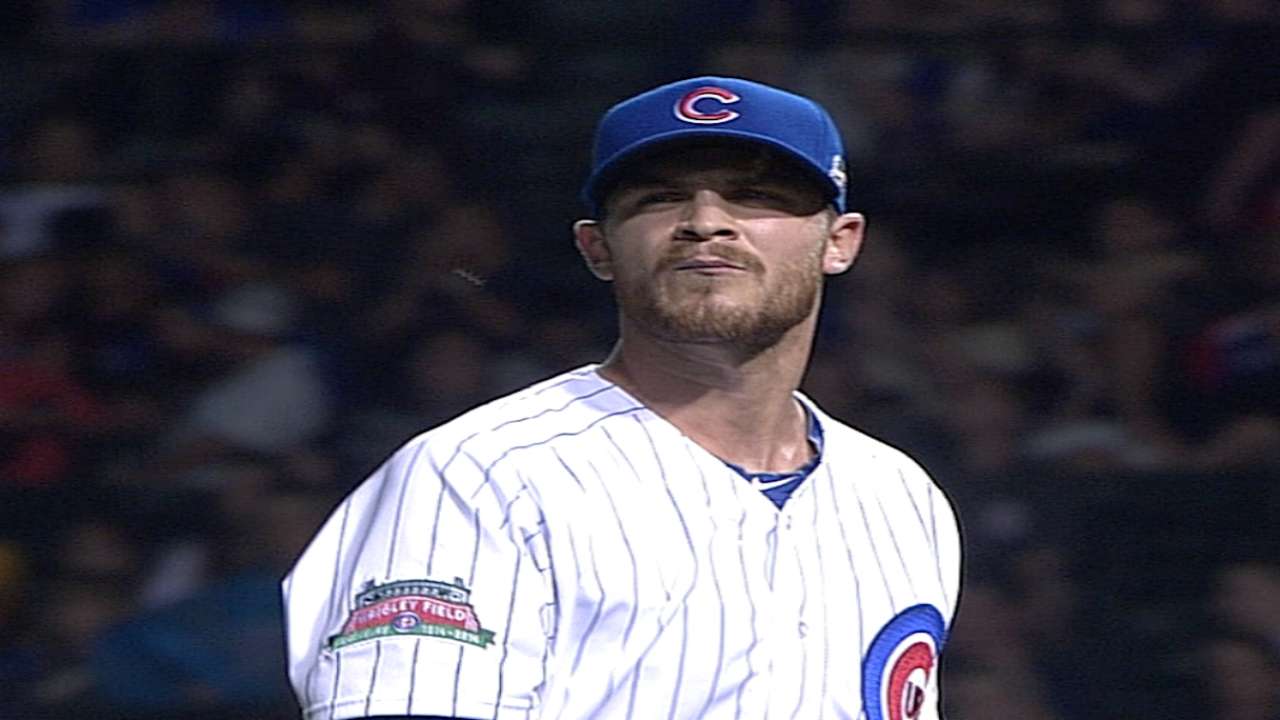 CHICAGO -- The third out proved elusive for Cubs pitching in key situations Saturday at Wrigley Field.
First it was starter Travis Wood, who couldn't get the final out of the fifth and was consequently knocked out of the game. Then came the seventh inning, when Starlin Castro made a nice snag of a Gregory Polanco one-hop liner, but couldn't make the throw in time. Both situations led to a pair of two-out runs, which proved to be the difference in Pittsburgh's 5-3 win.
The Polanco play was the main topic of conversation after the game. Castro leaned back to snare the hot smash and wheeled around before firing to first. Anthony Rizzo dug the ball out of the dirt, and Polanco was called out on the bang-bang play, prompting a challenge from Pirates manager Clint Hurdle. The play was overturned, and Josh Harrison took Justin Grimm deep to right.
"It was a hard ground ball. That's the only thing that I can do," Castro said. "That guy can run, he hustled out of the box. It's a tough play." "
Cubs manager Rick Renteria agreed that it was a tough play, but saw things a little bit differently. Castro has in the past been nonchalant on his throws with fast runners, something upon which both manager and player said he's improved. On this play, though, Renteria would have liked to see Castro get the throw off quicker with the speedy Polanco flying down the line.
"For Starlin, how well does the guy run?" Renteria said. "Because it was a well struck ball, nice stab, slow to kind of get around and load it up. He's getting down the line and then he tried to rush the throw a little bit.
"On this one he made a nice stop on a very hard hit ball, got spun around, ended up, like I said maybe taking his time thinking because it was struck so well that I've got a little time, but the guy can really run."
Wood was plagued by a high pitch count that was driven up by a 32-pitch fourth inning. Wood walked Andrew McCutchen with one out and Jose Tabata with two, but got Gaby Sanchez to fly out to the track in left.
Then came the fifth, in which Wood couldn't get the final out and ran out of gas. Jordy Mercer led off with a single and was sacrificed to second. Gregory Polanco then walked on seven pitches, and Harrison and McCutchen followed with back-to-back, two-out RBI singles that chased Wood and put the Bucs up 3-2.
"It's big. You get two outs but there's still one more to get and good teams find a way scratch out some runs during those times," Wood said. "And they did their job."
Wood's abbreviated outing came one day after Edwin Jackson only made it through five innings due to calf cramps, further taxing the bullpen.
"The last couple innings his pitch count started elevating," Renteria said. "They were fouling off pitches, they were getting on base, so I was hoping he would maybe get through that fifth with 94, 95 pitches and I was going to send him back out for the sixth because we were going to see if we could get one more inning out of him, but it just didn't work out."
The start of the game was delayed by thunderstorms for just over two hours, and the hitters made it even longer before fans could see some offensive action. After both Wood and Worley started the game six up, six down, Mercer picked up the first hit of the game with a leadoff homer to start the third.
Other than Anthony Rizzo's 15th homer of the year, a two-run shot to right in the fourth, the Cubs couldn't manage much against Worley. He needed just 86 pitches to get through 6 2/3, as the Cubs went after Worley early in the count.
Renteria talked about the Polanco-Castro play in the seventh as a learning experience. The Cubs have been playing well over the past month, in part because they've picked each other up. On this night, Castro wasn't able to help Grimm like he wanted, and Grimm couldn't bail out Castro the next pitch.
"We can take that experience right there as a pitcher and say, 'You know what, now I've got to pick my buddy up and I want to keep making pitches,' Renteria said. "It just so happened that he left the ball up out over the plate, outer half breaking ball over the plate and Harrison was able to get to it."
Joe Popely is an associate reporter for MLB.com. This story was not subject to the approval of Major League Baseball or its clubs.