Blue Jays can't rally once more vs. Reds
Toronto falls behind early again but bats stay quiet against Leake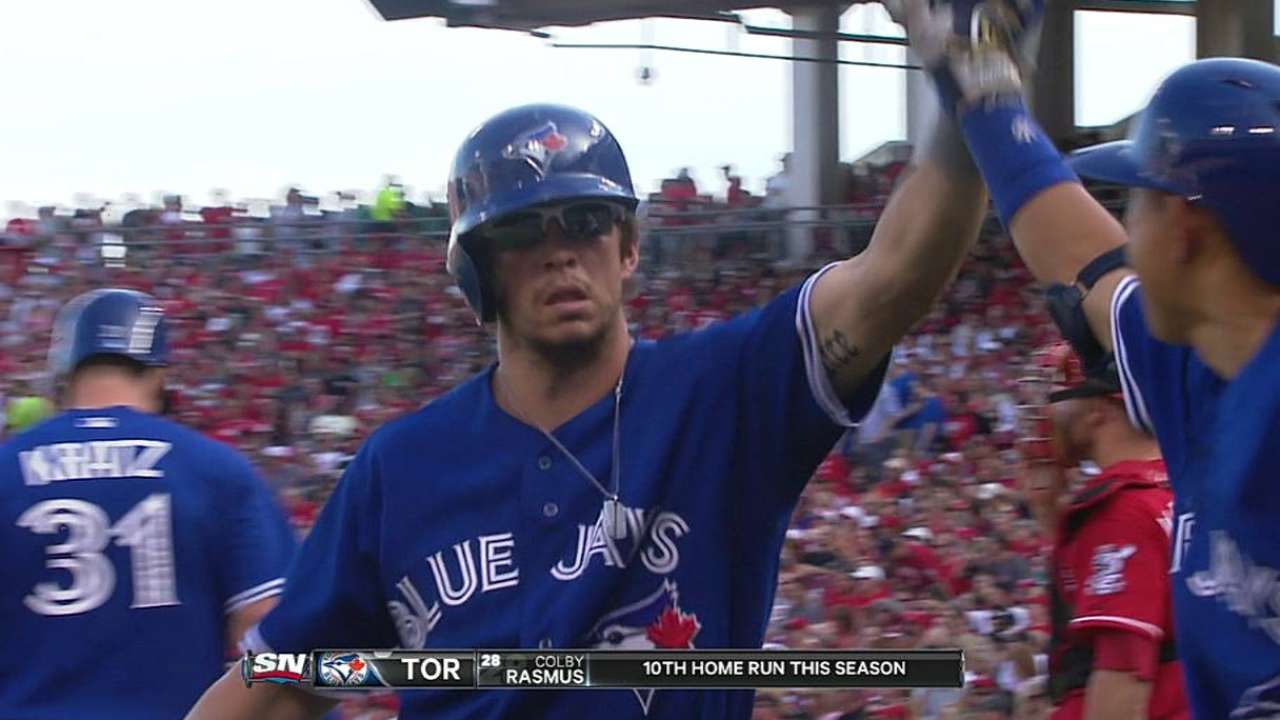 CINCINNATI -- The Blue Jays fell behind by eight runs for the second consecutive day, but this time the dramatic comeback was nowhere to be found.
Toronto's pitching staff has been left battered and bruised over the past 48 hours. The offense came to the rescue on Friday, but asking for that type of production two days in a row was too tall of a task.
Left-hander J.A. Happ felt most of the burdern as he battled some control problems and ended up surrendering eight runs over four innings in an 11-1 lopsided loss to the Reds on Saturday afternoon.
"He didn't have it today," Blue Jays manager John Gibbons said. "We really never had a chance. Just kind of sucked the wind out of us right now, but we'll move on and show up tomorrow."
There's an old saying in baseball that suggests momentum is only as good as the next day's starting pitcher. It might be cliche, but it's also probably true and Saturday's performance showed why.
Toronto entered the game riding the high of a historic comeback. The Blue Jays rallied from eight runs down to mark the biggest deficit the organization had overcome since 1989. The mood in the clubhouse was light, but there also was the understanding that the team needed a good outing from Happ.
The Blue Jays' bullpen tossed 7 1/3 innings in the series opener and several relievers were in desperate need of a rest. Instead of getting a quality outing from Happ, he delivered one of his worst performances of the season.
Happ retired the first two batters he faced, but it was all downhill from there. The veteran left-hander walked the bases loaded and then allowed a two-run single to Ryan Ludwick. Another run came around to score on a passed ball by Erik Kratz, but that was only the beginning.
Cincinnati's Jay Bruce added a solo homer in the third and then the wheels completely fell off in the fourth. With one out, Happ allowed three runs after three consecutive singles and a sacrifice fly to Todd Frazier. Joey Votto and Brandon Phillips delivered the final blows with a pair of RBI doubles.
"I don't know if I was trying to be too fine maybe, or what, I'm not sure," Happ said. "I let three guys go and then the base hit hurt. It was a tough way to start."
Happ allowed eight runs (seven earned) on seven hits, four walks and five strikeouts. He threw 62 of his 99 pitches for strikes, but even when his command issues were solved after the first inning he wasn't able to miss many bats.
That caused Happ's ERA on the season to jump from 4.05 to 4.87. It marked the second time this season he allowed six or more runs and the third time in 10 starts he was unable to pitch more than four innings. His up-and-down season continues as he struggles to find some consistency at the back-end of Toronto's rotation.
"The walks, that's terrible," Happ said. "That's obviously frustrating, but you look at the game, you watch the game, this game is crazy. A couple of balls, a couple of feet either way and it could have been a different story. But it wasn't and that was the way it ended up. Of course I'm not happy about that and I need to do better."
Unlike Friday night when the Blue Jays recovered from an 8-0 deficit and eventually won, 14-9, there was no comeback in this one. Reds right-hander Mike Leake cruised through eight innings and allowed one run on four hits and two walks with six strikeouts.
The only bright spot for Toronto came in the seventh inning when Colby Rasmus homered to right field. Rasmus has 10 home runs and became the sixth player to reach double digits in that category for the Blue Jays.
"Those games suck when you're up so much and you let them slowly creep back," Leake said. "Obviously, it was my job to not let them do that today and be productive."
Toronto began the month with a 5-0 record but is 4-10 over its past 14. The Blue Jays have gone four consecutive series without a victory but could have that skid snapped with a win on Sunday afternoon.
Gregor Chisholm is a reporter for MLB.com. Read his blog, North of the Border, and follow him on Twitter @gregorMLB. This story was not subject to the approval of Major League Baseball or its clubs.