Red Sox capitalize to tie late, turned away in 10th
Pedroia pounces after club benefits from call; Crisp thorn in side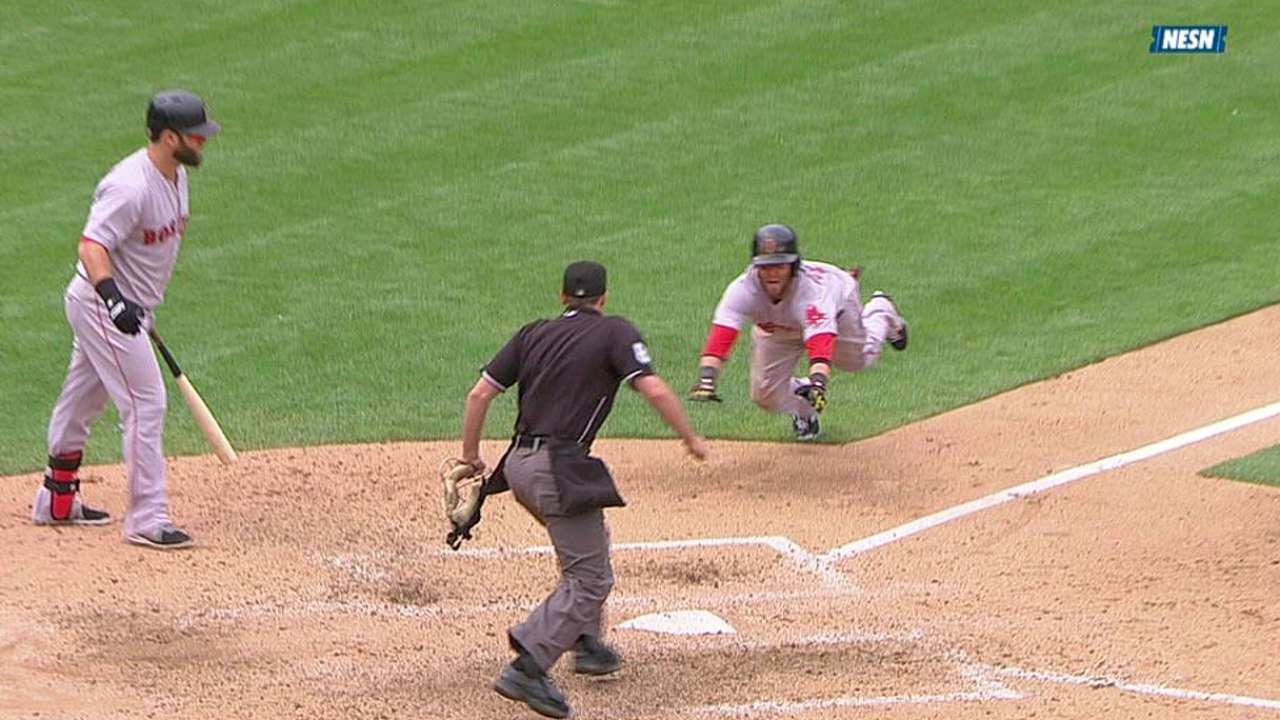 OAKLAND -- Three games, three daggers through the Red Sox's hearts by Coco Crisp.
Crisp lined a walk-off, 10th-inning single against Koji Uehara on Saturday afternoon, scoring Alberto Callaspo to give the A's a 2-1 victory.
"I didn't want to wait around for the splitter, so I was hoping he would come in to where I was looking for it, and he did," Crisp said. "Another lucky guess."
Edward Mujica walked Callaspo to start the inning, and Nick Punto sacrificed him to second.
Uehara entered and threw one pitch, a fastball that Crisp lined to right.
It was Crisp's second game-winning hit in as many days, after he made a game-saving play in center on Thursday to rob A.J. Pierzynski for the final out.
Starter Rubby De La Rosa threw seven innings of one-run ball, doing everything in his power to convince the Red Sox to keep him around when Clay Buchholz and Brandon Workman return next week.
But that was not the story on Saturday, as another valiant pitching effort was overshadowed by an absentee offense.
"We created some opportunities, and we've got to continue to grind away," said manager John Farrell. "We've got to continue to believe in our guys and put forth the same approach and effort."
Trailing, 1-0, with runners on the corners and two outs in the eighth, the Red Sox caught a crucial break before heads-up baserunning led to their only run.
Mike Napoli foul tipped a two-strike offering from Luke Gregerson, and it appeared to go directly into the glove of catcher Stephen Vogt.
That would have ended the inning, but umpire Quinn Wolcott ruled that the ball hit the ground first, much to the dismay of A's manager Bob Melvin.
Gregerson's next pitch skipped off the dirt and rolled in front of Vogt, far enough away for Dustin Pedroia to scamper home from third and tie the game.
"He's got a pretty good slider, and I was just trying to read the ball in the dirt and get a good jump," Pedroia said. "I took a little gamble. It all depends on the situation. Righties are hitting .150 off him, so I tried to make something happen."
Wolcott subsequently ejected Melvin, who was fuming at the foul-tip call after Napoli flied to right to end the inning.
The one run would not be enough against Jesse Chavez and the A's.
The Red Sox had their chances, including a first-and-second, one-out situation in the top of the 10th. But Pedroia flied out and David Ortiz struck out against Dan Otero.
They also put two on with no outs in the sixth. Ortiz was at the plate in a hitter's count, but he bounced into a 3-6-1 double play. Then, with Brock Holt at third and two outs, Napoli struck out.
The Sox went 0-for-6 with runners in scoring position and are now 4-for-their-last-48 (.083) in those spots.
"I think we're trying too hard," Pedroia said. "The saying is, 'Let the game come to you.' You have at-bats in big situations, sometimes they make pitches on you, but sometimes when you get pitches to hit, you're looking for their best location instead of just relaxing and putting a good at-bat together."
Boston went hitless over the first five innings, and Chavez finished with seven shutout frames. The Sox played their eighth consecutive contest decided by two runs or fewer, a stretch during which they are averaging 1.75 runs per game.
Despite one strong pitching performance after the next, they are 7-12 over their last 19 games and 7 1/2 behind the first-place Blue Jays in the American League East.
"That's completely out of their control," Farrell said of the tough-luck decisions for his starters, who have allowed three earned runs or fewer in 10 straight games. "We have to continue to band together and find ways to collectively put together a complete game, and that's been a tough run here in this series."
De La Rosa was locked in, giving up one run on four hits while striking out seven and walking one in seven innings, but he had little room for error.
Vogt led off the third with a drive to right-center field, which became a triple when the ball bounced off the wall and over Jackie Bradley Jr.'s head.
Holt -- who had three of Boston's seven hits -- followed with a tremendous diving catch to rob Callaspo, but Vogt came home to score the A's first run.
Oakland took a 3-0 lead in the four-game series, outscoring the Sox 10-6 so far.
"I think what's really frustrating is we're in these ballgames, one-run games," Pedroia said. "It's a break here and there, it's one good swing away from winning the game, and we haven't done that."
Aaron Leibowitz is an associate reporter for MLB.com. This story was not subject to the approval of Major League Baseball or its clubs.