Crisp rescues A's in wild 10th-inning walk-off victory
Coco seals win for second straight game after lead lost on curious call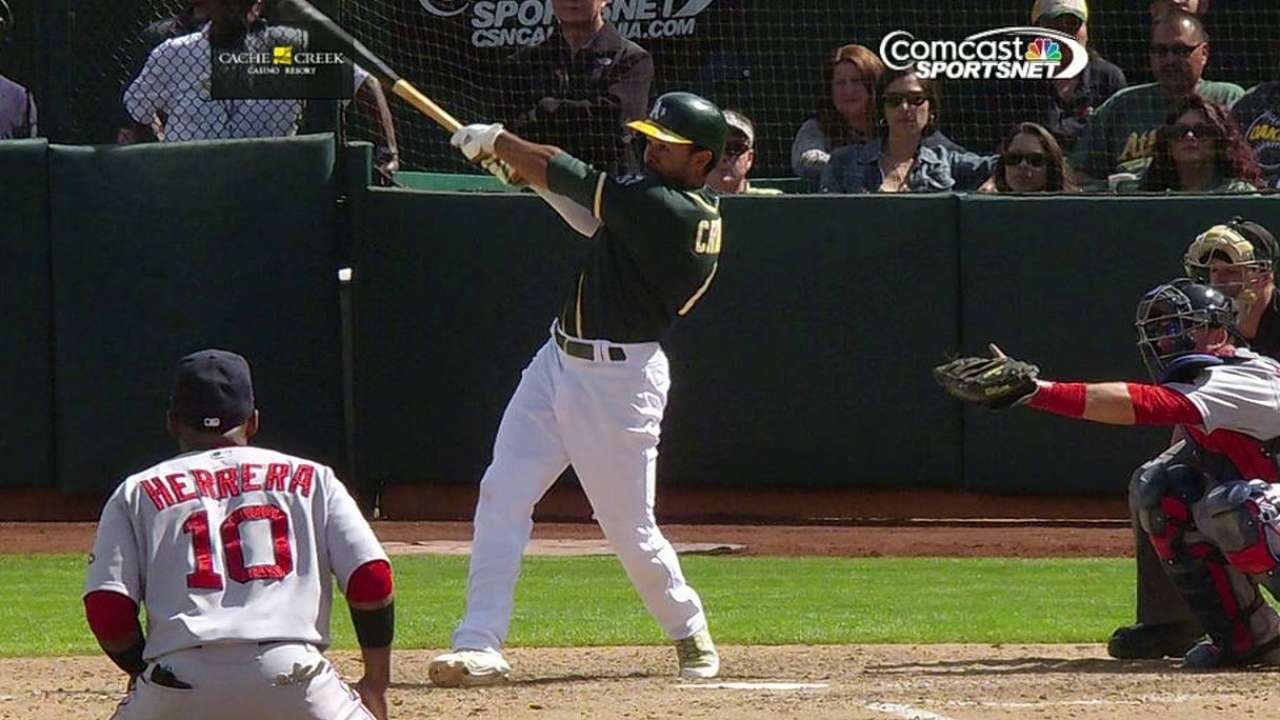 OAKLAND -- This is the first year of expanded replay in the Major Leagues, but the A's may now want it expanded further.
Starter Jesse Chavez took a no-hitter into the sixth, pitching seven scoreless innings for Oakland, and appeared on his way to besting Boston on Saturday afternoon. Then a close -- and unreviewable -- play in the eighth gave the Red Sox life.
Thanks to Coco Crisp, many will remember the 10th inning instead.
One game after providing a winning hit in the eighth, Crisp delivered a walk-off single to give the home team a 2-1 win, its fifth of the last-at-bat variety so far this season.
"Coco being Coco again," said Chavez, referencing Crisp's eighth-inning single on Friday night. "He goes, we go. He's our jump-starter."
Added manager Bob Melvin: "There's always a good feeling when he's at the plate."
Crisp's heroics were needed because of a disappointing eighth.
Relieving Chavez to start the inning and trying to protect a one-run edge, right-hander Luke Gregerson yielded one-out singles to Brock Holt and David Ortiz, with Dustin Pedroia grounding into a forceout in between. Gregerson then got Mike Napoli to wave at a 2-2 pitch, but home-plate umpire Quinn Wolcott ruled that Napoli fouled the ball into the ground. TV replays showed the ball landing in catcher Stephen Vogt's glove for a would-be inning-ending strike three.
"Quinn heard sound and thought there was a foul ball," crew chief Gerry Davis told a pool reporter postgame. "This type of play happens quite often, actually. It's a difficult call for us. And in order to change it, we have to [be] positive."
With the at-bat extended, Gregerson's next pitch was wild and dribbled far enough away from home plate for Pedroia, racing from third base after he had advanced on Ortiz's single, to beat Vogt to home plate and tie the score.
"I took a little gamble," Pedroia said. "It all depends on the situation. Righties are hitting .150 off [of Gregerson], so obviously it's a tough at-bat, so I tried to make something happen."
While the A's credited Pedroia for his hustle, they had, in unison, issues with the call.
Gregerson: "It was pretty simple. The ball had no scuff marks on it. It was an obvious catch, strike three."
Vogt: "[Napoli] tipped it, and I caught it. I wasn't even worried about it [at first]. I heard him call, 'Foul ball' and you saw what happened from there."
The sequence concluded with the ejection of Melvin, who said he didn't like the way Wolcott engaged with Gregerson after the inning.
"I was objecting to [Wolcott] speaking to my pitcher and then into further stuff," Melvin said. "What I was told was that it was a foul ball that hit the dirt and no [umpire] saw anything conclusive to overturn it [on the field]. ... After looking at it, it was caught."
The A's got on the board first in the third, when Vogt tripled high off the right-center-field wall, coming inches from a solo home run, and scored on Alberto Callaspo's ensuing lineout to a laying-out Holt in right field.
Boston starter Rubby De La Rosa was otherwise sharp -- he yielded only three other base hits, all singles, while striking out seven over seven innings.
But he was no match for Chavez.
The 30-year-old right-hander, who had pitched against the Red Sox three times before but always in relief, walked three of the first eight batters he faced and set a single-start season high in walking a fourth, Napoli, in the fourth.
But he didn't allow a hit until Holt and Pedroia led off the sixth with consecutive opposite-field singles. Ortiz promptly grounded into a double play. From there, with Holt lurking on third, Chavez struck out Napoli looking and pumped his fist as he left the mound.
The A's as a whole have reason to celebrate, of course. Melvin's ballclub has now won five straight games, is a season-high 19 games above .500 (47-28) and sports the best record in the Majors.
Clutch hitting is a part of the A's success. After Callaspo drew a walk and advanced to second on Nick Punto's sacrifice bunt to start the 10th, Crisp pulled Red Sox right hander Koji Uehara's first pitch into right field for his seventh career walk-off hit.
"I was taking the approach that he was going to come right after me," Crisp said of Uehara, who hadn't allowed a run in 20 relief appearances. "He has a cutter and a good sinker. Then, later, he tries to finish you off with his plus splitter. I didn't want to wait around for the splitter, so I was hoping he would come in to where I was looking for it, and he did. ... Another lucky guess."
Andrew Pentis is a contributor to MLB.com. This story was not subject to the approval of Major League Baseball or its clubs.