Koehler solid, but Mets' deGrom even better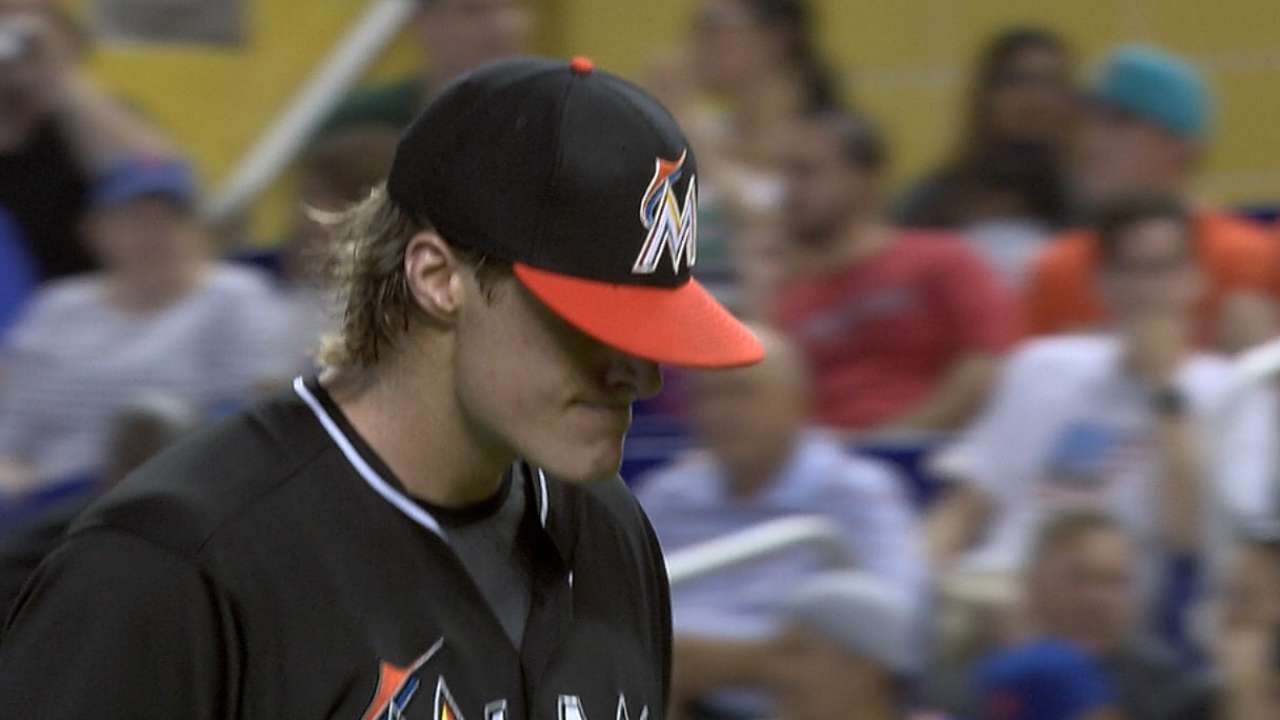 MIAMI -- At a time when the Marlins' starting pitchers have started to make some noise, the offense has gone silent.
Tom Koehler rebounded nicely from a couple of rough outings, surrendering two runs and fanning eight in seven innings, but Jacob deGrom was even better.
New York's rookie right-hander tossed seven shutout innings, and David Wright scored two runs and drove in another to lift the Mets to a 4-0 victory over the Marlins on Saturday at Marlins Park.
Lucas Duda broke open the game with a two-run homer off Chris Hatcher in the ninth inning.
The Marlins were blanked for the second time in three days and have fallen to 3-6 in their 10-game homestand, which concludes on Sunday.
"It's a long season," Koehler said. "We play so many games that you're bound to go through something like this. The good news is, we have a long way to go still, and we've got a great group of guys, a lot of high-character guys and guys that don't give up."
Runs have been hard to come by all series for Miami.
It started on Thursday, when Zack Wheeler struck out eight in his first big league shutout.
On Saturday it was deGrom who frustrated the Marlins, scattering five hits over seven innings.
"We'll just keep plugging along," manager Mike Redmond said. "We've had a couple of really good months. We hit .260 this year. This month we've been a little bit slow. We'll keep battling, keep fighting. We'll look through it. It's just tough when you get good pitching performances.
"Tom did a good job today, kept us in the game. It would have been nice to come out and get a few runs and get a little bit of a cushion. Right now we're just in that little bit of a spell where we're not able to get the consecutive hits and get a little bit of a rally going. But we will. We'll keep fighting."
Koehler was upset at himself for unsuccessfully getting a bunt down and striking out in the third.
"It was nice to get out of that jam in the sixth, but at the same time, it's frustrating giving up those two runs and not getting those bunts down," Koehler said. "They're eating at me a little right now."
It was also a rough day physically for the Marlins' middle infielders.
After batting practice, shortstop Adeiny Hechavarria was scratched due to a sore right elbow. And Hechavarria's double-play partner, veteran Rafael Furcal, was replaced after three innings with more extensive injuries to his left hamstring and calf.
It was initially announced that Furcal, 37, had a cramped left hamstring, but Redmond confirmed the situation is more serious. Furcal will be placed on the disabled list on Sunday; the results of Saturday night's MRI were not disclosed.
Furcal, in his ninth game after opening the season on the DL, pulled up after bouncing into a 6-4-3 double play in the third inning. He extended his left leg in hopes of beating the throw, and his foot clipped the back of Duda's shoe.
The Mets added to the Marlins' misery by taking the lead in the fourth inning with a two-out rally started by Wright's single. Duda walked, and Chris Young slapped an RBI single to center.
New York made it 2-0 in the sixth inning, cashing in on two leadoff walks by Koehler. Eric Young Jr. and Curtis Granderson drew back-to-back passes, and Wright slapped an RBI single to right.
The way deGrom was pitching, those two runs were enough to secure his first career win.
"I think it's good for a young guy to be tested," Mets manager Terry Collins said. "In situations like that, you really find out what they're made of, and it's good for them to know they can get out of trouble."
Joe Frisaro is a reporter for MLB.com. He writes a blog, called The Fish Pond. Follow him on Twitter @JoeFrisaro. This story was not subject to the approval of Major League Baseball or its clubs.