With seven scoreless, deGrom notches first win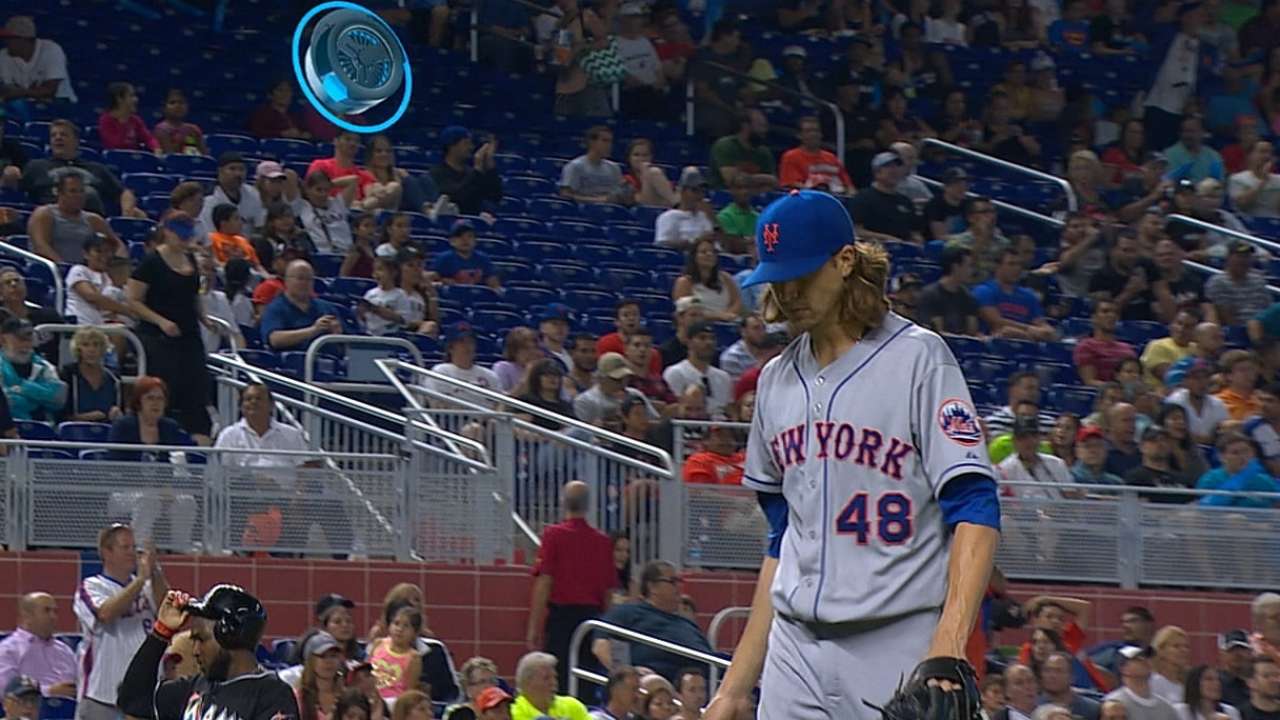 MIAMI -- It might have taken until his eighth try, but Jacob deGrom is no longer winless in the Major Leagues. The rookie right-hander shut down the Marlins on Saturday at Marlins Park, striking out seven in seven innings en route to a 4-0 victory.
deGrom, a native of De Leon Springs, Fla., got to record that elusive first win in front of friends and family in a ballpark that, thanks to a section full of Mets fans, seemed a lot like a New York venue.
"I was hoping to get [the win]," deGrom said. "I wouldn't say it was bothering me. It feels good to have one now."
He even has two game balls to show for it, although he doesn't know which plays they're from.
"They were ones that were in the game," he said. "They've got the sticker on them."
After recording a 2.42 ERA in his first four starts, deGrom couldn't figure out how to keep opponents off base. Batters teed off on him in his next three outings, knocking 26 hits and scoring 13 runs. On Monday, against the Cardinals, he'd thrown 91 pitches by the time he was taken out of the game with one out in the fifth inning.
But with better control of his breaking pitches, he changed his luck on Saturday. Not only did he make it to the seventh inning for the first time since his debut, he allowed only five hits.
"He has the desire to pitch deep into a game," David Wright said. "It's not good enough for him to just go five [innings] or get a quality start. For him it's going out, pitching deeper into games, pounding the strike zone. And he did that today."
deGrom did get himself into some trouble a few times. After striking out the first batter of the fifth inning, he allowed a walk and a single before facing Marlins starter Tom Koehler. He was lucky, however, that Koehler could not get a sacrifice bunt down and that catcher Taylor Teagarden was able to get the lead runner before he reached third.
What impressed Collins about deGrom was that he was able to maintain his composure and get out of jams.
"I think it's good for a young guy to be tested," Collins said. "In situations like that, you really find out what they're made of, and it's good for them to know they can get out of trouble."
And deGrom finally got some support -- mostly from Wright, who's had a hand in five of the Mets' seven runs this series.
For days Collins has been enthusiastic about Wright showing signs of heating up at the plate.
By the end of Saturday's game, Wright, who went 3-for-4 with two runs and an RBI, had extended his hitting streak to six games and raised his average to .275. In that span he's 10-for-23 with three doubles, two homers and five RBIs.
All that after going through a 2-for-39 slump across 12 games.
"The good ones figure out a way," Collins said. "He's probably never been in that kind of a slump before, but [good hitters] just refocus themselves and try to use the field. That's what's made David so special -- in our place or anyplace else, he'll use the whole field to get hits."
Wright's first hit of the game, in the fourth, broke up Koehler's early perfect game, and he scored later that inning on Chris Young's single. Wright drove in the second run of the game on an opposite-field single to right in the sixth inning.
In the ninth, Wright hit a leadoff double into the right-field corner and represented the Mets' third run when Lucas Duda homered off Chris Hatcher. Duda crushed a 1-1 fastball into the Mets' bullpen behind right field for his 10th homer of the season.
Maria Torres is an associate reporter for MLB.com. This story was not subject to the approval of Major League Baseball or its clubs.