Orioles use four homers to power past Yankees
Jones, Cruz, Pearce, Hardy go deep to help Baltimore even series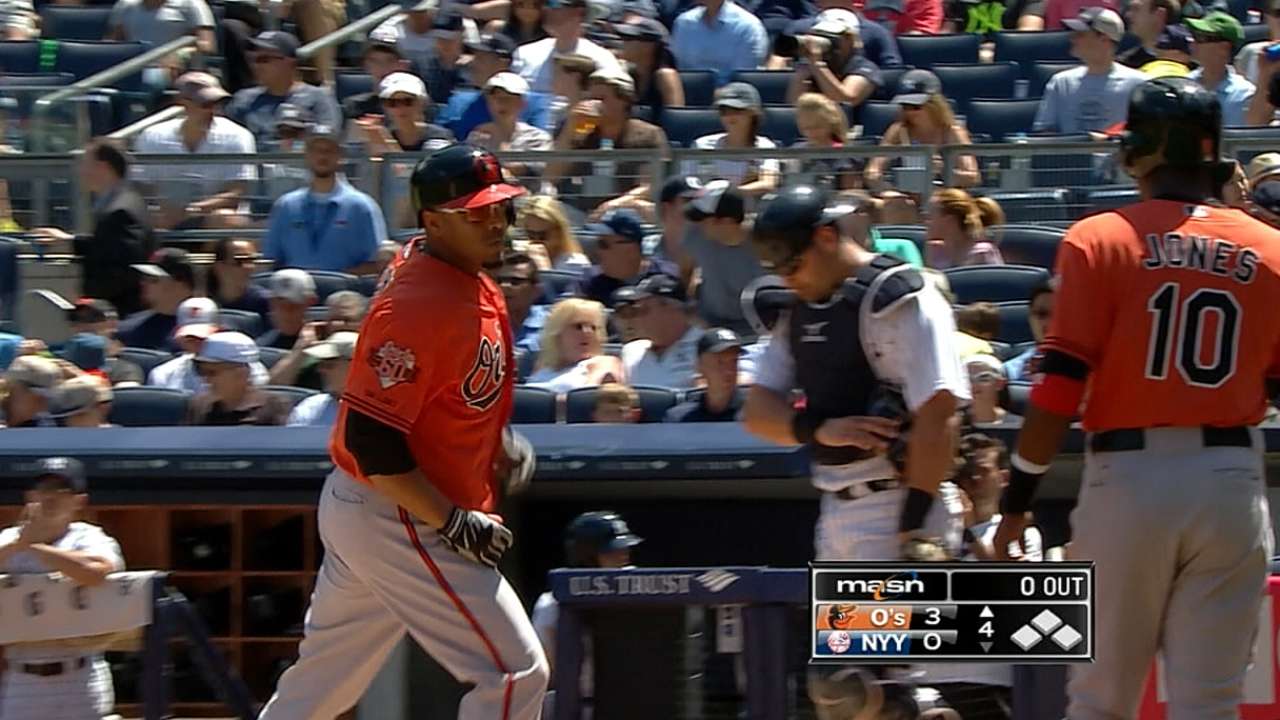 NEW YORK -- The Orioles needed a deep start on Saturday afternoon, and through five innings, right-hander Bud Norris looked poised to give them one.
Instead, Norris exited with tightness in his right groin, and the O's -- who optioned starter Kevin Gausman to add reliever Brad Brach before the game -- found themselves again having to cover a short outing a night removed from a walk-off loss. This time, the Orioles delivered.
Right-hander Ryan Webb turned in two scoreless innings after Norris, and an Orioles team that leads the Majors in home runs this month used four blasts -- including shortstop J.J. Hardy's long-awaited first of the season -- for a series-evening 6-1 win over the Yankees.
"About time he went deep, man," said center fielder Adam Jones, who homered in the first inning, of Hardy, who snapped a streak of 339 at-bats without a long ball. "It was good to see. I like the silent treatment. I don't think he was pressing, but it's been something that's in the back of his mind due to the fact that he's a 25-plus home run guy the last three, four years."
Hardy, whose last homer came Sept. 5, 2013, went deep off reliever Jose Ramirez with one out in the eighth inning, a ball he watched for a while to make sure it cleared the fence. After rounding third and noticing that no one had moved, the shortstop started showering himself with sunflower seeds upon returning to the dugout before the O's finally came over to celebrate with him.
"It definitely felt nice," said Hardy. "This has been a long time for me. I felt like I forgot how to do it. You can't try to do it -- you are just going to roll over it, pop up if you try to do it. So I've just been continuing to get my hits and just hoping it would happen. And it finally did."
The victory, in front of a sellout crowd at Yankee Stadium, improved the third-place Orioles (38-35) to 3-2 on their current road trip and 3-2 against the Yankees this season.
"You can't put too much on the night before. You've just got to go out there and play the game," said Norris, who picked up his fourth consecutive victory in his first career start against the Yankees. "These guys don't hang their heads. It was a tough game last night. These guys know how to play and it was a tough one to lose. But that being said, we came out the next day and we win again and we have a chance to win the series [on Sunday]."
After Jones kicked things off with a solo homer off Yankees starter Vidal Nuno, Nelson Cruz hit a two-run shot in the fourth for his 23rd of the season. With Jones working a walk before him, Cruz sent a ball into right field to raise his RBI total to 60.
Red-hot Steve Pearce clubbed his career-high sixth homer in the fifth inning, making a leadoff error by third baseman Kelly Johnson hurt. Caleb Joseph reached on that miscue and, after Nick Markakis' fielder's choice, Pearce sent a ball into left field to mark his second homer of the road trip.
"[He] can hit," Jones said of Pearce, who is now 8-for-16 in his last four games with four doubles, four runs scored and seven RBIs.
"Doesn't matter whose fastball it is, he can hit a fastball, anybody's fastball. It's impressive. Quite impressive."
The homer barrage, which raised the Orioles' total to 28 in June, had Norris working with a lead the entire afternoon. At just 85 pitches through five, Norris -- who allowed a homer to Mark Teixeira -- signaled for the trainers after throwing a warmup pitch prior to the sixth inning. Several moments later, he walked off the mound, with Webb taking over.
"They said, 'Go out there and throw your warmup pitches and see how it is,'" said Norris, who alerted the team's trainers after the fifth inning of what was going on. "I could see it getting a little bit worse and I wanted to be smart. Hats off to the offense scoring early and the bullpen picking me up."
"I'm hoping we caught it in time," manager Buck Showalter said of Norris, who is scheduled to start next on Friday. "He felt it a little bit the inning before [the sixth], and I just didn't want to take a chance. He's getting an extra day next time out. [He'll] probably pitch the night game of the split doubleheader. We've got other options, but I'm hoping we caught it in time and kept it from developing into something with the groin that obviously you don't want long term."
Norris held the Yankees to three hits and a pair of walks and has allowed just two earned runs over his last three starts, a 19 2/3-inning stretch. Webb gave up a hit and a walk and recorded the next six outs before lefty Brian Matusz navigated the eighth and Tommy Hunter worked a scoreless ninth.
Brittany Ghiroli is a reporter for MLB.com. Read her blog, Britt's Bird Watch, and follow her on Facebook and Twitter @britt_ghiroli. This story was not subject to the approval of Major League Baseball or its clubs.