Giants' struggles continue in loss to D-backs
Lincecum allows four runs in six innings; offense dries up after first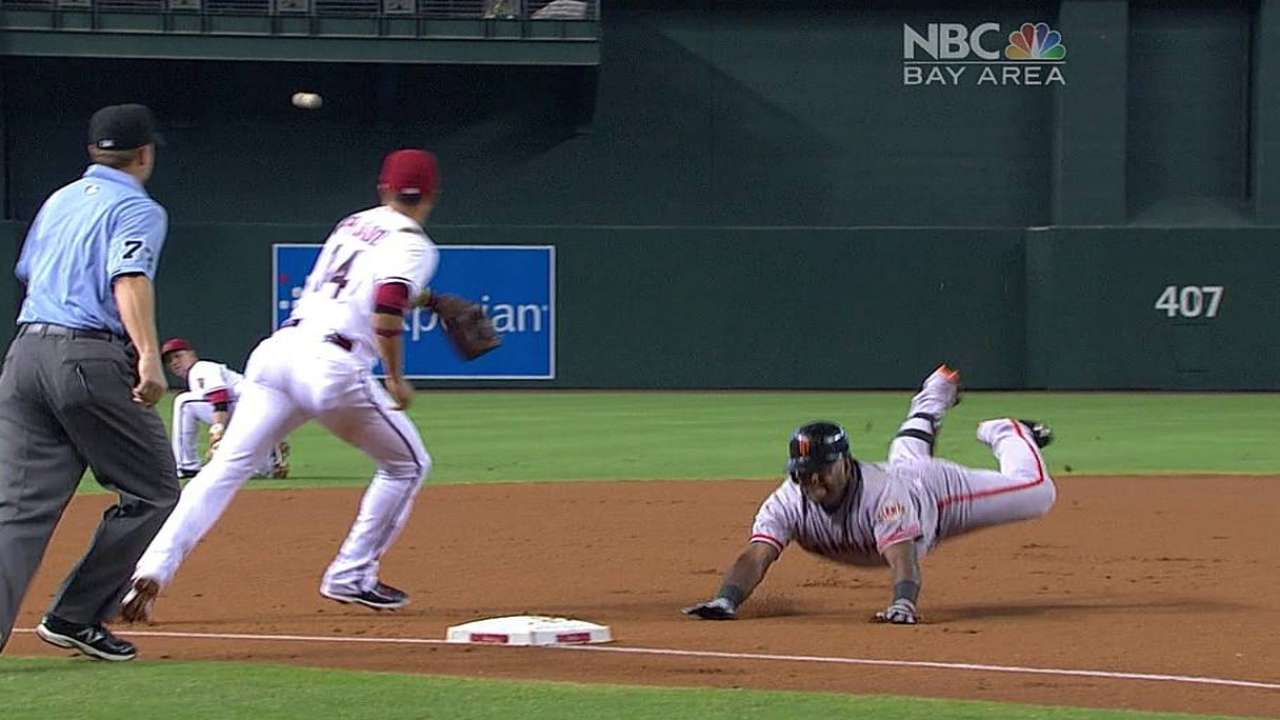 PHOENIX -- Two frustrated teams -- one in first place, the other in last -- entered Chase Field on Friday night looking for some kind of relief.
The first-place team wasn't the one that got the respite.
Although the Giants and D-backs have had opposite fortunes this season, both sides have struggled recently. Arizona is the one that came out ahead Friday, taking the series opener from San Francisco, 4-1.
"We created many chances out there that just came up short," manager Bruce Bochy said.
"You're going to have these moments, unfortunately, in this game. Everything was going our way early. But I like to look at the 60-plus games when we played great baseball and that's who we are versus trying to look at 10 games and saying this is who we are."
The Giants had D-backs starter Josh Collmenter (5-4) on the ropes early in the game. They scored a run in the first inning when third baseman Pablo Sandoval roped a two-out triple, scoring first baseman Buster Posey from first.
But after that, the scoring ceased. The Giants continued working Collmenter, driving up his pitch count quickly, but the D-backs starter worked out of every jam he found himself in.
"It's kind of been that way here through this tough streak," Bochy said. "We're missing the big hit to kind of keep the line moving."
Although he only gave up one run, the Giants' persistent batters pushed Collmenter to 109 pitches by the end of the fifth inning, which was his last.
"I don't think I've ever had a clean, crisp outing against these guys," Collmenter said. "They're a good club, a lot of experienced hitters. I felt as good as I have in the last handful of starts, was able to make some really good pitches, especially when I needed to, but they battled."
Forcing Collmenter out of the game early was a hollow victory -- one that doesn't show up in the standings, where the Giants are falling quickly. The Giants are now four games ahead of the Dodgers, who have won six of their last 10.
Tim Lincecum (5-5) outlasted Collmenter, but unlike the Giants, the D-backs did pick up key hits.
They entered Friday's game sixth in the National League with 529 men left on base, but they only stranded two runners in their win.
First baseman Paul Goldschmidt seems to relish facing Lincecum. The Giants starter avoided giving up his eighth homer to Goldschmidt but still gave up a single, a double and a walk to him, accounting for two of the four runs against him.
"I just try to have good at-bats," Goldschmidt said. "Sometimes there's guys you do well off of and sometimes there's guys that have your number."
Lincecum's struggles with Goldschmidt almost mirror the Giants' problems with everyone they have faced recently. But as poorly as they've played, the Giants still hold a lead in the division with plenty of time to make up for a bad stretch.
"You put the tough games, adversity, whatever you want to call it behind you," Bochy said. "We can't change what happened. We can change how we come out here to be ready to go tomorrow."
Adam Lichtenstein is an associate reporter for MLB.com. This story was not subject to the approval of Major League Baseball or its clubs.