Offense stifled again as Cardinals fall to Phillies
St. Louis limited to Holliday's RBI single to drop third straight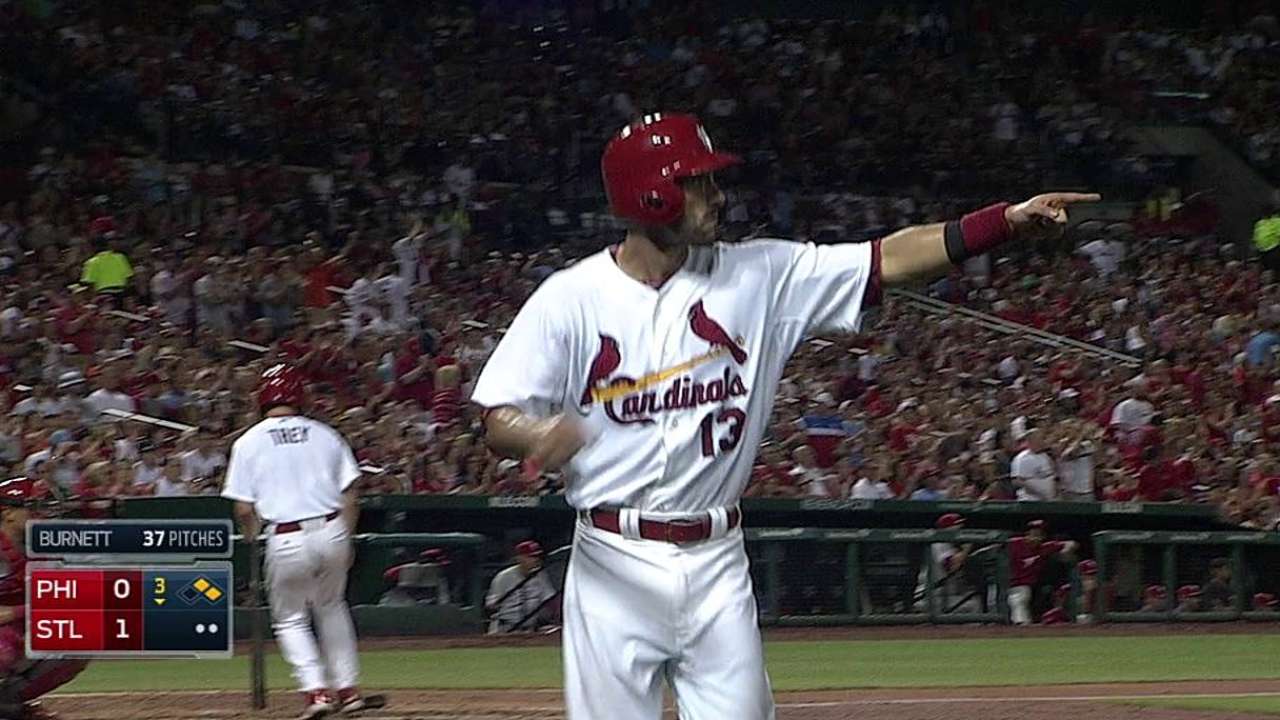 ST. LOUIS -- It's been a couple weeks now since manager Mike Matheny said he would cease to predict that an outcome, a play, a streak would be the jumping off point for a Cardinals team still underachieving on its own expectations. He best stick with that intention, too, as this continues to be a team unable to keep from regressing each time it seems to hit its stride.
The Cardinals' latest funk is again an offensive one, with Friday's 5-1 loss to the Phillies marking the third straight game in which the club mustered near nothing against the opposing starter. That ineptitude comes on the heels of a season-best five game winning streak in which the Cardinals were pushed a season-high seven games above .500.
Three losses later, the Cardinals have fallen back to 5 1/2 games behind first-place Milwaukee.
"It's frustrating for the guys, frustrating for all of us when we know it's there," Matheny said of his club, which has plated a combined four runs in three games after scoring at least four in four consecutive ones. "When you see it, you just tend to expect it, and that's where we are right now. We're going to continue to expect it because it's there and we just have to continue to fight to get it back."
Stymied by a pitcher they had never seen before in the first of four games against the Phillies, the Cardinals were handcuffed by one they know all too well on Friday. Unfazed by a sellout crowd or swarms of moths at a ballpark where he's habitually struggled, Phillies starter A.J. Burnett twirled a complete game (his first of the season) at Busch Stadium.
"I just felt like I was within myself more," Burnett said. "[Catcher Carlos Ruiz] called a lot of changeups, obviously way more than the norm. I just kept them off-balance, righties and lefties all night. As stubborn as I am, it's hard to get me to throw it, but I stayed with him all game and he did great tonight."
Jaime Garcia didn't do enough to keep the lead within striking distance either, as the Phillies were all over several up-and-over-the-plate pitches in the middle innings. Three of the first four batters Garcia faced in the fifth doubled -- and the other would have if not for a stellar diving stop by first baseman Matt Adams.
Burnett had the second of those two-base hits, tattooing a fastball to the wall in center to tie the game at 1-1. He scored when Jimmy Rollins extended his hitting streak to 14 games with the first of his two RBIs.
Marlon Byrd then took a hanging changeup from Garcia and lined it over the left-field wall to lead off the sixth, an inning in which Philadelphia would score three times. All of the runs were charged to Garcia, who was pulled without getting an out in the frame.
He had little insight to offer afterward, answering all postgame questions in either short sentences or with a shake of his head.
"I don't know," Garcia said, when asked why his night suddenly got off-kilter. "I'm trying to figure it out."
His catcher filled in the blanks.
"He left a lot of pitches in the middle of the plate," Yadier Molina said. "That's what happens when we leave a lot of pitches in the middle -- they're going to hit them hard."
The outing was hardly reminiscent of Garcia's last two starts, in which he had combined to allow one run in 14 innings. He had this start delayed by 50 minutes because of rain, though the decision to push back first pitch wasn't made until both pitchers had completed their full warmup.
Garcia said that was a non-issue. He also denied there being any physical ailment.
"I don't know if it was run out of gas or exactly what it was, but he lost a little bit of that fine location on the fastball and that sink," Matheny said. "He had good movement again today, but got hit on a couple that straightened out on him."
The Cardinals had scoring opportunities against Burnett, but most came with two outs. Matt Holliday had the team's lone hit in six chances with runners in scoring position as he briefly gave St. Louis the lead with his third-inning RBI single. From the second through the fifth, the Cardinals stranded six baserunners.
This was Burnett's sixth career start at Busch Stadium III, a place where he was rocked for seven runs in a two-inning National League Division Series start as a member of the Pirates' rotation last October. In total, Burnett had lasted just 18 innings -- allowing 31 runs and 37 hits -- in his previous five outings at the ballpark.
"He didn't make any mistakes," Adams said. "He kept the ball down and was hitting his spots."
Jenifer Langosch is a reporter for MLB.com. Read her blog, By Gosh, It's Langosch, and follow her on Twitter @LangoschMLB. This story was not subject to the approval of Major League Baseball or its clubs.