Costly miscues haunt Rockies in sloppy affair
Colorado commits season-high four errors, allows five unearned runs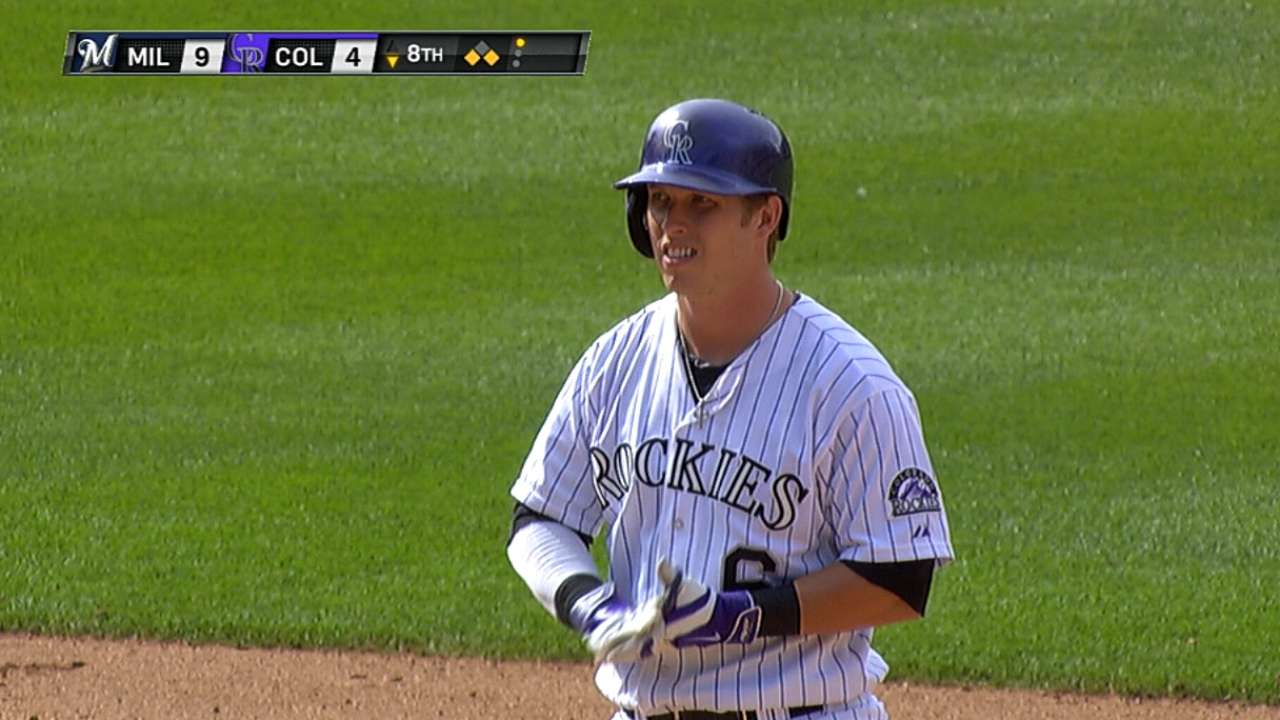 DENVER -- Some of the Rockies' losing streak, which reached five games Saturday afternoon after a 9-4 loss to the Brewers at Coors Field in front of 38,020, can be blamed on a depleted lineup and starting rotation.
Sometimes, the other team is just better. That was the case Wednesday, when Dodgers lefty Clayton Kershaw no-hit the Rockies.
But blame Saturday's loss on the Rockies' own sloppiness as the club committed a season-high four errors.
Three of the miscues came during a four-run Brewers' second inning that turned the 2014 debut of Christian Friedrich into a futile one. The other error occurred in the third, when a Friedrich wild pitch with the bases loaded somehow turned into a three-run embarrassment.
"I always check the effort first, that's first and foremost," said Rockies manager Walt Weiss, whose team had a five-game win streak before its current skid. "But we didn't execute today. We wash it off, come out tomorrow. But we were sloppy early on, there's no way around that."
Justin Morneau's two-run single in the first inning brought his two-game RBI total to seven and his season total to 51 and gave the Rockies a 2-0 lead. Corey Dickerson homered for the 10th time this season, and in his second straight game, in the seventh off Brewers starter Wily Peralta (8-5).
Decent pitching and defense between Morneau's hit and Dickerson's homer might have given the Rockies a chance. Friedrich was competitive. He lasted six innings and gave up seven hits, and just four of the nine runs charged to him were earned.
Friedrich's six innings were useful, given the last two starts, by Jorge De La Rosa on Wednesday night and Christian Bergman on Friday night, were both shy of four innings. Bergman suffered a left hand/wrist injury when hit by a line drive in his outing. If he can't make his next start, the Rockies could be staring at using a 12th starter this season.
"It's always good to go through six, especially when you use the bullpen like we did last night a little bit with 'Bergy' getting hit with that line drive," Friedrich said. "There were a lot of things going on without pitches really being thrown with runs. I kept the pitch count down. I was happy to get through."
Friedrich, whose last Major League appearance was July 28, 2012 before a stress fracture of the lower back cost him all of last season and left him having to regain his form at Triple-A Colorado Springs to start this year, had a 1-2-3 first inning.
But the second started with third baseman Josh Rutledge, a middle infielder by trade who has struggled to fill in for 2013 Rawlings Gold Glove Award winner Nolan Arenado (broken left middle finger), misplaying a Carlos Gomez chopper into two bases -- a hit and an error. Two batters later, Rutledge mishandled Khris Davis' bouncer to allow Gomez to score.
"'Rut' has been working hard," Weiss said. "Obviously, third base isn't his natural position. He had a couple of tough plays today, but I'm the one who put him at third base."
Mark Reynolds, 0-for-12 on the Brewers' road trip going into Saturday, added an RBI single. Peralta reached and Reynolds scored when Rockies second baseman DJ LeMahieu threw wildly trying to complete a double play, and Rickie Weeks tripled Peralta home for a 4-2 Brewers lead.
Friedrich walked Jonathan Lucroy to open the third and watched him score on a Reynolds double. With the bases loaded and two out, Friedrich uncorked a wild pitch, and a second run scored when catcher Michael McKenry threw wildly to Friedrich covering the plate. The play wasn't over, although the Rockies acted as if it were.
Jean Segura, who started the play at first and was at an uncovered third by the time the second run scored, kept creeping toward home, then broke into a sprint. Friedrich, holding the ball, had his head down at the time. By the time he looked up, he was in a futile foot race. McKenry was at the plate, but was dazed from whiplash and hurting from having the wind knocked out of him when he landed after the throw.
Brewers manager Ron Roenicke said, "When you see something like that, it hurts. I know on our side, when we commit an error and all of a sudden they get three runs because of it, it's just deflating."
Aramis Ramirez led off the Brewers' fifth with his ninth homer of the season, on a misplaced changeup, for a 9-2 lead.
The Rockies had runners at second and third against Peralta in the eighth. Rutledge dribbled a check-swing to Peralta (7 2/3 innings, eight hits, four runs, three earned). Troy Tulowitzki, the runner at third, ran right into a rundown between third and home and left the Rockies with runners at the corners. Rob Wooten then struck out McKenry.
LeMahieu singled to open the ninth, but was doubled off first when Ryan Braun caught Charlie Culberson's line drive in right field.
"It's tough for everybody, especially when little things, non-routine things happen," Dickerson said. "The thing is we've got to stop it early, stop it before it really tumbles."
Eventually, though it may come back to moving stars from the disabled list to the field. Starting pitchers Brett Anderson, Tyler Chatwood and Eddie Butler, plus 2013 All-Stars Carlos Gonzalez and Michael Cuddyer, and Arenado are missing. But the Rockies will need to win with what they have between now and then.
"No lead for another team is too big; there's always time, a lot of baseball left," Tulowitzki said. "It's not too late, but we are making the job tougher on ourselves.
"We're doing what we can. It's just not enough right now."
Thomas Harding is a reporter for MLB.com. Read his blog, Hardball in the Rockies, and follow him on Twitter @harding_at_mlb. This story was not subject to the approval of Major League Baseball or its clubs.