Burnett's complete game delivers fifth straight win
Righty backs stellar start with RBI double to keep Phillies rolling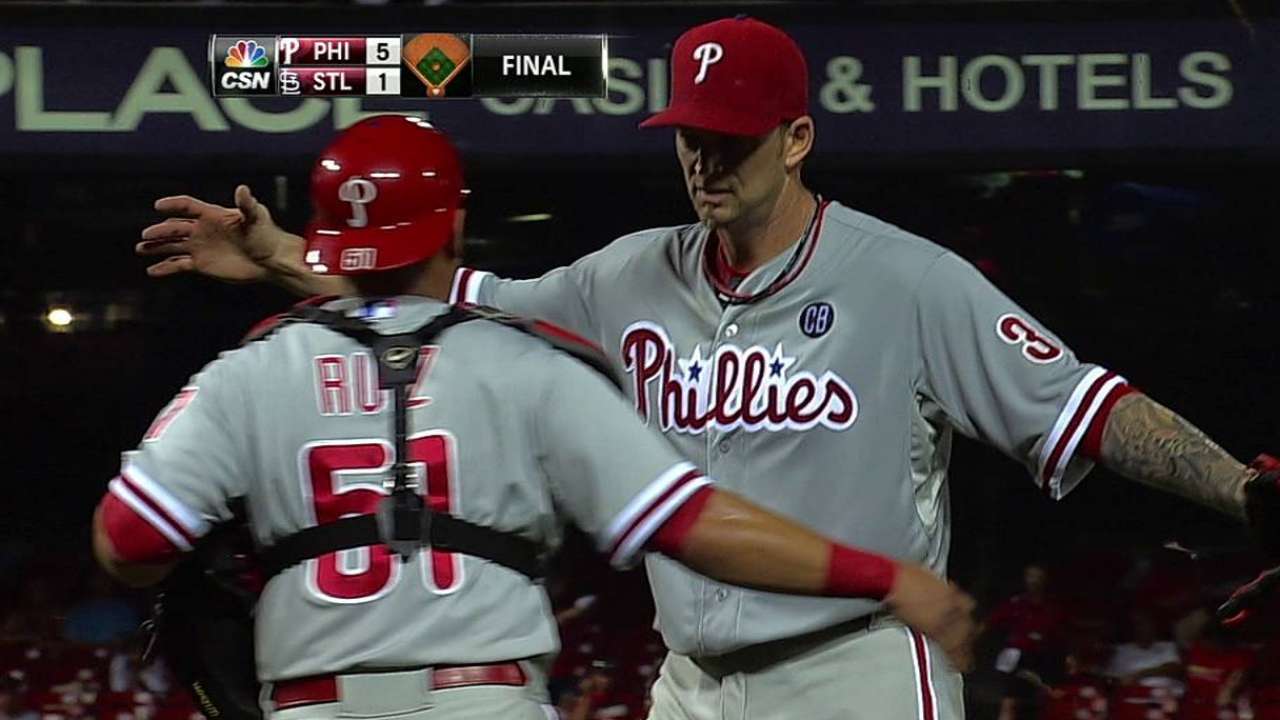 ST. LOUIS -- When A.J. Burnett's grandmother arrived in town to watch him make a Major League start in person for the first time, his start was already on track to being a special one.
What would happen next could only put it over the top. Burnett arrived at Busch Stadium with a 15.50 ERA in five starts here between the regular season and postseason. So much for that.
This time, Burnett made big pitches to wiggle out of jams in a complete-game gem and flashed his bat to open the door to the Phillies scoring before they broke it open with a splurge in the middle innings on their way to a 5-1 win over the Cardinals in front of 44,061, their fifth straight victory.
His grandmother's attendance was special. Winning in a place that had caused him so much grief?
"Extra special," Burnett said. "It doesn't matter how bad [the starts] are, you've got to come back and go to work the next day. You've got to show up and face these guys whether you deal against them or they put you out in the third. It's a new year, it's a new game."
What a difference eight months made. When Burnett last pitched at Busch Stadium in the National League Division Series last October for the Pirates, he was knocked out in two innings while allowing seven runs. This time, the Cardinals struggled to muster much.
The problem for the Cardinals early wasn't putting runners on against Burnett, but rather doing much with them. Burnett allowed at least one baserunner in each of the first five innings, but time and time again escaped.
The Cardinals scored first in the third when, with two outs, Burnett hit third baseman Matt Carpenter and allowed back-to-back singles. A weak grounder in front of the plate stranded a runner on second base to end the threat and minimize the damage.
Burnett surrendered two straight one-out singles the next inning but erased them on a double play. Runners were put on the corners in the fifth with two outs before he induced a grounder to shortstop Jimmy Rollins to end that threat.
In all, Burnett allowed seven hits, a walk and hit two batters in his first complete game since last August. He recorded 17 of 27 outs on the ground, including the first 12.
"That's what we want," Burnett said. "I did it good last year, I should keep being able to do it. That shows you when I'm down in the zone what happens."
The Phillies' offense, meanwhile, continued to produce as it has recently as they've won nine of their last 11 games to move within four games of .500.
John Mayberry led off the fifth with a double off Cardinals starter Jaime Garcia. Cody Asche followed by hitting a screamer down the first-base line, but it was picked off and turned for an out.
Burnett's hit would not be caught. With the runner moved to third and the infield drawn in, he took a first-pitch fastball left over the middle of the plate to the base of the center-field wall on a Cardinals outfield playing in.
"When the infield is in you've got to get a ball in the air, right?" Burnett said with a laugh. "I just put a good swing on it. That ball doesn't leave, it's not going to leave at all. Any way I can help, whatever it takes."
Burnett scored on a double from Rollins, which gave the Phillies a lead they wouldn't relinquish. The hit extended Rollins' hitting streak to 14 games, matching his longest since he won the National League MVP Award in 2007.
The Phillies added on in the sixth. Marlon Byrd hit his 12th homer of the season to left on a changeup that stayed over the plate. Domonic Brown doubled before Mayberry brought him in with a single. Rollins hit a sacrifice fly to left to cap the scoring.
Five of the team's seven hits against Garcia were for extra bases. The Phillies have scored at least five runs in seven of their last 11 games, outscoring their opponents, 53-24.
"Just hitting up and down the lineup," Phillies manager Ryne Sandberg said. "Tonight was a good example of some situational hitting. We got guys over, we got them in. Good job on the offensive side just executing the plays when we got a man on base."
Burnett would get better as the game progressed, retiring 13 of the final 14 hitters he faced. He allowed just a two-out double in the eighth through his final four innings of work.
"He seemed to really pound the zone when we put some runs up there and gave him a lead," Sandberg said. "He really held his stuff -- was still throwing good at the end -- throughout the nine innings. He did a lot of things to help him win a game."
"He didn't make a lot of mistakes," Cardinals manager Mike Matheny said. "We've seen him very good before. That's one of the better we've seen them."
The game ball sat in Burnett's locker following his fifth win of the season, awaiting his grandmother's hands after she made the surprise visit from her home in Little Rock, Ark.
The win was important for his grandmother, and his team, too. The Phillies stayed within 3 1/2 games of first-place Atlanta in the National League East.
"You give props to these guys in here," Burnett said. "We've hit when we haven't pitched, we've pitched when we haven't hit. Guys never got down, guys never quit, they just kept doing their work. Not hoping, but knowing when we did click it's going to be fun.
"I think that's what we're starting to see. Everything's clicking at the same time."
Alex Halsted is an associate reporter for MLB.com. This story was not subject to the approval of Major League Baseball or its clubs.