Trio of injured Rockies join forces to play catch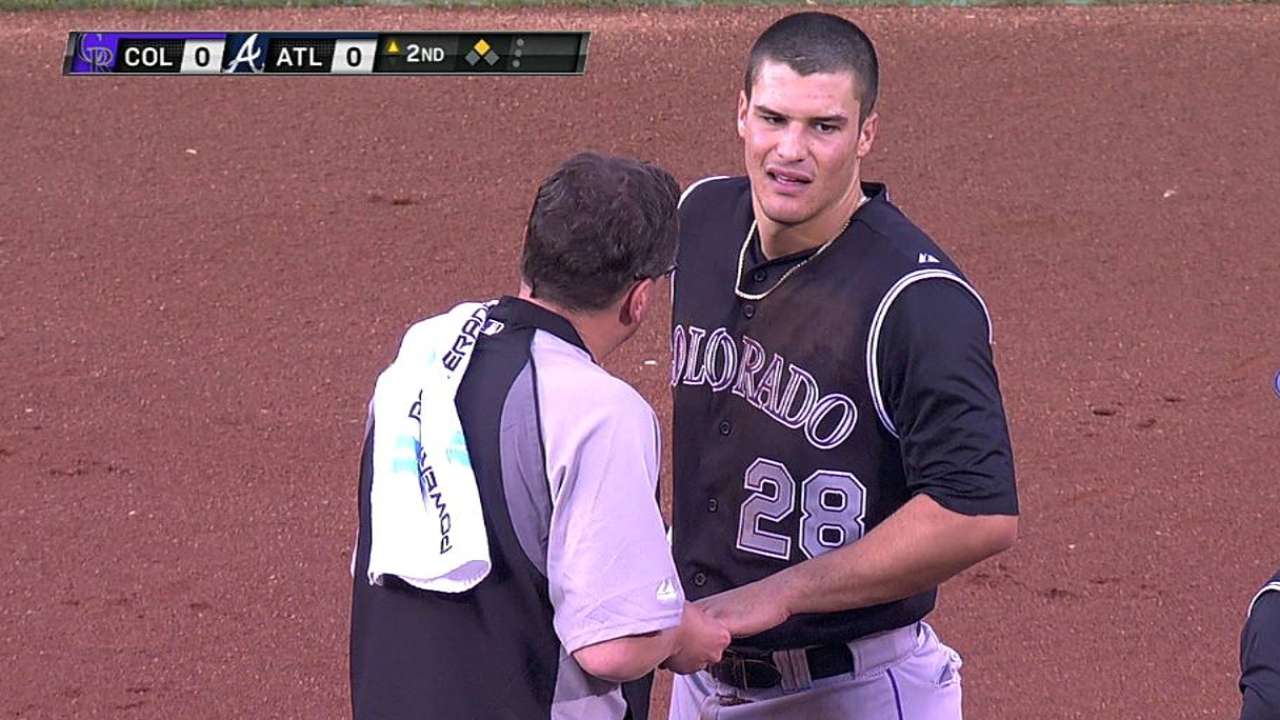 DENVER -- An unusual game of catch broke out in the right-field corner at Coors Field on Friday.
Carlos Gonzalez had his left (throwing) hand wrapped because of recent surgery to remove a benign tumor, so all he could do was catch. Beside him was right-handed pitcher Jordan Lyles, whose left (catching) hand was in a splint because it's broken.
At the other end, Nolan Arenado wore his glove on his left hand, but couldn't catch throws with it because he was just beginning exercises to rehab a broken middle finger. Beside him was able-bodied head athletic trainer Keith Dugger. So Lyles and Arenado threw, and had Gonzalez and Dugger to catch for them.
All are on the disabled list, but Arenado appears the closest to returning. Arenado, injured May 23, had a positive medical report on Tuesday. He will consult with Cleveland hand specialist Dr. Thomas Graham soon to see exactly where the hand stands. Arenado said he hopes to be hitting next week and return within two weeks, but that's not an official timetable.
"I'm obviously pushing it, trying to get out there as quick as I can," Arenado said. "The doctors are going to make sure I'm 100 percent before that happens.
"Fielding I'm not worried about it. You don't really feel with the fingers, the glove kind of takes over and stuff like that. Holding the bat is going to be a little different. I haven't really bent my finger yet so it's going to probably feel weird. This whole week is going to be good to get the motion back and then pick up the bat. Hopefully I'll feel a lot more comfortable."
Toward the end of batting practice, Dugger rolled Arenado groundballs at third base. He fielded with his feet set and made off-balance pickups and throws. As is the case during games, Arenado, who earned a Rawlings Gold Glove Award last year as a rookie but has made some throwing errors this season on routine plays, was more accurate with throws across the diamond when he was moving.
Thomas Harding is a reporter for MLB.com. Read his blog, Hardball in the Rockies, and follow him on Twitter @harding_at_mlb. This story was not subject to the approval of Major League Baseball or its clubs.