Mets narrowly miss late chances to sink Marlins
Club rallies, but Wright, Nieuwenhuis out at home in last two innings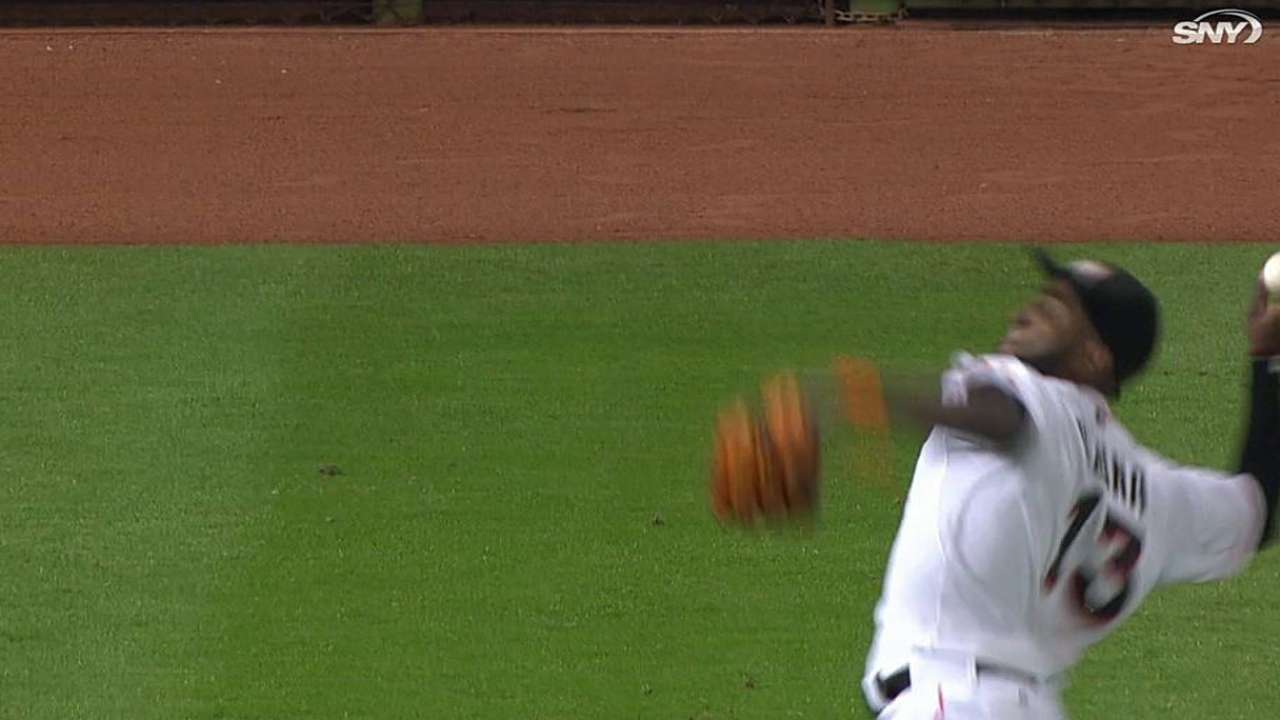 MIAMI -- Following Friday night's game against the Marlins at Marlins Park, the Mets were frustrated not only by the final score of 3-2, but also by how the game ended.
Kirk Nieuwenhuis, aboard via a double in the ninth inning, advanced to third on a sacrifice bunt and tried to score on Chris Young's fly ball to left field. But the ball wasn't deep enough, and Nieuwenhuis was cut down at home by Marcell Ozuna for the final out of the game.
The Mets challenged and umpires reviewed the play to see whether or not catcher Jarrod Saltalamacchia was blocking the plate. The ruling was confirmed and the Marlins were allowed to celebrate.
Manager Terry Collins didn't regret the decision to send Nieuwenhuis. Ozuna had been positioned so deep that Nieuwenhuis appeared as if he should have scored easily.
"He made a great read on it, he got behind it, made a good move on it and of course then made a great throw," Collins said of the Miami left fielder. "We're not exactly driving in a lot of runs, so when we get opportunities, we gotta make them make a play -- and they made the play."
But what Collins did regret was the ambiguity in the rules concerning home-plate collisions. In the eighth, umpires reviewed a similar play. David Wright tried to score on a single by pinch-hitter Eric Campbell, but Ozuna made a strong throw home on that play as well.
The point of contention on the play was Saltalamacchia's positioning. Collins insisted he couldn't see any of the plate. But after a minute and 57 seconds, the call on the field was confirmed.
"I got thrown out by about 10 feet, so it wasn't a real close play," Wright said. "But at the same time, I think we kind of thought that he was blocking it, and apparently they thought he wasn't."
In the ninth, Nieuwenhuis was convinced he was going to tie the game. When he checked Ozuna, the outfielder was standing in front of the Clevelander nightclub that's just beyond the wall in left field, and the ball was still coming down. Then Ozuna got a running start and the next thing Nieuwenhuis knows, he's tagged out at home.
"Right when C.Y. hit it, I thought, 'Tie game,'" Nieuwenhuis said. "But Ozuna made a perfect throw and the game was over, and it was kind of like, 'Wait, wait, wait, really?' But he made a great throw."
General manager Sandy Alderson refused to comment on the decisions, but everyone in the clubhouse heard his frustration, when after watching the replays, he yelled an expletive from the manager's office before coming out to talk to media.
"Everybody was a little frustrated at the end of the game for a variety of reasons," Alderson said. "I'll leave it at that."
For the second night in a row, Wright put the Mets' first run on the board. In the eighth inning with two runners on, Wright lined a single into center field deep enough for Young to score from second base.
Then Campbell came up with two outs and the bases loaded. On the seventh pitch of the at-bat, he lined a single into left field. Eric Young Jr. scored, but Wright was thrown out at the plate by Ozuna.
Wright has reached base safely in five straight games, going 7-for-19 with two doubles, two homers and three RBIs. The eighth-inning single was Wright's second hit of the night. He roped a double into right field over the head of Giancarlo Stanton in the sixth inning. Wright was able to advance to third on a deep fly to right, but he was left stranded.
Starter Daisuke Matsuzaka was charged with the loss, despite only giving up one run in 5 1/3 innings. He had never lost to the Marlins before, and his only blemish was in the first inning, when he allowed a leadoff triple to Rafael Furcal. Furcal scored on an Adeiny Hechavarria RBI groundout.
"It's something I didn't expect," Matsuzaka said through his interpreter. "But at the same time, I knew that was the only run I could give up, so I had that in mind the rest of my outing."
Matsuzaka's loss was his first since Sept. 2, 2013, at Turner Field. Entering Friday, Matsuzaka had gone 6-0 in his last 25 relief appearances and eight starts.
Umpires helped Matsuzaka in the fourth inning when they overturned a Garrett Jones home run that would have given the Marlins a 3-0 advantage. He then retired Jones on a groundout to first and ended the inning with a strikeout.
Matsuzaka allowed back-to-back singles to lead off the sixth inning and was removed after striking out Saltalamacchia, who had two doubles in his previous at-bats. Matsuzaka threw 85 pitches, allowed six hits and struck out four batters.
The Marlins scored two more runs in the seventh. On catcher Anthony Recker's throw trying to nail Jake Marisnick stealing third, the ball sailed into left field and Marisnick was able to score. Then Wright attempted to barehand a play to get Hechavarria out at first. But he wasn't able to grip the ball, allowing pinch-hitter Justin Bour to score and Hechavarria to record a double.
The Mets have scored just three runs in their last 41 innings at Marlins Park. Dating back to April 25, Miami starter Henderson Alvarez has thrown 18 1/3 consecutive scoreless innings against the New York.
Maria Torres is an associate reporter for MLB.com. This story was not subject to the approval of Major League Baseball or its clubs.