Pair of homers plenty for Porcello as Tigers hold on
Righty tosses six scoreless; bullpen nearly squanders lead in eighth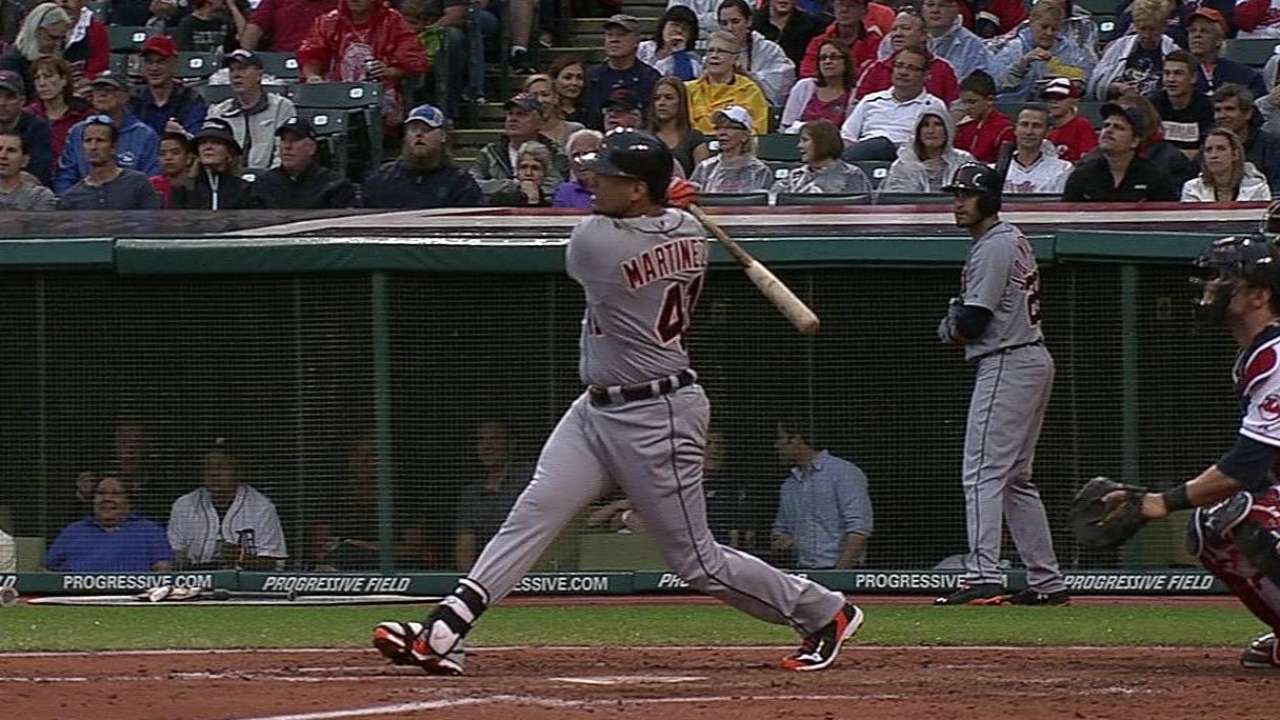 CLEVELAND -- Odd as it seems, Rick Porcello has taken ownership of this town, and the hitters who call it home. It was just difficult to pick out from the eighth-inning slugfest that sent balls flying out of Progressive Field and left the pitching duel beforehand unrecognizable.
"My stress level got a little bit up," manager Brad Ausmus admitted once the Tigers finally finished out the 6-4 win over the Indians.
In a matter of two innings, Ausmus went from watching his young sinkerballer carrying his team on his shoulders to watching his late-inning relievers having to salvage a high-scoring game. In the process, he watched his hopes of conserving some of his relievers fly away like the home runs that turned the game.
He has three of the American League's top 10 relievers in appearances -- one in his first full Major League season (Ian Krol), the other two with injury histories (Joba Chamberlain, Al Alburquerque). All three have appeared in about half of Detroit's games, and are on paces Ausmus can't be sure they can sustain, especially with a second-half schedule that includes 24 games in a 23-day stretch in August and September.
That's why, as J.D. Martinez's fourth home run of the week cleared the fence to turn a 2-0 battle into a 5-0 lead, Ausmus opted for lefty Krol against an Indians lineup littered with left-handed batters and switch-hitters. Ausmus had Chamberlain warming and ready, but he had a five-run cushion.
"I don't really want to burn Joba out with a five-run lead," Ausmus said. "If we start putting Joba in every time we have a five-run lead or less, there won't be a Joba come August and September. ...
"But it was just an off night for Krol."
After leadoff hitter Mike Aviles, Cleveland's lineup alternated left-handed batters and switch-hitters, testing Krol's effectiveness against right-handed hitters. After Asdrubal Cabrera's three-run homer and Carlos Santana's solo shot -- both home runs from switch-hitters -- it was essentially Victor Martinez's intentional walk ahead of J.D. Martinez's eighth-inning three-run homer that stood as the difference in a then-5-4 game.
As such, it was a different mindset.
"I didn't want to have to go to Joba and Joe when it was 5-0," Ausmus said, "but the game dictated it. When you have a 5-0 lead with two innings to go, we have to win that game."
Ausmus ended up needing all three of his oft-used relievers -- Chamberlain, Krol and Alburquerque -- to bridge the gap from Porcello to Joe Nathan. Once Chamberlain threw his slider past former Yankees teammate Nick Swisher for an inning-ending strikeout in the eighth, he pumped his fist.
"The game changed real quick," Chamberlain said. "You just have to end it right there."
Chamberlain said he's trying to conserve his throws as he warms up in the bullpen, understanding the need to watch his workload.
"Al and I have done it," Chamberlain said. "We've been in the situation. Krol being a young kid, getting his first full year in, you just have to tell him, 'If you're barking a little bit, don't even play catch.'"
Porcello hasn't lost to the Indians since September 4, 2012, the day after Corey Kluber's last win over the Tigers. The difference between the two essentially came down to one big swing for Victor Martinez and several off-balance ones for the Indians.
Porcello had three wins and a no-decision against Cleveland last year, allowing just five runs on 17 hits over 24 2/3 innings. The Indians' .193 average and .554 OPS marked the lowest of any American League opponent against Porcello last year. Those were odd numbers for a team loaded with left-handed hitters to line up at Porcello, but a testament to how much Porcello changed his style with an effective curveball and a respectable four-seam fastball.
"I think part of it is knowledge on the hitters," he said. "We've faced them quite a bit, and just acquiring knowledge on what guys like to hit in certain counts. I think just the development of my curveball, too, has been big -- change of speeds there."
All that a lefty-loaded Indians lineup could muster off Porcello were six singles, four of them ground balls. And two of those singles came from right-handed hitters Yan Gomes and Aviles in the third inning. Porcello stranded both of them by retiring Michael Bourn and Asdrubal Cabrera, then withstood a three-hit sixth.
Combined with the Royals' loss to the Mariners, the Tigers' win put Detroit back on top of the AL Central by a half-game, ending their stay in second place at two days.
Jason Beck is a reporter for MLB.com. Read Beck's Blog and follow him on Twitter @beckjason. This story was not subject to the approval of Major League Baseball or its clubs.