Kluber duels, but Tribe's late magic runs out
Righty gives up two runs in seven; Asdrubal, Santana go yard in eighth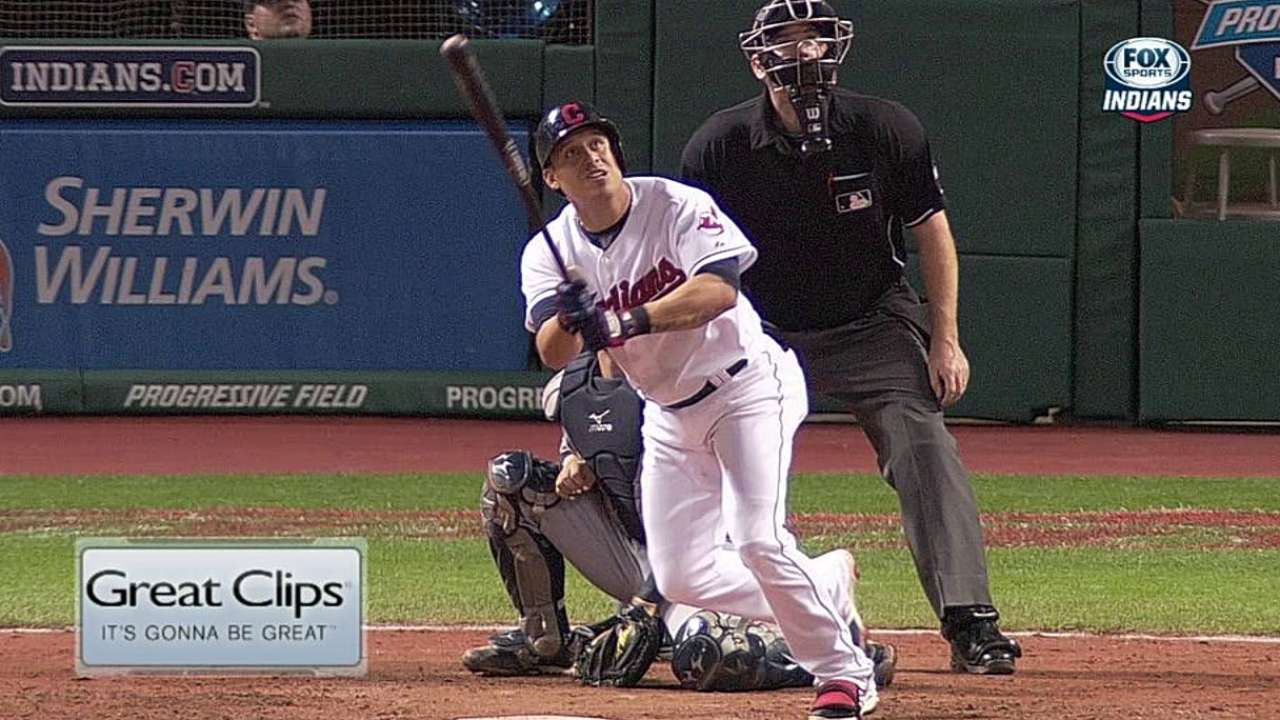 CLEVELAND -- Walk-off wins have been a specialty for the Indians over the years. No other team has enjoyed as many game-winning home runs in their home park as Cleveland since Progressive Field opened its doors two decades ago.
The Indians ran out of magic on Friday night.
Asdrubal Cabrera and Carlos Santana launched a pair of home runs in the eighth inning against the Tigers, but the Tribe's late rally fell short in a 6-4 loss. Corey Kluber gave Cleveland a solid outing, but the Tribe's offense could not solve Detroit righty Rick Porcello and Indians reliever John Axford suffered a late meltdown.
"We've done it a lot of times," Kluber said of Cleveland's knack for late-inning heroics. "You're just kind of hoping that's going to be another one where you can pull it out."
No such luck.
The end result was only the second loss in the past 13 home games for the Tribe, which has six walk-off wins this season. Dating back to 1994, the Indians lead the Majors with 74 walk-off home runs, which is by far the most in baseball in that span. The A's rank second with 56 walk-off shots in that same period.
A day earlier, Nick Swisher launched a walk-off grand slam for Cleveland, helping the club take down the Angels in extra innings. After Cabrera and Santana went deep against Tigers lefty Ian Krol in the eighth, things seemed to be setting up for another dramatic win.
Another game-winner was too much to ask of the Tribe this time.
"My stress level got a little bit up in the eighth," Tigers manager Brad Ausmus said.
Cleveland was hurt early on by a familiar foe.
In the fourth inning, Kluber yielded a leadoff single to Tigers slugger Miguel Cabrera, setting the stage for Victor Martinez to torment his former team once again. The 35-year-old veteran has batted .366 (70-for-191) in his career against the Tribe and .364 (8-for-22) against Cleveland in six games this season.
Following Cabrera's base hit, Martinez attacked the first pitch he saw -- a 93-mph sinker -- and drilled it deep to right field for a two-run home run. The blast was the 18th of the season for Detroit's designated hitter.
"A first-pitch fastball that caught too much of the plate," Indians manager Terry Francona said. "Other than that, [Kluber] dodged his way through a really good lineup."
That was all the Tigers managed off Kluber in his seven innings, in which the right-hander chalked up six strikeouts, scattered eight hits and issued one walk. Aside from the ill-fated offering to Martinez, Kluber was able to keep in step with Porcello, who blanked Cleveland for six innings, induced 10 outs via grounders and struck out three.
"For the most part, I was able to pound the strike zone and work ahead of guys," Kluber said. "Unfortunately the mistake I made to Victor ended up being a big one."
It was not until Kluber bowed out of the ballgame that Detroit was able to add on to its total. With one out and Miguel Cabrera on first base in the eighth inning, Axford fired a wild pitch that allowed the runner to move up to second. Axford then elected to intentionally walk Victor Martinez, bringing up Tigers outfielder J.D. Martinez, who launched a first-pitch, three-run homer to right field to push Cleveland behind, 5-0.
The Indians tried to rekindle some late magic again. Facing Krol in the eighth, Cleveland's Cabrera belted a three-run homer and -- two batters later -- Santana pulled a pitch over the wall in left for a solo shot. With those two swings, the Tribe trimmed Detroit's lead to just one run.
"It's certainly frustrating on its own," Axford said of his performance. "But when you can try to mount a comeback right after that, it certainly makes it worse."
Krol followed with a strikeout of Lonnie Chisenhall and Tigers right-hander Joba Chamberlain entered and followed suit with a whiff of Swisher to end the rally. Detroit then added an insurance run in the ninth and Joe Nathan kept Cleveland in check to notch his 15th save.
In the ninth, Michael Brantley -- recently sidelined due to a mild concussion -- was cleared to pinch-hit for the Tribe. He connected for a two-out single, bringing Michael Bourn to the plate.
Bourn struck out to end the contest.
"Unfortunately," Kluber said, "we weren't able to [win it in the ninth]."
Jordan Bastian is a reporter for MLB.com. Read his blog, Major League Bastian, and follow him on Twitter @MLBastian. This story was not subject to the approval of Major League Baseball or its clubs.