Braves down Nats in 13th to retake top spot in NL East
Gattis has go-ahead hit after Kimbrel allows game-tying homer in ninth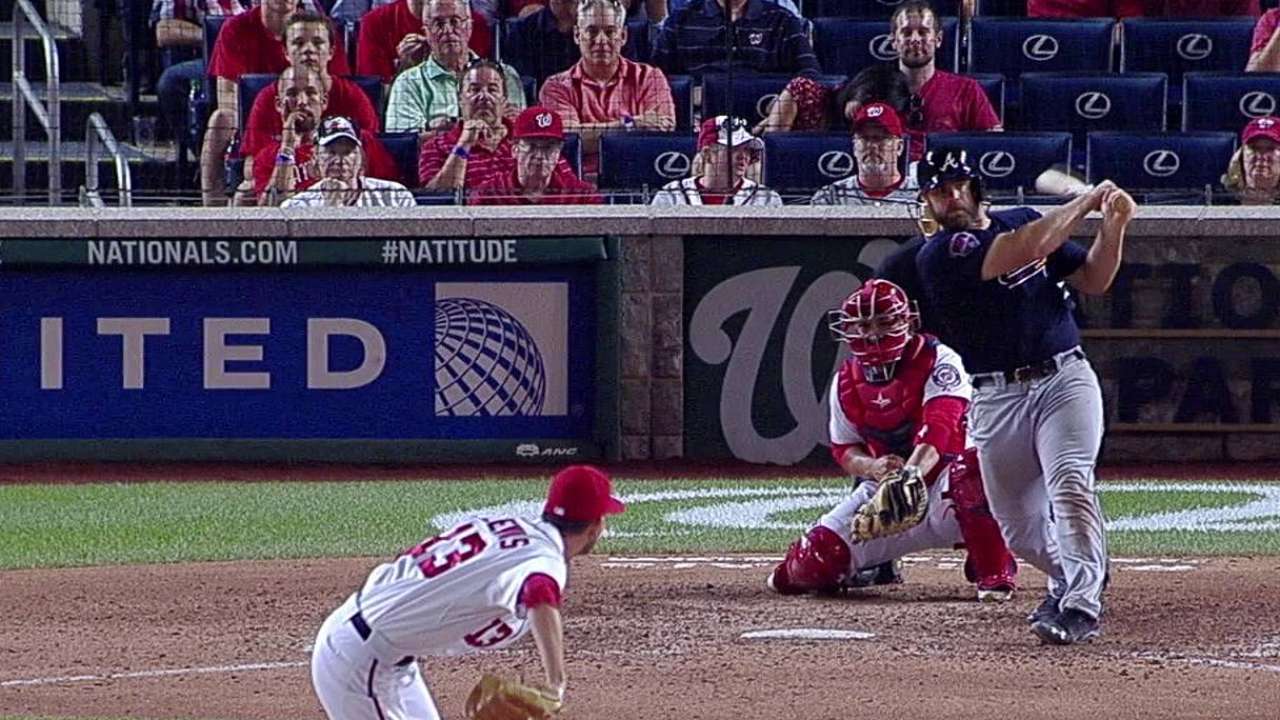 WASHINGTON -- Craig Kimbrel's second blown save of the month made the Braves play a little longer than desired. But it did not prevent them from extending their dominance of the Nationals.
After Kimbrel surrendered a game-tying home run with two outs in the ninth inning on Friday night, the Braves were forced to called upon a pair of relievers to make their Major League debuts. Still, the bullpen stayed strong long enough for Evan Gattis to deliver the decisive single in a 6-4, 13-inning win at Nationals Park.
"It doesn't matter how long it takes -- just as long as we win," Braves first baseman Freddie Freeman said after contributing three hits. "We've played some long games the past week, so it's definitely taxing our bullpen. But a win is a win."
By capturing the first two games of this four-game set, the Braves leapfrogged the Nationals and regained sole possession of first place in the National League East by a half-game. Maybe every bit as important is that they have also strengthened the mental edge they seem to have whenever these two teams meet.
With seven wins through the first eight games of this year's season series, the Braves have now won 20 of the 27 games played against the Nationals dating back to last year.
"Somehow, we always put good at-bats against the Nationals," said Braves shortstop Andrelton Simmons, who collected two hits, including a fourth-inning RBI single. "I don't know why, but we get locked in a little bit. Hopefully, we keep doing it whenever we play division teams."
Unlike the two other 13-inning games the Braves had played within the previous six days, this one concluded in victorious fashion. B.J. Upton drew a leadoff walk and Freeman concluded a seven-pitch at-bat with a single that put runners on the corners for Gattis to send his game-winning single to left field off left-handed reliever Jerry Blevins.
The Braves added an insurance run when Danny Espinosa fumbled Simmons' potential double-play groundout. Jordan Walden then preserved the two-run advantage as he proved perfect in the bottom half of the 13th inning. But the two most memorable relief appearances of the night were completed by Juan Jaime and Ryan Buchter. Jaime completed his Major League debut with a scoreless 11th inning and then Buchter came out of the 'pen to begin his career with a scoreless 12th inning to earn the win.
"You're going to have to use them sooner or later," Braves manager Fredi Gonzalez said. "So get them in there so they don't have to sit around and think about it. Both of those kids did a good job."
Kimbrel's attempt to notch his 22nd save evaporated as he walked Nate McLouth to begin the bottom of the ninth before allowing Rendon to tie the game with a two-out homer. After the hit was initially ruled to have stayed in the yard, a quick crew-chief review overturned the call for a home run over the left-center field wall.
The blown save was the fourth of the season for Kimbrel, who has allowed a run in three of his past eight appearances. He had not allowed more than one run during a save opportunity since the Nationals tagged him for three runs on Sept. 17 at this same location.
"It's unfortunate I've given up some [runs] in big situations the past few weeks," Kimbrel said. "But we've still got a lot of season left to play, and I've still got a lot of pitching left to do. So I'll put this night behind me and be ready to go tomorrow."
Gattis extended the Majors' current longest hitting streak to 19 games with a fifth-inning single that accounted for one of the three consecutive two-out hits Stephen Strasburg surrendered in that frame. Jason Heyward capped the sudden flurry with a two-run double that gave the Braves a 4-1 lead against Strasburg, who surrendered nine hits and four runs in six innings.
Freeman, who has collected eight extra-base hits in his past 31 at-bats, got the Braves rolling with a first-inning home run against Strasburg, who needed 80 pitches to get through the first four innings.
The early offensive contributions were much appreciated by Braves starter Mike Minor, who bounced back from two rough outings to limit the Nationals to two runs while notching a season-high 11 strikeouts over seven innings.
Minor certainly did not look like a pitcher who had surrendered a career-high 11 hits in both of his previous two starts. He made a mistake with a changeup -- a pitch he has thrown less frequently this year -- that Ian Desmond deposited over the left-field wall with two outs in the second inning. The only other run allowed by the southpaw came courtesy of Denard Span's two-out triple in the seventh.
"I think that was one of my best [starts] feeling-wise in terms of mechanics," Minor said. "Mechanically, everything was sound and I could pretty much throw any pitch at any time.There was nothing in my head about I had to bounce back from my past two outings."
Mark Bowman is a reporter for MLB.com. This story was not subject to the approval of Major League Baseball or its clubs.