MLB.com Columnist
Bill Ladson
Nats rally in ninth before falling to Braves in extras
Rendon's tying homer goes for naught as taxed bullpen falters in 13th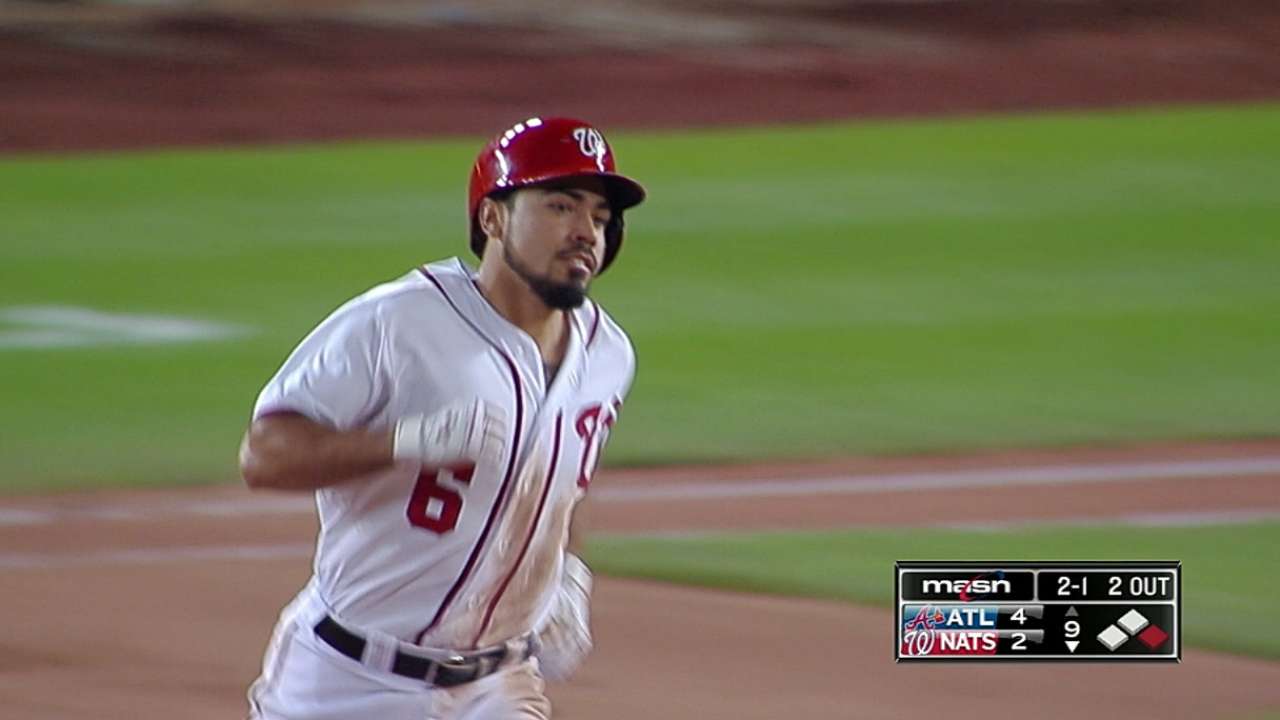 WASHINGTON -- A victory over the Braves would have meant everything was all right in Nats land again. But it turned out to be a bad day for the Nationals on Friday night.
Evan Gattis' go-ahead single in the 13th inning helped the Braves to a 6-4 win at Nationals Park as Washington fell to second place in the National League East, a half-game back of Atlanta.
After the game, no one on the Nationals could explain how the Nats are just 7-20 against their division rivals over the last two seasons -- including 1-7 in 2014.
"It's no big deal. We are losing to them now, but the bigger picture is at the end of the season," third baseman Anthony Rendon said.
In his postgame interview, manager Matt Williams focused on how the Nationals were able to come back against right-hander Craig Kimbrel, one of the best closers in the game, in the ninth inning.
The Nationals were down, 4-2, and down to their last out against Kimbrel. It seemed like a tough task to make a comeback against someone as dominant as Kimbrel.
But with Nate McLouth on first base after a leadoff walk, Rendon clocked a 2-1 pitch over the left-center field wall. At first, second-base umpire Mark Carlson ruled the ball was in play, and Rendon was credited with a double. Williams wanted the umpires to review the play and claimed the ball went over the wall for a home run. After a crew-chief review of 41 seconds, the play was overturned and Rendon was credited with a two-run homer.
"We came back against one of the best closers in the game to tie the game. We had an opportunity," Williams said. "We lost it. I'm proud of them for fighting back, staying in it, getting ourselves an opportunity. He doesn't give up many homers."
But the bottom line was the Nationals lost the game. The game was tied at 4 in the 13th when the Braves scored two runs off left-hander Jerry Blevins. Williams didn't have much of a choice but to use Blevins, because Ross Detwiler and Aaron Barrett have been overused.
To Blevins, the key to the inning was a leadoff walk to B.J. Upton.
"You can't do that," Blevins said. "I knew he is a patient hitter, so I kind of fell behind."
Blevins then allowed a single to Freddie Freeman before Gattis singled, scoring Upton. Three batters later, Andrelton Simmons hit into a force play, but Freeman scored with an insurance run.
"We know we play well against [the Nationals]," Simmons said. "We came with some confidence. You could see it. Guys were grinding out big at-bats and coming up with big hits."
Early on, it looked like the game was going to go in Atlanta's favor. Left-hander Mike Minor pitched seven innings and allowed two runs on seven hits while striking out 11 batters. The Nationals had runners in scoring position four times against the left-hander, but scored just once. That came in the seventh inning when Danny Espinosa came home on a triple by Denard Span.
"He was keeping us off balance," Nationals first baseman Adam LaRoche said. "He didn't get into any patterns. I don't remember a lot of hitters' counts. He was getting those early strikes and he was playing around with the offspeed and mixing in some fastballs."
Stephen Strasburg started for Washington and threw too many pitches. By the fourth inning, he was at 80, but Williams never thought about taking the right-hander out of the game.
The Braves were able to get to Strasburg starting in the fourth inning. The game was tied at 1 when Jason Heyward scored on a single by Simmons.
An inning later, two more runs came for Atlanta. Heyward had a six-pitch battle with Strasburg before hitting a double over the head of right fielder Jayson Werth, scoring Freeman and Gattis.
Strasburg ended up throwing six innings, allowing four runs on nine hits while throwing 107 pitches.
Williams hesitated talking about taking Strasburg out, but then said, "Stras was fine. He gave up the double to Heyward, which gave them a couple [of runs]. All in all, he was OK. A lot of pitches today though -- early pitches. They made him work."
But it was Rendon who brought the Nationals back to life -- at least in the ninth inning, anyway.
"Tony came up huge," LaRoche said. "Big home run for us, put us right back in it. We had three or four innings to score a run, but couldn't do it."
Bill Ladson is a reporter for MLB.com and writes an MLBlog, All Nats All the Time. He also can be found on Twitter @WashingNats. This story was not subject to the approval of Major League Baseball or its clubs.