Choate emerging as versatile weapon in bullpen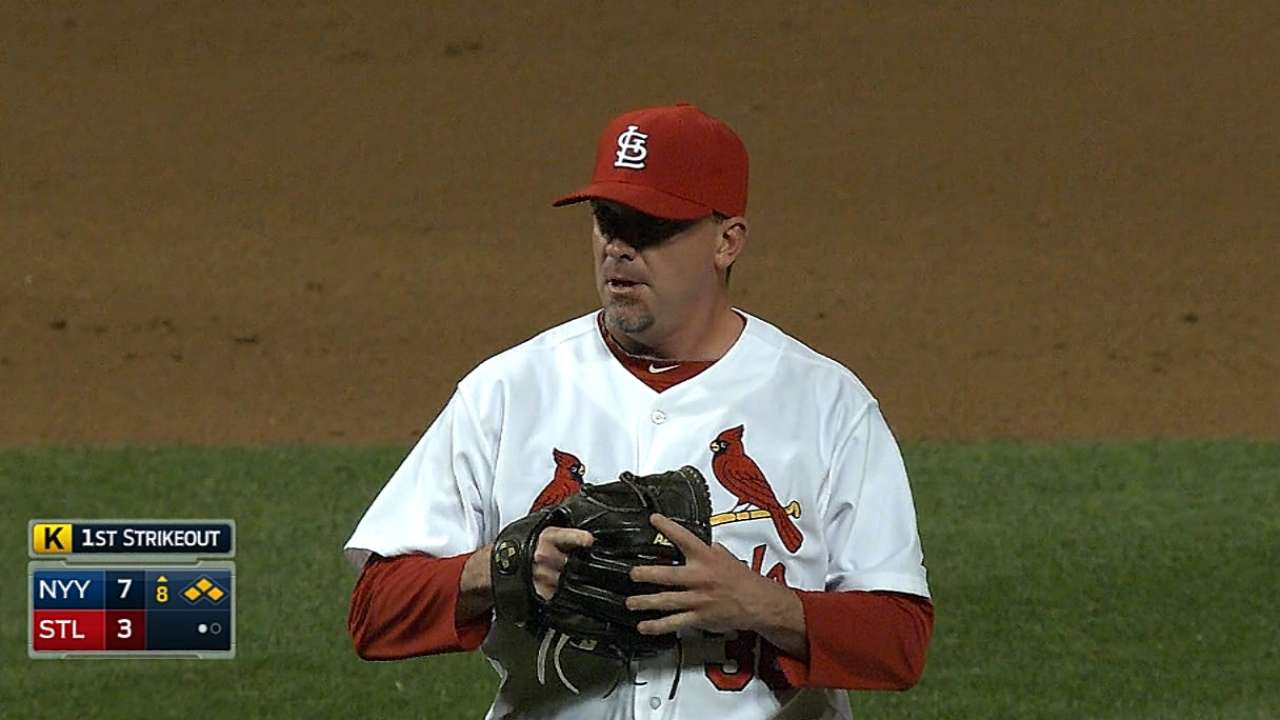 ST. LOUIS -- In the years before he joined the Cardinals and even in his first season as one, Randy Choate carved his niche as a left-on-left specialist, oftentimes coming in to face only a lefty or two before calling it a day. This season, however, he has been increasingly deployed for longer stints, resulting in somewhat regular matchups against righties.
Choate faced 141 hitters in 2013, 99 of which were left-handed. That gap has shrunk considerably this season, as Choate has faced 48 left-handed batters and 37 right-handed hitters heading into play on Friday. It was a shift that the Cardinals began to prepare Choate for in Spring Training as manager Mike Matheny was looking for maximum flexibility with his bullpen. Choate still typically enters to face a left-handed batter; the difference is that he's now more often staying in to face additional hitters.
"If that's the plan of attack that they want to go with, that's their choice," Choate said. "Being the competitor I am, I'm going to be out there trying to do my best to get the guy out."
Though his overall numbers haven't recovered from a May 12 outing in which the Cardinals left him on the mound to endure a beating from the Cubs, Choate has continued to thrive against lefties, limiting them to a .100/.208/.175 slash line. Right-handed hitters, though, are hitting .424/.472/.485 off the veteran Choate.
The silver lining is that 12 of the 14 hits Choate has allowed to right-handed batters have been singles. None have left the park.
"I'm trying to put the ball on the ground," Choate said. "I'm trying to use the weapons that I have, and hopefully it's a ground ball at somebody and not in the hole."
The longer relief stints have Choate on pace to throw 10 more innings this year despite his current pace to match last season's total of 64 appearances. If the Cardinals chose to carry three lefties upon Kevin Siegrist's return that could free Choate up more matchup-based work, though Matheny said on Friday he does not envision a significant shift in roles even then.
"Just his value to our 'pen to let everybody else get done what they need to get done, I think it's going to have to stay that way," Matheny said. "In those close games, he's still going to get the shot to come in and get his guy."
Jenifer Langosch is a reporter for MLB.com. Read her blog, By Gosh, It's Langosch, and follow her on Twitter @LangoschMLB. This story was not subject to the approval of Major League Baseball or its clubs.